An ERP system is the core component of an organization, regardless of the industry it operates in.
SAP S/4HANA Migration: What You Need for Mapping Your Journey
An ERP system is the core component of an organization, regardless of the industry it operates in. For many SAP customers, SAP S/4HANA migration starts with a debate on finding the right value drivers for their businesses. The next is to choose the appropriate implementation approach and handle all the associated processes in the most efficient way.
In our practical guide to SAP S/4HANA migration, we've compiled the key considerations every customer should explore before launching their SAP S/4HANA project. This guide is not a step-by-step instruction for technical experts but a set of guidelines for businesses on their way to an SAP S/4HANA transition.
Understand Your Approach
If you use SAP ERP in your organization, you should decide between three approaches to SAP S/4HANA migration: Greenfield, Brownfield, or Bluefield. Greenfield represents new Implementations, Brownfield — the legacy system conversion, while Bluefield — for selective data transition. There are eight main considerations recommended by SAP to determine this choice.
Do current business processes support your long-term strategy?
Analyze your current business processes to understand if they require redesign for your long-term strategic growth. For example, if your SAP ERP system doesn't satisfy your evolving business requirements or uses dated functionality and runs a historically grown system, a new implementation is strongly indicated. Thus, you need to review and assess if your SAP ERP system will stay flexible to your long-term growth strategy.
Can you adopt SAP standard content, or will you retain past customizations?
SAP standard content supports pre-configured and comprehensive business processes. In case you decide to leverage SAP Best Practices packages, you'd better consider an implementation from scratch. If your organization's infrastructure requires customized configurations and modifications to support your company's unique business processes, a conversion is most likely better for your organization.
Is your move to SAP S/4HANA driven by business or IT?
Business transformation is often powered by a new IT project. If this is your reason for SAP S/4HANA migration, system conversion may be the foundation for future innovations in other segments of your business.
Can you convert from the SAP ERP application to SAP S/4HANA in a single step?
Not all versions of SAP ERP systems can be migrated in a single step. For example, SAP ERP 6.0 can be converted in one step, but there may be some restrictions. Thus, if system conversion is impossible in one step, a new implementation is a better option. This will save you costs compared to a two-step conversion. Another indicator for a new implementation is your rollout strategy. If you plan to roll out the ERP system on a company-code-by-company-code basis, a new implementation will work better.
Do you require previous transactional data in the new system?
The requirement for retaining your enterprise data in the system is a strong reason for system conversion. Still, when deciding on your migration approach, you should design a data strategy to consider all available options, including partial data transition.
Are landscape considerations and process harmonization key value drivers?
When migrating legacy systems to new ones, it's difficult to agree on which best practices of the old ERP you need to include in the new one. In such a case, a new implementation is a more reasonable option for consolidating system configuration and data required for new business operations.
Do you have a high or low number of interfaces to other systems (SAP and third-party)?
It usually takes less time and effort to adjust existing interfaces to a new system than developing and testing new ones. That's why if the number of interfaces is huge, it's a strong reason for system conversion. However, you can consider SAP Integration Suite and the Integration Advisor before you make a final decision.
Can your company sustain a multi-year innovation plan with incremental innovations?
It's the last but not the least consideration, and in some cases, it may overcome all the aspects mentioned above. If incremental innovation aligns with your corporate strategy, a system conversion will lead to the expected outcome. It's crucial to understand before you decide on a system conversion because some companies can't maintain a multi-year plan as they move with a focus on strategic changes.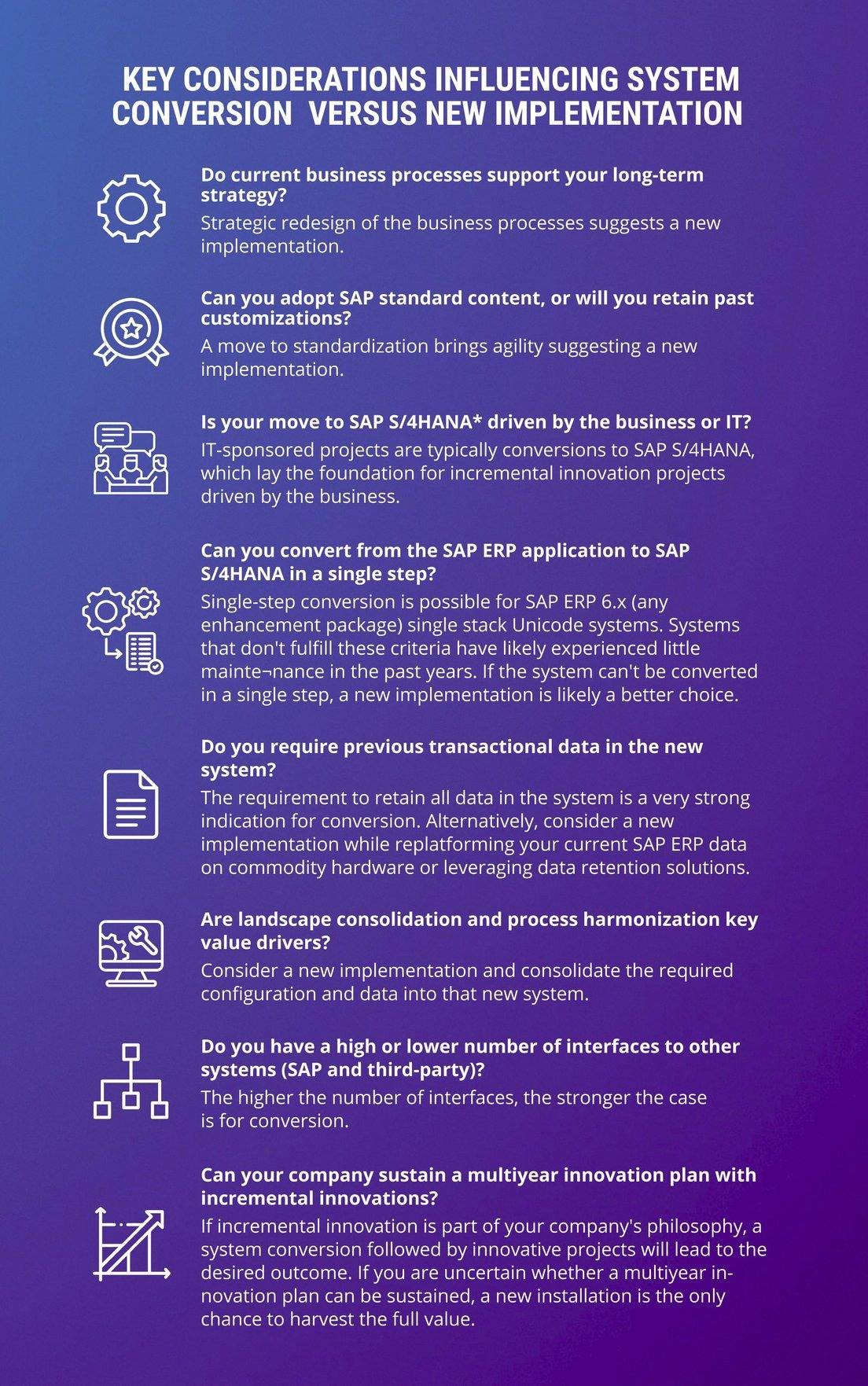 SAP Activate Methodology for Project Setup
According to SAP Activate methodology, SAP S/4HANA implementations are adopted throughout the entire customer lifecycle. The implementation based on this approach offers digital and ready-to-launch business and technological processes, and step-by-step configuration. It's worth noting that no matter what implementation approach a customer chooses, SAP Activate provides assistance for all customers.
SAP Activate provides a consistent, yet flexible approach to system implementation, regardless of the deployment model: on-premise, cloud, or hybrid. Project groups plan, build, and deploy SAP solutions based on SAP best practices. The methodology takes into account custom requirements for configuration and scalability to ensure a unique business model. SAP Activate works both for small and complex projects.
SAP Recommendations for System Conversion and New Implementation Projects
When launching the SAP S/4HANA project, it's crucial to pay attention to the specific technical aspects to ensure a successful implementation. Here's a recap of the essential recommendations from SAP on how to handle system conversion and new implementation projects.
If you launch a new implementation project, follow the recommendations below:
Leverage SAP standard content as the support for a preconfigured and comprehensive business process to arrange workshops for business users.

Avoid reusing the custom code from your current SAP ERP by following the lift-and-shift approach.

Employ the SAP S/4HANA migration cockpit for new implementations.
If you plan a system conversion from your existing ERP, consider the tips below:
Pay attention to your financial data when migrating to SAP S/4HANA (use SAP Readiness Check tool for proper analysis).

Follow the SAP guidelines to ensure effective test conversion cycles.

Be sure you check if your add-ons are compatible with your new system before implementation, and decide on how to integrate them.

Analyze your simplification items and define those that need to make a business decision or a preparation project.

Reassess and clean up your custom code before migration.
SAP Tools for Successful Project Implementation
SAP Transformation Navigator.

It's a web-based self-service road-mapping app that creates recommendations for a new SAP S/4HANA landscape based on the information about your SAP system and provides potential benefits of the new system capabilities.
Process Discovery for SAP S/4HANA Transformation.

SAP built this tool to help you create your business case for SAP S/4HANA. By applying this tool, you'll see where SAP S/4HANA is beneficial for your business operation, and based on this information, you can discuss migration perspectives with the key decision-makers of your organization.
SAP Readiness Check for SAP S/4HANA.

This tool is used for the functional and technical assessment of your current SAP ERP prior to

migration to SAP S/4HANA

.
Maintenance Planner.

This cloud-based tool simplifies the maintenance process through efficient planning of all changes in the SAP system landscape.
System Conversion and Downtime.

There are three available options for meeting downtime requirements, including a standard conversion for small SAP ERP systems, downtime-optimized conversion for mid-size and large systems, and minimized downtime service for extremely large systems.
ABAP Tools and Custom Code.

This group of tools can be used for different tasks related to testing and adapting custom code during SAP S/4HANA migration, including analytical insights into code and automated adaptation of custom code.
Data Migration Tools for New Implementations.

SAP recommends using SAP S/4HANA migration cockpit if you migrate data as part of a new implementation project. Customers can also use additional tools depending on such factors as the number of data sources, business rules, etc.
SAP Integration Suite and Integration Advisor.

The former is a set of tools enabling the smooth integration of cloud-based and on-premise applications, while the latter simplifies the integration process by intelligent interface design and management, and content mapping.
SAP Solution Manager.

This tool is employed for application lifecycle management for complex on-premise SAP solutions as well as deployed in the hybrid environment.
SAP Cloud ALM. This solution is applied to manage cloud solutions from SAP, including implementation, testing, and operation.
How LeverX Will Assist You on Your SAP S/4HANA Migration Journey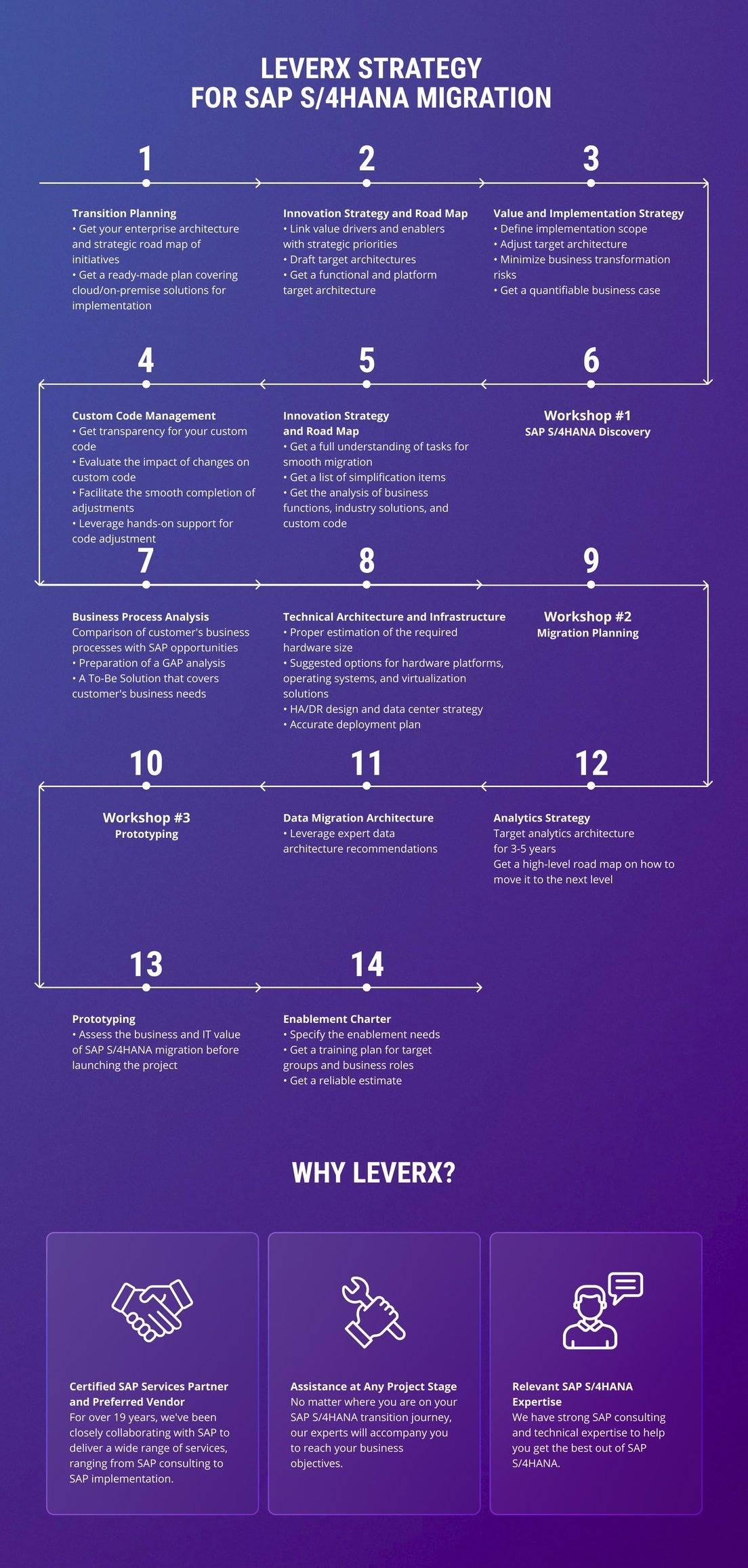 If you're considering migrating to SAP S/4HANA and need a trusted SAP partner on your digital transformation journey, contact LeverX for SAP consulting or implementation services.