In 2027, SAP will no longer support the SAP Business Suite 7, which includes SAP ERP 6.0. We talked with Dzmitry Shupayeu, the LeverX SAP Activate Senior Project Manager, to understand what this means for business, whether it is necessary to migrate to SAP S/4HANA right now, and why those who have never worked with SAP should also think about switching to this ERP system.
Brownfield vs Greenfield: How to Choose an SAP S/4HANA Migration Scenario and Succeed?
In 2027, SAP will no longer support the SAP Business Suite 7, which includes SAP ERP 6.0. We talked with Dzmitry Shupayeu, the LeverX SAP Activate Senior Project Manager, to understand what this means for business, whether it is necessary to migrate to SAP S/4HANA right now, and why those who have never worked with SAP should also think about switching to this ERP system.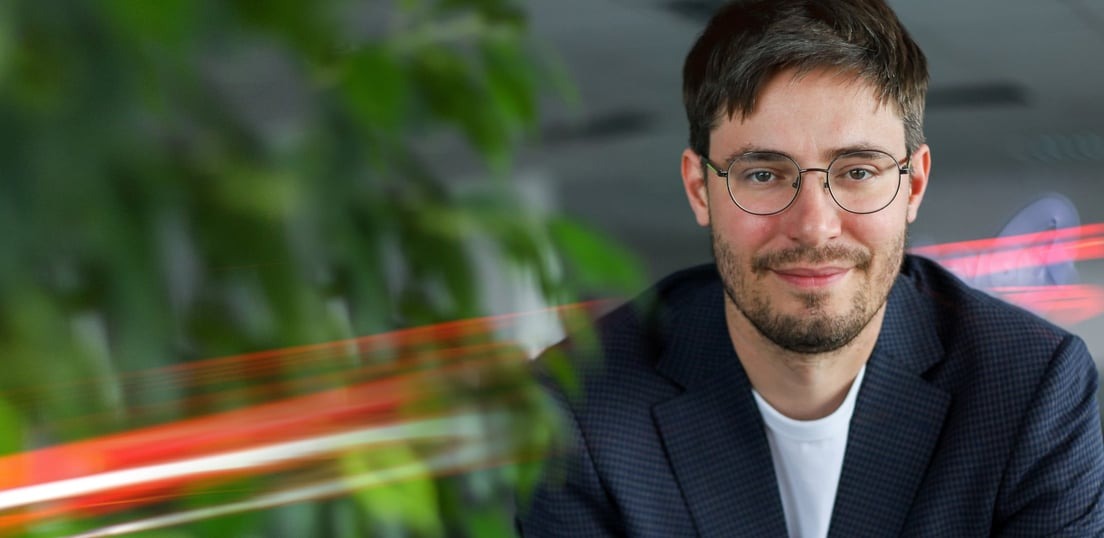 Photo: Dzmitry Shupayeu, the LeverX SAP Activate Senior Project Manager
Originally, SAP announced that the maintenance of SAP ERP would end in 2025. This deadline was extended to 2027. However, companies that are currently using SAP ERP or SAP ECC and are not about migrating to SAP S/4HANA will have limited access to new SAP functionality from 2027 and will not receive any updates.
Therefore, if you don't want to work with an outdated system, you need to decide to migrate to SAP S/4HANA now in order to have sufficient time to master this intelligent solution.
Those companies working with third-party ERPs now should also think about switching to SAP S/4HANA, as this will help optimize and automate the management of all business areas of the company: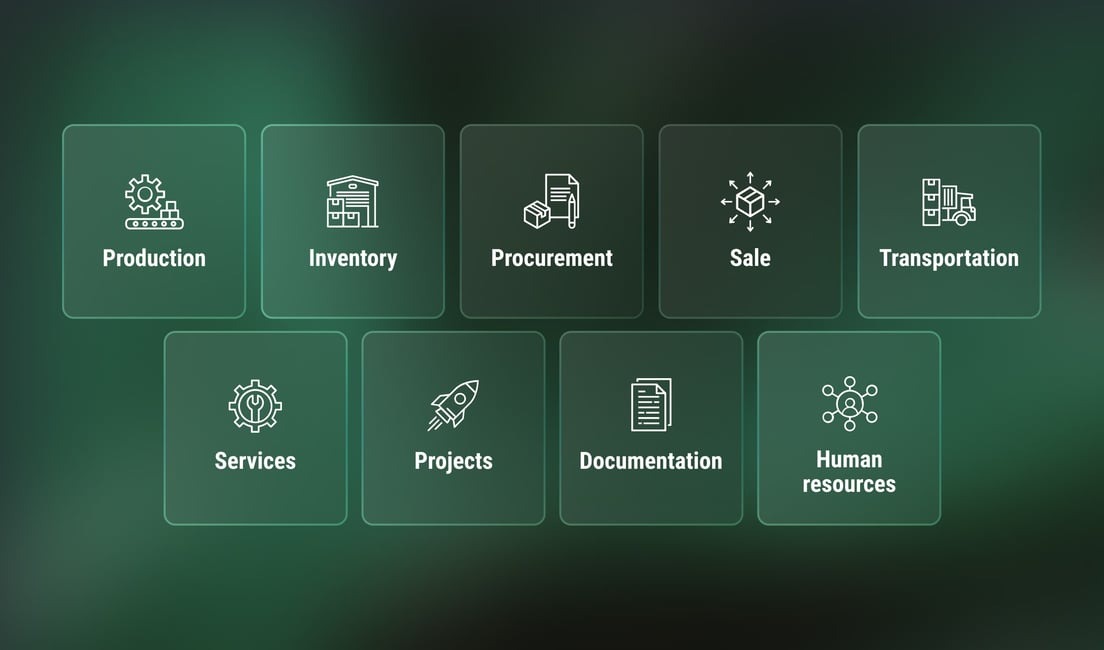 SAP ERP and SAP S/4HANA: What's the Difference?
The SAP Business Suite that includes SAP ERP was launched in the early 2000s, and all this time it has successfully helped in process automation, solution integration, and financial and material accounting. However, with the technology becoming more advanced, its functions become outdated, making it difficult to implement new business models.
SAP S/4HANA is a new generation ERP system that includes the most advanced technologies:
Cloud solutions

Mobility

Predictive analytics

In-Memory

Sensors

UX, etc.
"SAP S/4HANA is the digital core of your enterprise. With it, you can conduct transactions and receive analytics within one system. Its flexibility allows the system to integrate with cloud solutions and IoT sensors, and built-in modeling and predictive capabilities help make fast and intelligent decisions avoiding risks in the future."
How to Start SAP S/4HANA Migration
There is no specific timeline for the start of migration, but it is better to do this before the end of SAP ERP maintenance in 2027. Migration to SAP S/4HANA can last from 9 to 12 months. However, according to Gartner, this period can be extended, especially during the implementation of key steps.
In order to have enough time to master the new system and its capabilities, you should start the migration process as early as possible. It will also help you save money as implementation costs could rise till 2027.
Brownfield or Greenfield?
When it comes to the main SAP S/4HANA migration approaches, there are two of them: Brownfield and Greenfield.
A Brownfield approach means a transformation of an existing SAP ERP system to SAP S/4HANA. Greenfield stands for installing SAP S/4HANA from scratch.
"Brownfield is a good option for enterprises that have already deployed the SAP ERP system. As for the Greenfield approach, it's not that simple. It's possible to implement SAP S/4HANA from scratch both in businesses that have never used SAP solutions before and in enterprises that have already worked with SAP ERP. The second option is suitable for companies that have a complex SAP system with a lot of third-party system integrations. In this case, the enterprise also has the opportunity to revise, unify, and simplify business processes by using Best Practices in Greenfield implementation. Brownfield is also not suitable for companies that cannot afford network downtime, which is possible in this migration approach. Moreover, a large number of existing custom developments can become an obstacle in this migration approach."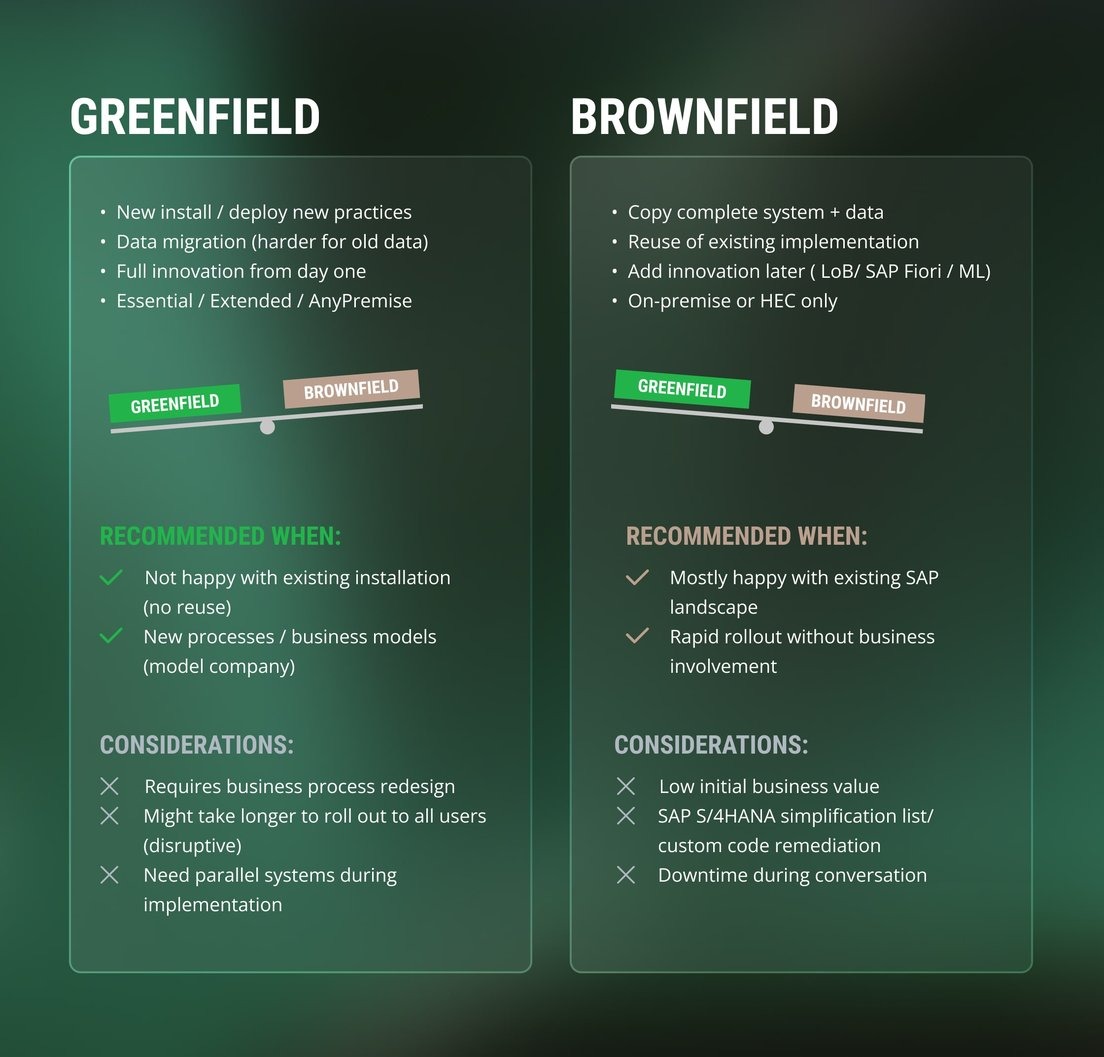 Brownfield Approach
The Brownfield approach means the conversion of an existing SAP ERP system to SAP S/4HANA, in which all business processes, data, and personalized add-ons and programs are transferred to the new system.
This approach is the best solution for companies that have implemented an SAP system relatively recently according to SAP standards. It's also suitable for those looking to quickly migrate to SAP S/4HANA.
The Brownfield Approach Stages and Implementation Timeline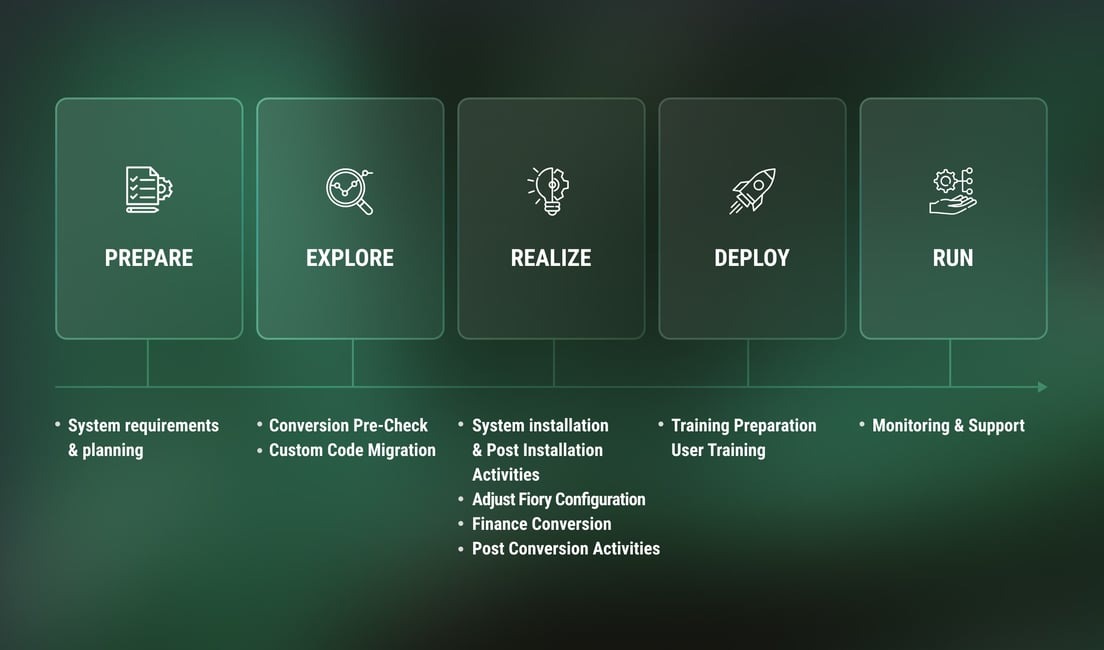 System Conversion Advantages
Faster implementation.

Old data storage and custom software.

Reduction of costs on change management and employee training.

Reduction of process risks.
Disadvantages
Complicated landscape

Few opportunities to significantly improve and simplify the business processes and the company's functionality

Not maximal use of the SAP S/4HANA capability.

No access to the SAP best practices.
"This approach doesn't allow migrating the system directly to the Hyperscale cloud since the system must be deployed on-premises before moving to the SAP S/4HANA Cloud."
Implementation of the Brownfield Approach on the Example of a Large International Retailer
The LeverX team of specialists implemented two projects as part of the customer's Brownfield migration.
The first project includes the following tasks:
Data migration.

SAP S/4HANA setup.

Cash Management Liquidity Planner functionality migration from SAP ECC to SAP S/4HANA.
Cash Management Liquidity Planner helps to track the organization's cash flows. The system allows all calculations to be carried out in real time, which accelerates the decision-making on the distribution of cash flows. They can now be tracked and analyzed thanks to cash flow statements in SAP Fiori.
The LeverX team also contributed to the refinement of the reporting related to procurement under the EU requirements.
The second project, which is currently being implemented by the company's experts, is the setup of the SAP Recipe Development module, a solution used for the product, formula, recipe, and label development.
The task of the LeverX team was to create and ensure the functioning of an end-to-end chain of business processes, from the development, agreement, and approval of the recipe to its implementation (production).
From Scratch
A greenfield approach involves the process restructuring and their comprehensive simplification through the implementation of SAP best practices. The customer's systems are completely reinstalled and reconfigured under the project.
Greenfield migration is suitable for both new SAP customers and those who have already used its solutions in their business, especially companies with a complicated ERP system. SAP S/4HANA implementation from scratch allows eliminating unnecessary decisions and data and making business management processes more flexible and simple.
Greenfield Approach Stages and Implementation Timeline
"A key benefit of this strategy is the opportunity to deploy the system immediately on the cloud using RISE with SAP S/4HANA Cloud, private edition, which greatly saves project implementation time and, in the long run, maintenance costs."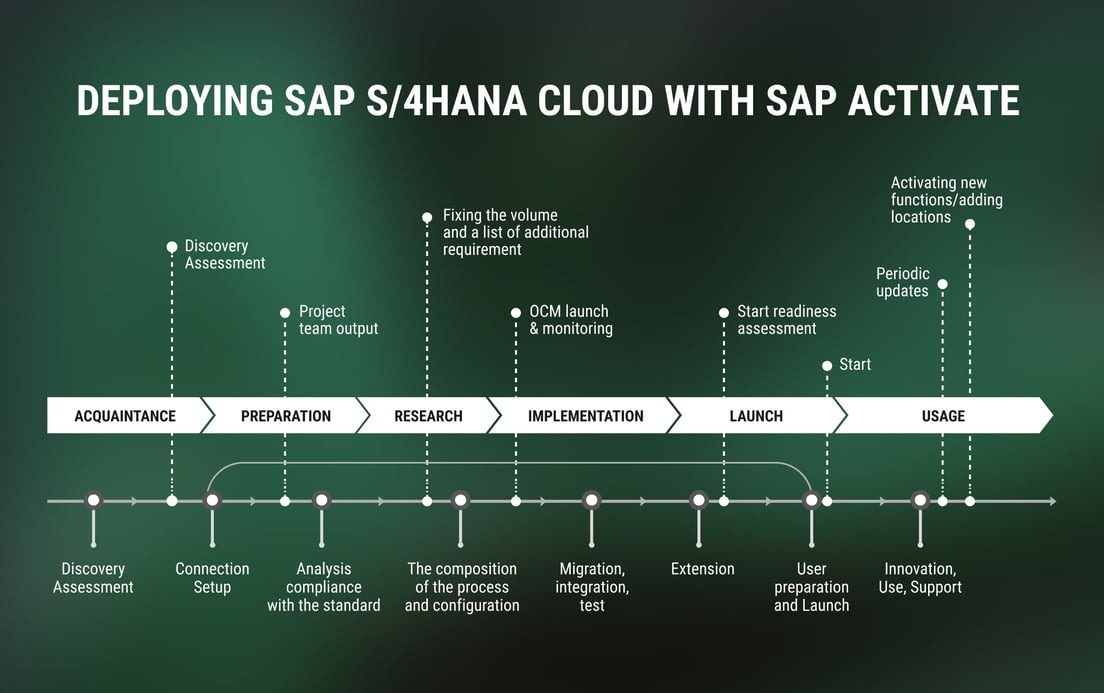 Advantages of SAP S/4HANA Implementation from Scratch
Modern scalable landscape.

SAP Best Practices and functional updates.

User-friendly system.

Flexibility through standardized processes.

The system deployment directly to the cloud.

Continuous system updating.
Drawbacks
An approach requires:
Extensive testing of new processes.

More time for the process analysis, simplification, transformation, and comprehensive data cleaning.

More extensive change management.

Extended period for staff training.
Greenfield Approach On the Example Of a Production Enterprise
The customer understood that its enterprise management and accounting solutions did not meet the current business needs and did not solve many problems, among which were:
Lack of process details.

Lack of an automated control system.

Increased manual operations, including data collection and processing.

Poor materials management.

Human errors.
"LeverX chose SAP S/4HANA to address these challenges. Our experts have already completed the system implementation and localization at the customer's enterprise and are now preparing a template for its distribution for the company's branches."
Under the project, our experts have implemented the SAP Financial Accounting module into the customer's system. The module allows keeping accounting within the company, nationally and internationally, as well as tax accounting. The LeverX experts ensured tax accounting localization based on SAP S/4HANA under the legislation of the country, where the customer's headquarters is located, and helped to create a system of unified financial reporting for all company's branches.
LeverX also implemented SAP Plant Maintenance, which is a platform for maintenance management. This helped move from on-demand repairs to preventive equipment maintenance. Integration with the SAP Sales and Distribution and SAP Materials Management modules ensures the continuous flow of information on any material movements and on-time orders.
How to Successfully Move to SAP S/4HANA?
Our expert Dzmitry Shupayeu gave some tips on how to successfully migrate to SAP S/4HANA regardless of the chosen migration approach:
Adhere to the project scope.

Any changes can affect the project schedule, effort, and cost.
Remain pragmatic.

Set up processes in accordance with the system standard functionality to simplify the update and expansion process.
Don't delay decision-making.

Fast solutions mean fast project development.
Attract interested parties.

For example, department heads, employees, and key customers.
Be actively engaged in the project.

A deep understanding of your business area will help you customize the system in accordance with all your requirements.
Prepare data in advance.

This will help avoid issues and delays in the project implementation.
Focus on testing.

Proper quality control is the key to successful system operation.
However, none of these tips will work without a reliable team to help you implement your migration project.
The LeverX team consists of highly qualified experts whose experience and knowledge allow them to cope with any tasks, from system analysis to its implementation and post-launch support. This is confirmed by our numerous successful migration projects to SAP S/4HANA.
Ready to start your migration journey? Contact our experts!