Many businesses are now wondering if they need to migrate to S/4HANA and why they should do it. Should you migrate or would it be better to wait and focus on other initiatives first?
SAP S/4HANA Migration: Find Value Drivers for Your Business
Many businesses are now wondering if they need to migrate to S/4HANA and why they should do it. Should you migrate or would it be better to wait and focus on other initiatives first? How will migration contribute to the digital transformation of an organization? Is it relevant to the organization's current ambitions? Analyzing the costs and benefits of S/4HANA migration, businesses should conduct profound research to consider all the aspects that will contribute to the successful realization of the migration project. What should you estimate?
First and foremost, organizations should:

Identify what business processes require transformation.

Determine the value of SAP S/4HANA for their business.

Decide which of the following deployment models will work best: cloud, on-premise, or hybrid.
In our article, we'll look into each aspect of the economic feasibility for SAP S/4HANA migration.
Common Drivers for S/4HANA Migration
When businesses decide to migrate their current ERP system to SAP S/4HANA, they are typically empowered by the drivers below:
The decision to migrate to S/4HANA is typically taken based on the intention to reduce IT costs and keep an existing SAP environment running.

To maintain business operations effectively, enterprises require a solid backbone with a standardized and simplified business process landscape and application landscape.

SAP S/4HANA offers in-memory computing with real-time reports, including management analytics, predictive analytics, and flexible reports based on requests.

As a highly flexible IT solution, SAP S/4HANA allows companies to scale their system along with their growing demands.

SAP S/4HANA allows multiple options for deployment, including cloud, on-premise, and hybrid, tailored to customer's needs.
However, you shouldn't make your decision based only on common benefits that would fit everyone. It's crucial to determine the value of SAP S/4HANA for your specific business situation.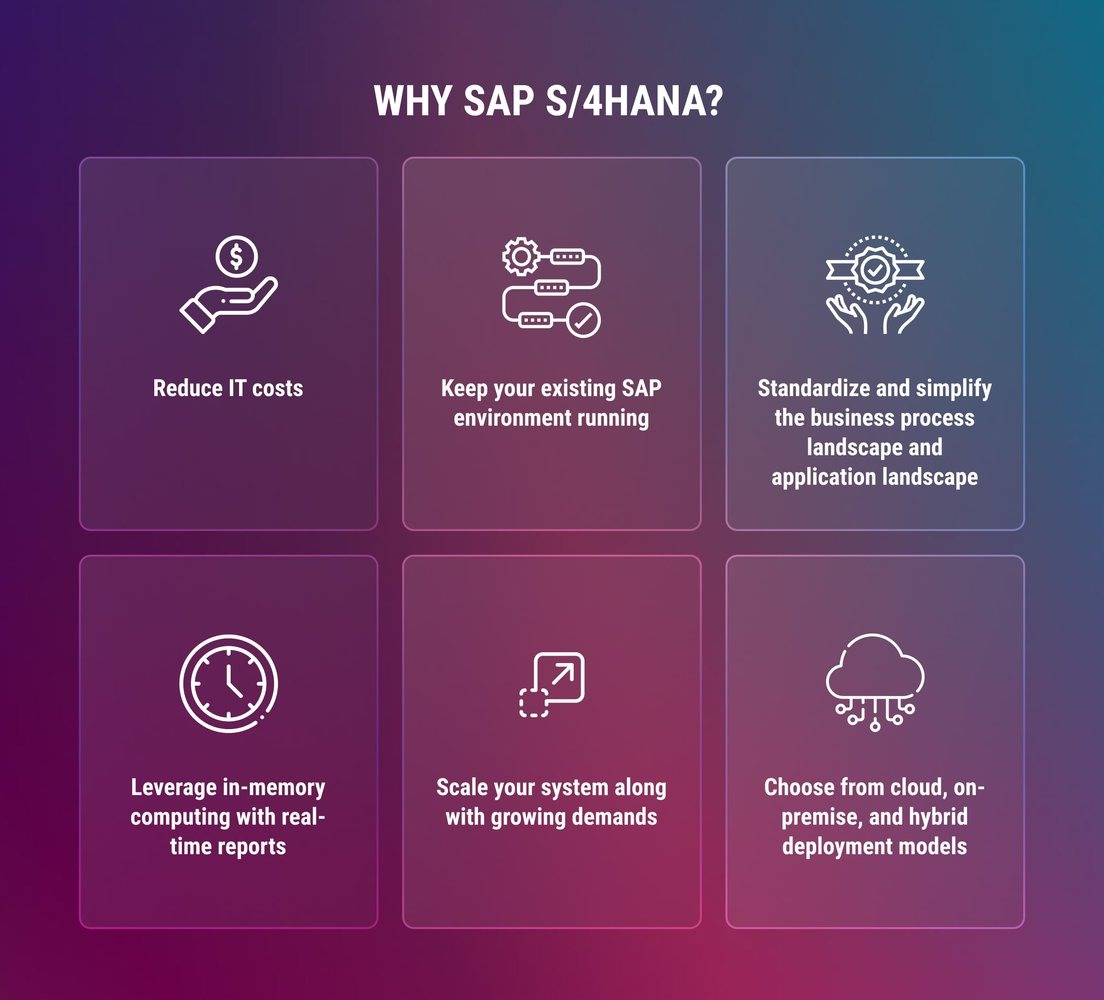 SAP S/4HANA Value Assessment
When opting for SAP S/4HANA migration, you don't start with migration and deployment to see how it will influence your business transformation. It's vital to assess what kind of value the migration will bring before actual migration takes place. Thus, your strategic approach will include analyzing your current situation, setting a clear vision of how S/4HANA will add value to your business, and determining what business processes need transforming by SAP S/4HANA.
Below you will find the list of common functions you need to explore within your organization to identify the possible S/4HANA benefits in the context of your business and IT environment.
Finance
The focus of financial functions has been significantly changing for the past years. It's no longer limited by transactional management and retrospective reports but aimed at improving financial performance and gaining perspective management insights. To execute standard financial back-office processes and accomplish the financial goals within a specific time frame, businesses need to implement automation. It can be accomplished by implementing SAP S/4HANA that offers:
A universal journal for data entry, controlling, and inventory management

Advanced functionality for earning power analysis

Interactive dashboards with real-time data reports
CRM
Traditionally CRMs are used to enhance the efficiency of sales, marketing, and customer services. With time and technology advancement, CRMs are now more than just a database of records about customers. Modern customer relationship management systems enable businesses to improve their services by providing a better user experience and supporting a customer while searching for a product or service. Organizations can do this by integrating in-memory computing and innovative technologies (for example, SAP S/4HANA Cloud, IoT, etc.).
Supply Chain
To keep up with the current market trends and competitors, businesses need to apply innovations to streamline logistics processes. They need to take advantage of the data they collect and provide real-time insight into the entire supply chain. Such technologies as in-memory computing, cloud, mobile solutions, and others can lead to real-time insights on stock levels, automated shipping, tracking, etc.
Manufacturing
Organizations also need to apply new technologies in the manufacturing sector to stand out from the market competition. For example, they can use data analytics for predictive maintenance, IoT-based devices to get automated messages when equipment is out of order, or in-memory computing to generate real-time production updates. This can be accomplished by SAP software solutions and particularly migrating to S/4HANA.
When Will Businesses Need SAP S/4HANA Migration?
Without any doubt, organizations meet industry-specific challenges when they need to migrate to SAP S/4HANA. To demonstrate this, we've compiled a few examples of use cases from the retail industry:
Old financial systems don't meet new business requirements, which results in inefficient finance and procurement processes while expanding new markets.

The organization is experiencing a lack of consistency in finance and reporting data and processes. They need a single customer database across all channels to get greater insight into customer preferences and new capabilities.

Core SAP systems need renewing to respond to rapidly changing customer and market demands.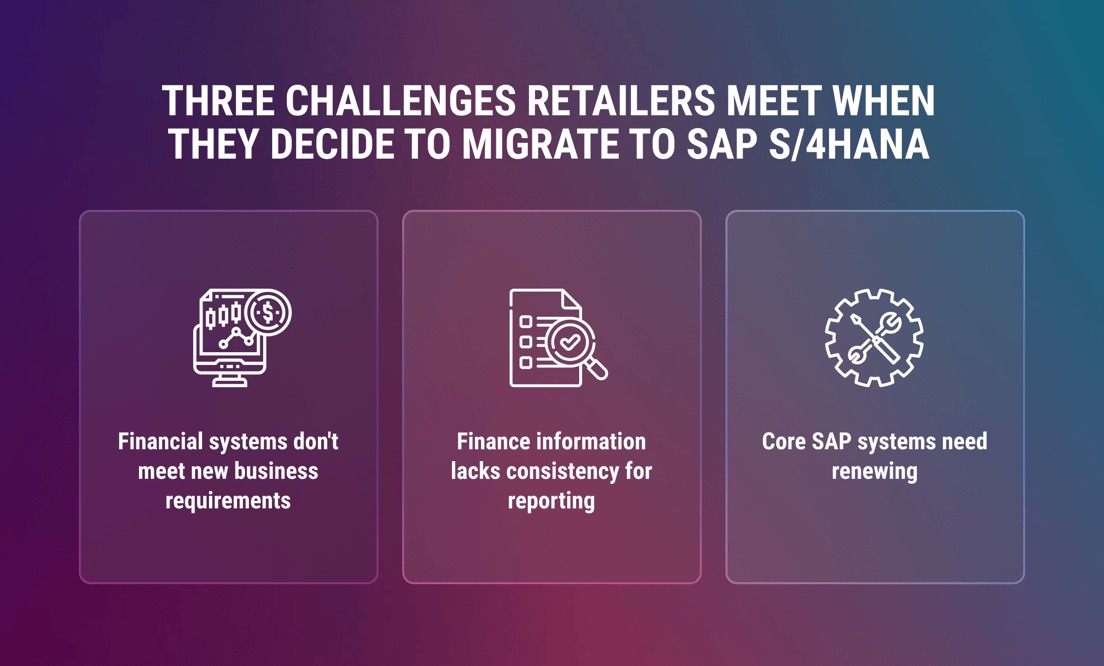 SAP S/4HANA Deployment: Cloud, On-Premise, or Hybrid?
SAP S/4HANA is currently available as cloud and on-premise versions. Both editions have their pros and cons, still, cloud solutions are trendy now. They allow organizations to reduce operating costs and scale their systems easily while keeping their data secure. However, which one should you choose for your business?
SAP S/4HANA on-premise edition.

This type of deployment works best for enterprises that require highly flexible customization when it comes to features. It's excellent for large enterprises with well-established business processes. Systems located on the company's servers provide better opportunities for monitoring and configuration, but it may be more expensive to maintain local servers than cloud storage.




SAP S/4HANA cloud edition.

The model makes sense for rapidly growing middle-size companies that require a high-performance solution while providing flexibility and scalability to satisfy the increasing needs. Among the key advantages of the cloud edition are a faster upgrade cycle and reduced operating costs.




SAP S/4HANA hybrid model.

The hybrid deployment is suited for companies that want to leverage both options: flexible IT solutions and digital transformation under the full control of their core business applications.

Why Does the Optimal Migration to SAP S/4HANA Depend on Options?
Successful digital transformation is all about options as there's no single approach that will fit every organization. Businesses need to identify which approach will bring them maximum business value out of technologies implemented. The option-based approach allows enterprises to land on the digital transformation while producing the most ROI. Why is it crucial to be open to options while pursuing your SAP S/4HANA migration?
The possibility to choose which system to upgrade and which systems don't need it is crucial for ROI. Keeping a balance between processes that need transformation and won't experience disruption and processes that can't change, your organization will benefit. The complexity of the SAP S/4HANA migration project will depend on your business objectives, but if you choose the right SAP S/4HANA migration scenario, whether it be associated with costs minimization, technical debt reduction, etc., you will get the most out of the transformation.
That's why it's vital to estimate the economic feasibility of your SAP S/4HANA migration project before implementation and deployment. And the LeverX consulting team will assist you with this challenge.
LeverX SAP Consulting: Identifying Value for Your SAP S/4HANA Migration
LeverX SAP consultants help our customers to define the economic feasibility of SAP S/4HANA migration based on the customer's situation. Based on your specific business requirements, we identify the key drivers and value your business will get from SAP S/4HANA migration.
What's the LeverX delivery approach and scope?
Business scenario and value mapping on selected solution capabilities

Architecture adjustments based on reference models and implementation strategy for SAP S/4HANA

Program plan and business case

Learning needs analysis
Our team of SAP consultants will prepare your value and implementation strategy combined with onsite workshops at LeverX.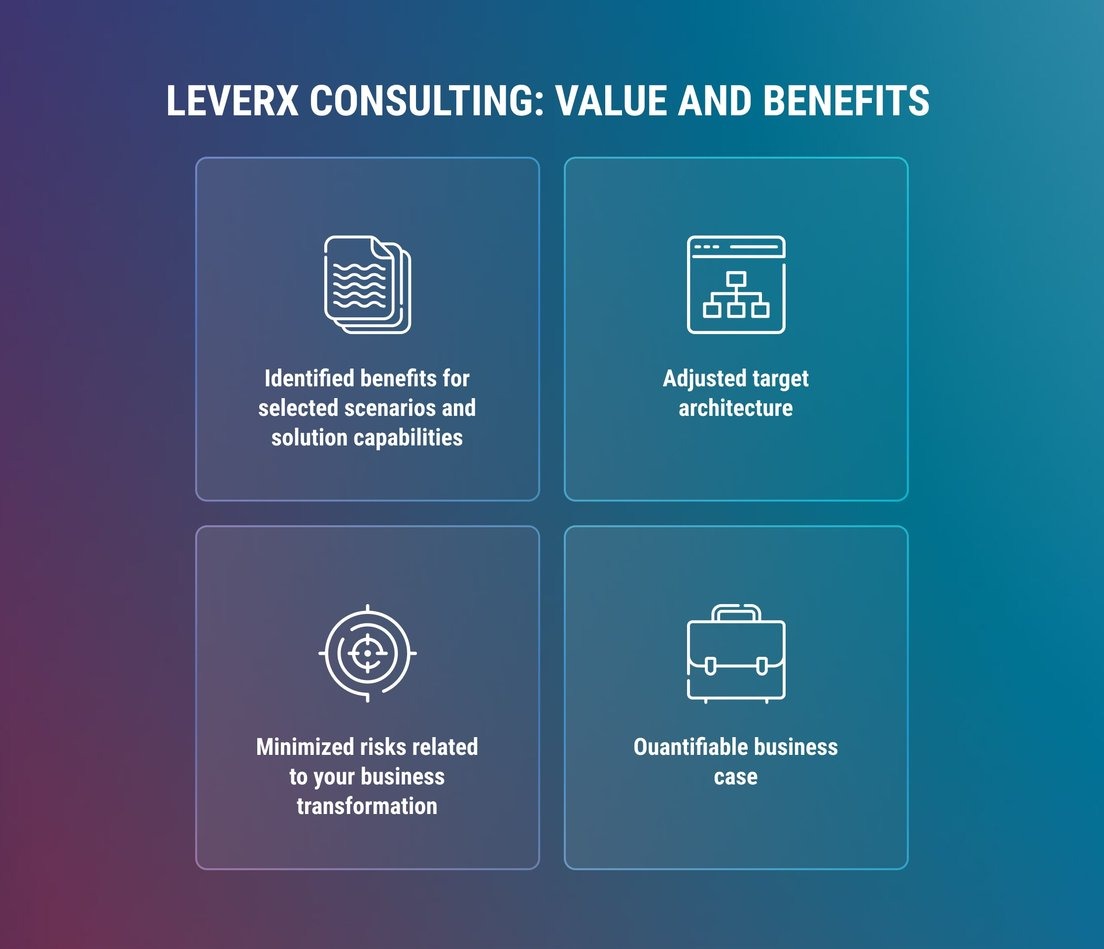 What Is Discovery Workshop for SAP S/4HANA?
The workshop gathers customer's business situations with relevant information in an up-front validation by automated assessment tools. A 5-7 day onsite workshop provides a framework to understand SAP S/4HANA scope, tailored to the customer's enterprise, and to discover beneficial scenarios enabled by SAP S/4HANA. Finally, a discussion yields a high-level heat map for the relevant scope of SAP S/4HANA.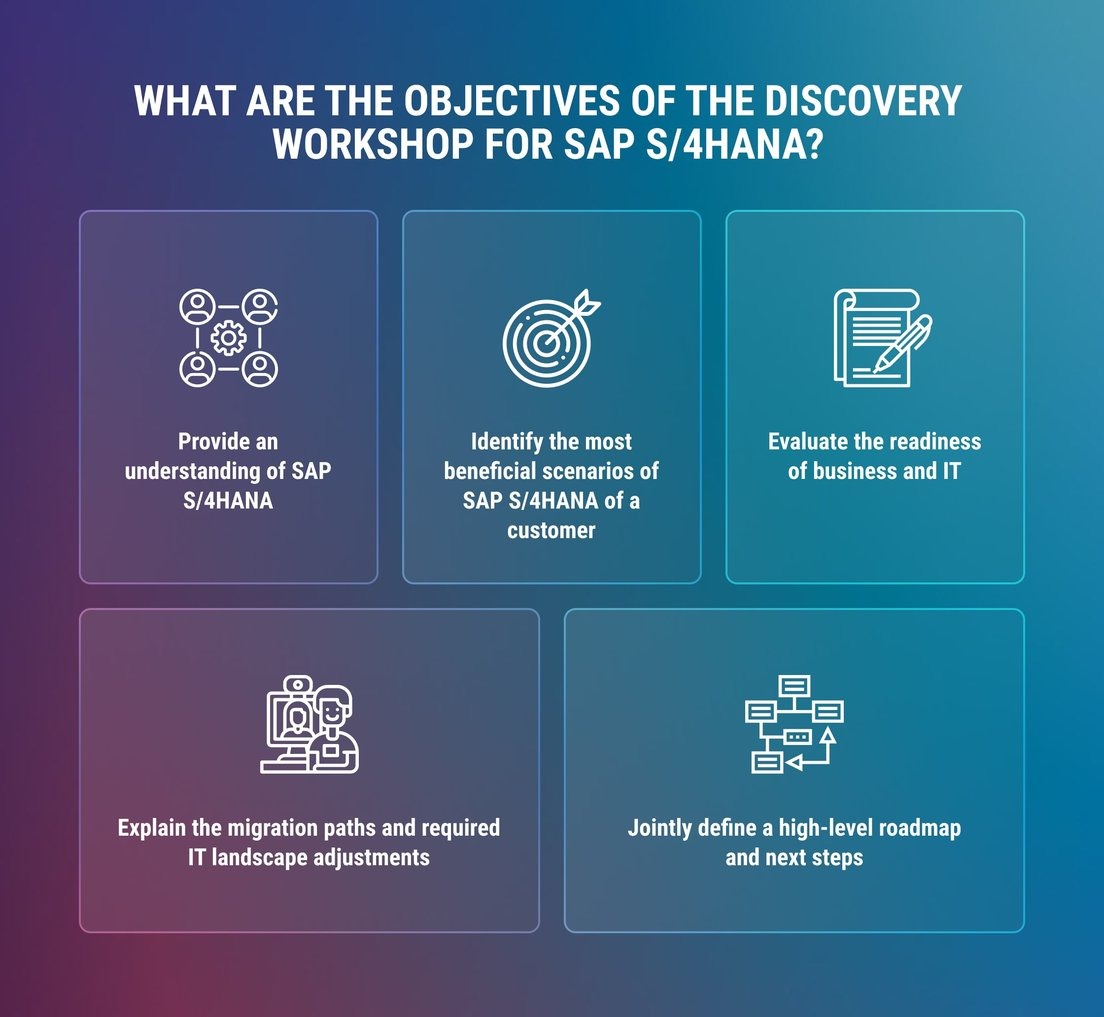 If you still have questions or you're thinking of , book a free consultation with our specialists.