Boosting product innovation in the food and beverage industries simultaneously with ensuring compliance and quality is difficult but possible, and there is a solid strategy to do that in 2023. Read the article to find out which one!
Top Challenges Food & Beverage Companies Will Have to Address in 2023 and Beyond
The notorious COVID-19 pandemic has taught businesses that if they want to stay afloat, then it's a must for them to have a digital presence for online ordering and delivery services. Rapidly changing behaviors of consumers turned digital commerce into an initial sales channel for food retailers, even if the purchase rate has yet to reach in-store retail.
Although making a technological revolution, the food and beverage industry has some significant issues and challenges ahead. In this article, we will review these problems in detail and try to figure out how to overcome them. Also, we'll discuss the role of digital transformation, particularly how implementing technology like food PLM (Product Lifecycle Management) can boost overall efficiency.
The Industry Overview
In light of the challenges faced, the food and beverage industry market is expanding and working hard to meet evolving needs. The global food and beverages market is expected to grow from $5838.8 billion in 2020 to $6196.15 billion in 2021 and will grow to $8163.61 billion in 2025 at a CAGR of 7%.
The growth is mainly due to companies rearranging their operations and recovering from the COVID-19 impact, which had earlier led to restrictive containment measures involving social distancing, remote working, and the closure of commercial activities that resulted in operational challenges.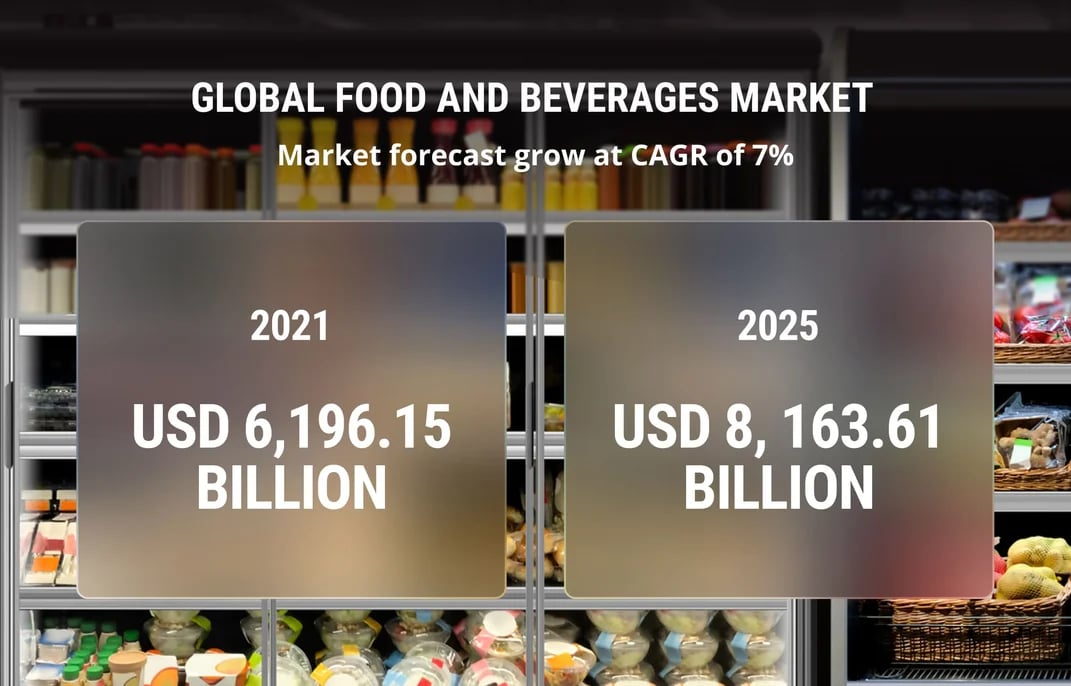 Major food and beverage market companies include Nestle S.A., JBS S.A., PepsiCo Inc., Anheuser-Busch InBev SA/NV, Tyson Foods Inc, Wilmar International Ltd, Archer-Daniels-Midland Company (ADM), The Coca-Cola Company, Imperial brands plc, Mars Incorporated.
Not surprisingly, the supermarkets/ hypermarkets market was the largest segment of the food and beverages market segmented by distribution channels, accounting for 58.7% of the total in 2021. Going forward, the e-commerce segment is expected to be the fastest growing segment in the food and beverages industry, segmented by the distribution channel, at a CAGR of 13.2% from 2021-2026.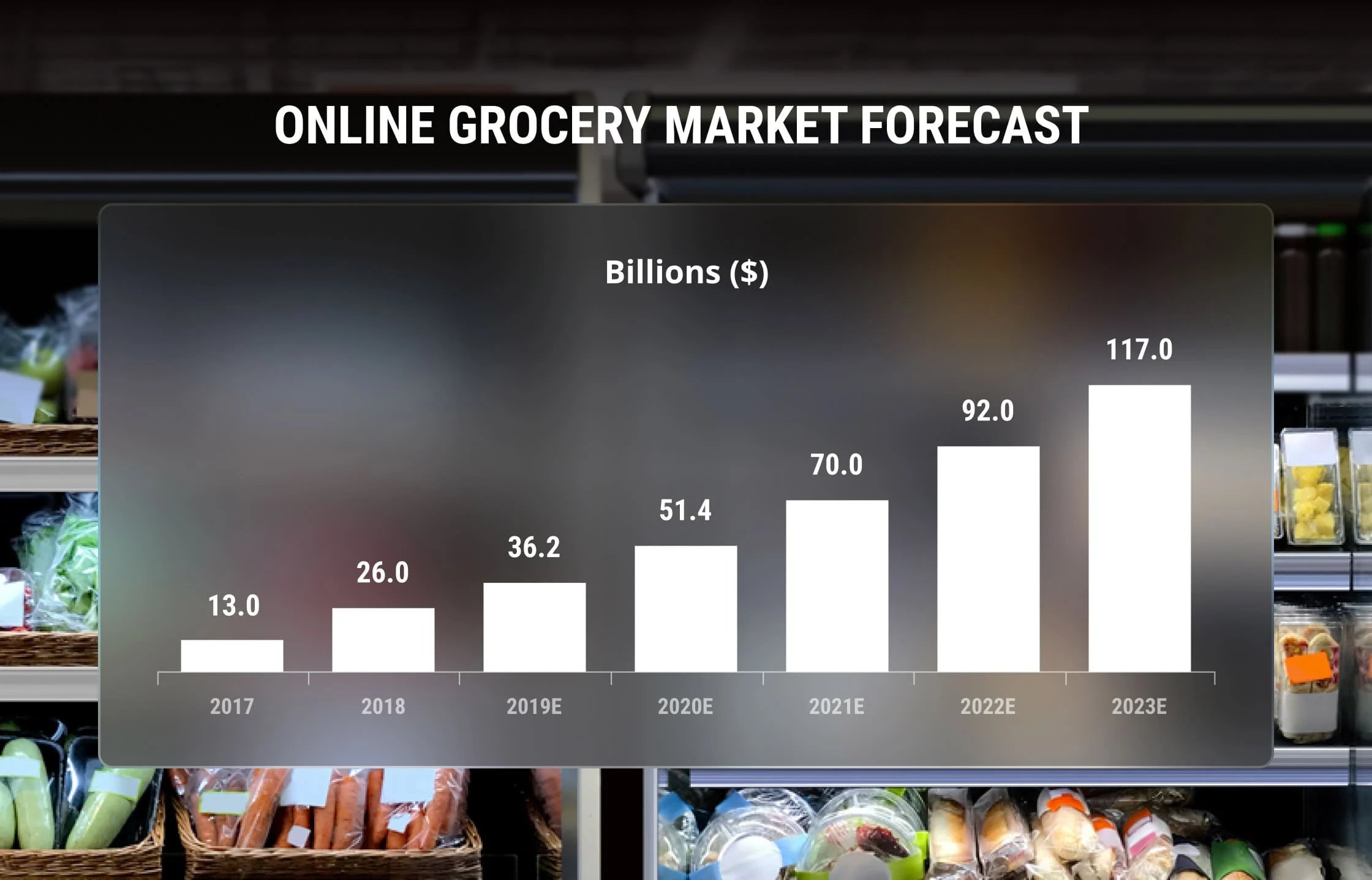 Despite such growth and e-commerce success, most food and beverage manufacturers are viewing the future with alarm. Although moving towards a technological revolution, the industry has some issues and challenges ahead of itself.
4 Concerns to Expect When Entering 2023
Food & Beverage companies face many ongoing challenges threatening their ability to sustain themselves in the competitive market during the COVID-19 pandemic. We've picked the four most acute ones.
1. Increased costs
Food and beverage businesses were approximately twice as likely to report additional costs – which refers to transportation expenses only.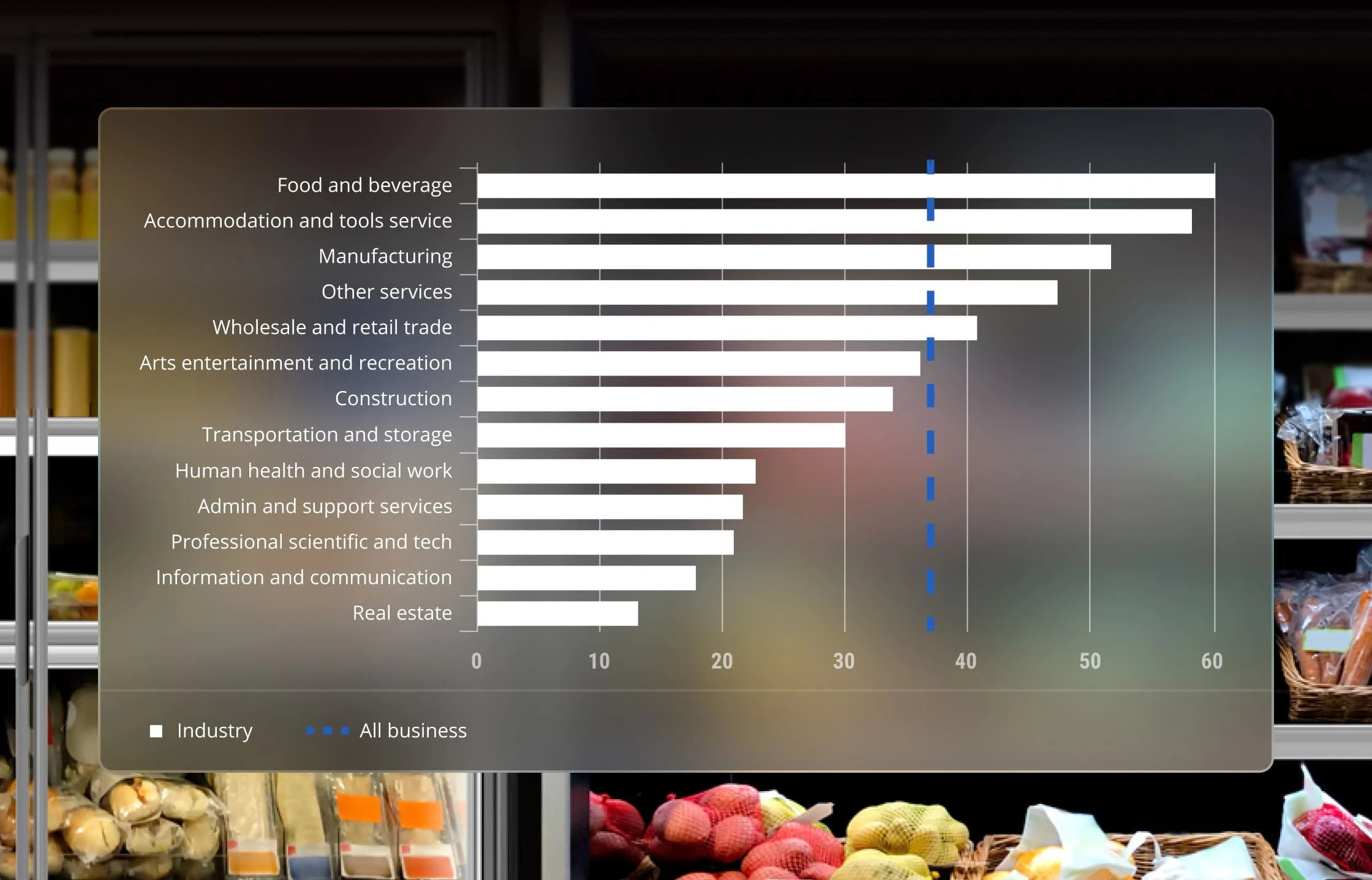 Due to labor shortages, several top industry players have accelerated their technology implementation. Several F&B companies focus on beefing up their automation capabilities to fill the gaps.
Also, nowadays' customers want assurances about where the food that ends up on their plate has come from and if they can trust the manufacturer. The growing desire for organic and sustainable foods fuels the costs of a better understanding of customer priorities.
A common example is a vegan diet when companies have come up with meat-free alternatives to keep the retail and supply chains running. Also, the increased use of natural ingredients and reduced use of artificial colors and flavors force manufacturers to look for a costly replacement, exacerbating the situation.
2. Stringent regulatory control
While an enormous web of regulations, logistical challenges, and expenses have always been part and parcel of cross-border trading, the last year has seriously exacerbated these issues. It is especially true for larger multinational businesses that rely on running hundreds of supply chains smoothly at any time.
In food and beverage, the FDA's Food Safety Modernization Act (FSMA) expects full transparency of how products are made and where they are at all times in the distribution and consumption layer. As a result, legal and regulatory teams have to spend thousands of hours manually monitoring laws and regulations.
3. Supply chain disruptions
The way manufacturers produce food is constantly growing in complexity. Products are made of more ingredients than ever, while shifting consumer demands force businesses to diversify their offerings. This has made supply chains longer and more splintered, with products traveling through more facilities and heading in many different directions before they reach consumers.
Managing supply chain disruption is undoubtedly not new to manufacturers and industrial companies. Still, the effects of the COVID-19 pandemic made it more paramount for processes and operations to change.
The unexpected fragility of the global and local supply chain has been exposed over the last year, and many companies have realized how poorly prepared they were. Shortages or irregular supply puts a lot of stress on manufacturers and retailers, who now have to manage their inventory better and diversify their supply chain.
4. Consumer preferences
It may seem extra trouble to keep up with these demands because they can quickly change, mainly when the industry primarily focuses on all the other challenges. New consumer trends for healthier alternatives, sustainable product packaging, and regulatory ingredient control are reshaping the food and beverage segment.
The industry has already become a competitive marketplace, where shelf placement and brand recognition play a decisive role in consumers' decision-making. Now, it is also faced with additional challenges regarding sustainability and eco-friendly alternatives.
The Indispensable Role of Efficient Product Management
With shorter product lifecycles and higher demand for eco-friendly products and packaging, savvy food and beverage manufacturers positively assessed product lifecycle management solutions to address these challenges.
PLM solutions enable manufacturers in the food and beverage industry to manage product innovation, package development, regulatory ingredient control, quality, and sustainability factors using a single integrated system. Any updates are implemented dynamically and in real-time throughout all operational areas of an enterprise. From the ingredients to the final product, a proper PLM system compiles a reliable report which includes all critical information.
Along with all the accompanying steps, these reports also incorporate the origin, geographic details, and language information. Thus, a PLM system ensures that when generating product labels, all required specifications are processed and are up to current compliance standards.
PLM features regarding the food and beverages industry allow for the following:
1. Fully integrated document management.
With this tool, the company can retain all records associated with the R&D process from concept to production ramp-up. SAP PLM software automatically optimizes manufacturing expenses and analyzes formulation costs.
2. Cross-functional collaboration.
The software links information together and breaks down silos, thus, for example, combining engineering data with manufacturing information, increasing overall work efficiency. Moreover, it boosts collaboration across all internal company teams, from procurement to marketing.
3. Reliable updates.
Approvals are recorded on documents electronically if a food company uses a formal stage/gate process. SAP PLM software updates data and manages documentation for product formulation, ingredients, packaging, and more. All product data are centralized and connected directly to each product allowing tracking changes over time.
4. Recipe version tracking.
The program tracks recipe version changes, incorporating all costing elements, ingredient declaration, and nutritional analysis. Analytical information for each ingredient is carefully stored, can be migrated to recipes, and turned into label sets for back-panel label reports.
Product lifecycle management doesn't stand only for research and development. To succeed, product managers must envisage challenges in multiple areas, from marketing and the business to suppliers and customers. A consolidated view of the product and where it is in the life cycle is vital for measuring the product's status.
How SAP Can Help
The pressure the food and beverage industry is under is obviously high. Companies have to ensure appropriate product quality, and it may seem that innovation isn't easy. However, failing to do so can have some disastrous consequences.
Businesses must transform their product lifecycle to overcome the challenges mentioned above. More advanced tools from world-renowned software providers like SAP will make it much easier to withstand market pressures. But it's more than just 'digitally transforming' – businesses need the right digital strategy and buy-in across the supply chain to thrive.
SAP provides a data-driven approach for managing issues in the food and beverage industry using modern analytics tools, thus increasing visibility across supply chains. A narrowly targeted PLM software provides businesses with plenty of customizable dashboards and key metrics. With the received data, product managers can make more informed decisions and be better prepared for changes in demand.
Risk tolerance will ultimately determine success in the market. Those willing to micromanage their different farms constantly and tediously will make the biggest wins and bounce back from their losses the quickest.
Therefore, there is a growing need for a solution for customers who want more than just top-quality goods – they want high-quality in-person service, increased transparency of supply chain processes, and reliable e-commerce platforms to do their own impartial research before speaking to suppliers, which has been accentuated by supply chain disruption. Contact our experts today to find out how SAP can help you.