Intelligent enterprises are trendy in the times of digital transformation. Whatever industry your organization operates in, it's crucial to adapt to rapid changes. With the business technology platform, SAP simplifies the implementation of innovative technologies.
Three Use Cases Powered by SAP Business Technology Platform
Intelligent enterprises are trendy in the times of digital transformation. Whatever industry your organization operates in, it's crucial to adapt to rapid changes. With the business technology platform, SAP simplifies the implementation of innovative technologies.
In our article, we'll look into the three use cases that will work for businesses in retail, automotive, and logistics.
What's SAP Business Technology Platform?
SAP's BTP is a holistic business and technology platform that represents portfolios of solutions, including:

Database and data management

Analytics

Application development and integration

Intelligent technologies
It's available through a multi-cloud channel — businesses can run SAP BTP in any hyperscaler cloud environment for flexibility and customer choice. The solution ensures rapid implementation and fast time to value, reducing payback period.
Database and Data Management
This component is used for managing big and diverse data, which can enable analytics, ML/AI, and IoT solutions to make better and more confident business decisions.
Analytics
The analytics component helps:
Analyze data to drive better planning and decision-making.

Get real-time visibility into dynamic business environments.

Simulate the impact of business decisions.
Application development and integration
With SAP Business Technology Platform, enterprises can extend, integrate, and build enterprise applications across different vendors with intelligent and insightful capabilities at scale.
Intelligent technologies
To deliver a new level of insight, SAP BTP allows integrating human augmentation, automation of business processes on-premise, in the cloud, in business applications, and over edge devices.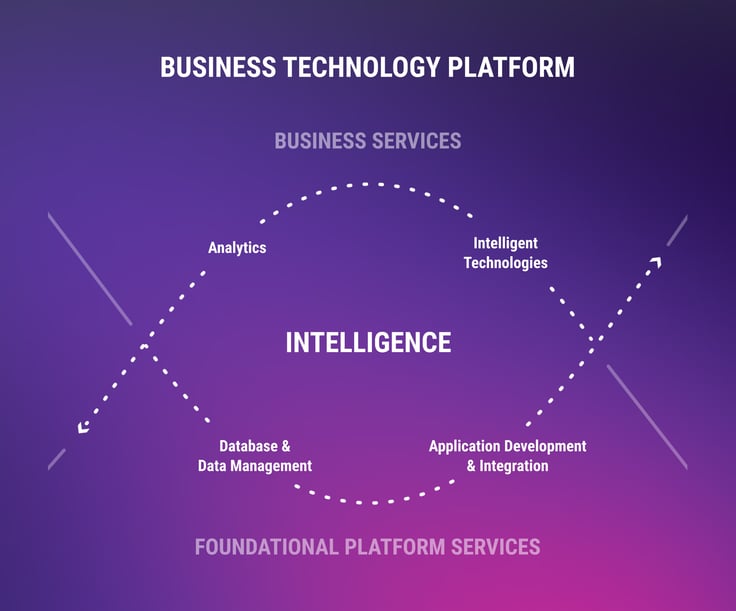 Improve customer experience with intelligent planning and analysis
Challenge
The retail industry is experiencing a lot of challenges, ranging from complex customer experience to exploring new channels. Operating in tough market conditions, it's not enough to adhere to a single strategy to stand out in the market. That's why retailers need to personalize their marketing and sales strategies to provide an enhanced customer experience. Intelligent planning and analysis are the key technologies to implement a customer-based strategy successfully.
Most retailers don't have enough insights into customers' behavior and habits to support decision-making. To get insight from a wider range of customer data, customer experience teams need to look into data from other components of the enterprise such as sales, supply chains, human resources, etc. CX specialists need to combine data from different departments to get deeper insights.
How SAP BTP helps
With SAP BTP components integrated into the core departments' functions, retailers get the ability to correlate customer data with other key enterprise indicators. The implementation will help retail businesses understand how they must operate, turning insight into actions. They receive a single source of truth to inform CX decisions, while analytics will provide the team with the required insights. Below are two examples of how retailers can improve customer experience based on SAP BTP's planning and analysis tools.
Analyze sales performance and forecast demand
Retailers need to analyze sales performance. By implementing the components of SAP Business Technology Platform, they can dive deeper into data about sales and customers, analyze customer behavior and sales patterns, and predict the demand for specific product categories. For example, retailers can break down sales data based on the mode of purchase, customer demographics, discounts applied, return queries, etc. Then the analytics solution will give them insight into how products are sold and predict the demand for them for a particular period.
Identify customer trends
Another crucial area for retailers is identifying customer trends. Customer trends enable retail businesses to create more detailed customer personas and target them with more relevant offers. To identify such trends, retailers need a robust analytics platform that can analyze a huge amount of data. For instance, they can develop a targeted approach based on user behavior data and preferences. This may include the intelligent comparison of the number of checkouts and cart abandonment rates, analysis of conversions through a discount in carts, etc. These are just a couple of examples of how retailers can benefit from correlating data about customer behavior with their targeting approach.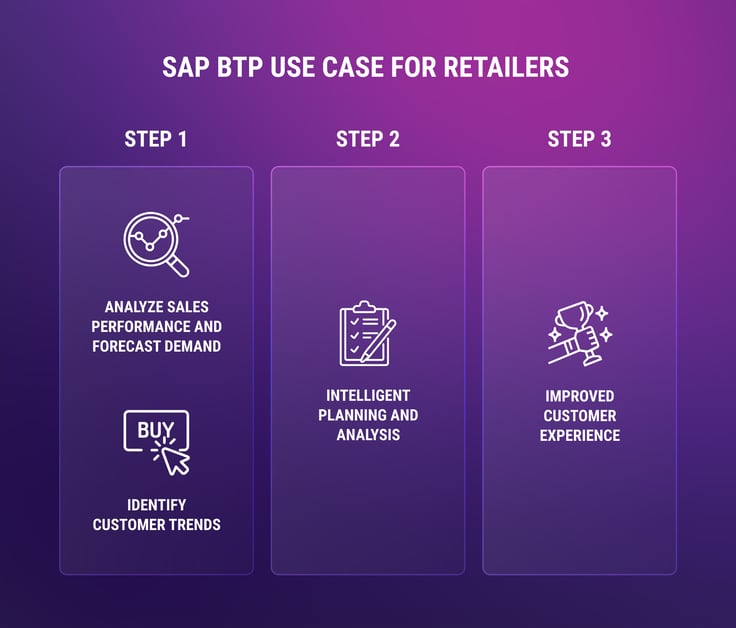 Create an intelligent enterprise with planning, business intelligence, and predictive analytics
Challenge
Organizations working in manufacturing such as automotive enterprises, should plan resources and make decisions across different departments. The areas that involve planning and decision-making include:
All of the above-mentioned areas accumulate massive volumes of data. So, in an organization where intelligent planning is not integrated, employees have to spend too much time gathering, preparing, and analyzing data. Thus, such enterprises require automation to plan resources and make data-driven decisions faster.
How SAP BTP helps
SAP Analytics Cloud is one of the components related to the SAP Business Technology Platform. The solution combines data from other SAP solutions and third-party sources to deliver insights into a broad range of core business functions. By implementing the SAP Analytics Cloud solution with SAP S/4HANA, enterprises can apply advanced real-time analytics to plan resources. This type of SAP integration enables the enterprise to support intelligent processes and make analytics-driven decisions faster, thus adapting to rapid changes in the industry.
With an intelligent enterprise system based on SAP Business Technology Platform, an automotive enterprise will be able to:
Accelerate decision-making based on streamlined and automated reporting processes and insights related to the key functions.

Respond quickly to a dynamic business environment with a comprehensive view of all business data across the enterprise.

Make accurate, end-to-end decisions with enterprise analytics integrated with SAP S/4HANA.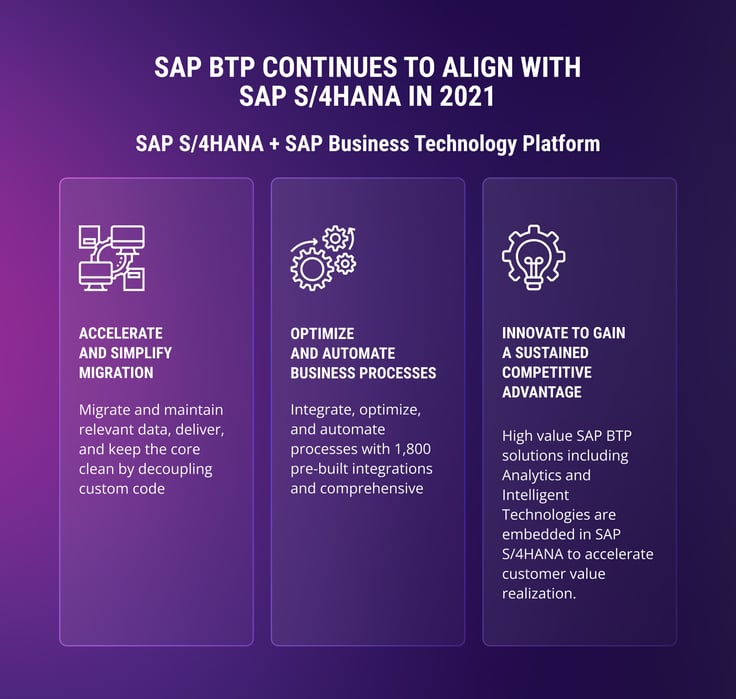 Assess the impact of global events on your supply chain
Challenge
In times of unstable economic conditions, it's difficult to quantify the impact of global events on supply chain activities. Organizations need to synchronize the data collected by their ERP systems with the data on global events. To analyze all this data, intelligent analysis is required.
How SAP BTP helps
By deploying an intelligent solution based on SAP BTP, organizations get real-time insight into supply chain activities and are aware of how they may be affected by the events that happen in the countries where they purchase goods. The solution allows them to correlate their ERP system insights with the global situation in the region and identify the factors that would influence the supply chain. For example, the COVID-19 pandemic has influenced many industries, including logistics. With the SAP BTP platform, you can focus and monitor disruptions related to your supply chain during a lockdown to mitigate risks associated with delays in delivery, downtimes, etc.
Real-time insights will help you understand where your organization is and how it can be affected by global disruptions, what areas you should focus on, and take actions if needed. With SAP BTP, you gain a comprehensive view of supply chain activities, quantify risks, and engage with suppliers more effectively.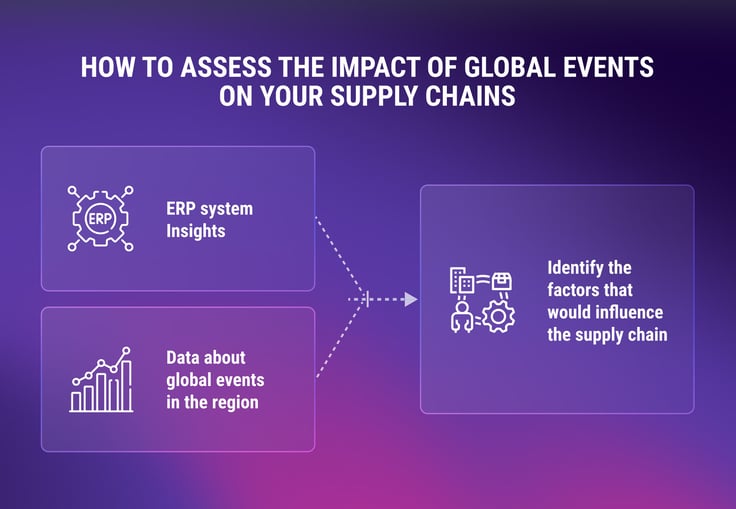 If you have further questions about the SAP Business Technology Platform or how to implement its components in your industry, book a free consultation with LeverX experts.