On the way to an intelligent enterprise, organizations have to streamline multiple business processes such as improving customer experience with planning and analytics, assessing the impact of global events on their business, etc.
Three Common Challenges Businesses Face on Their Digital Transformation Journey
On the way to an intelligent enterprise, organizations have to streamline multiple business processes such as improving customer experience with planning and analytics, assessing the impact of global events on their business, etc.
No matter what business domain an organization represents, there are common challenges they have to address while digitalizing their business processes. Let's define what they are and how to optimize business transformation with SAP solutions.
Challenge 1: Integration
There's a significant growth in software utilized by organizations, especially by mid-size and large enterprises. According to recent reports, the total number of applications maintained by large companies has increased by 68%. As a result, they have to manage an extremely complicated IT infrastructure that may include third-party and legacy systems and platforms deployed both in-cloud and on-premise.
What's really challenging is that every system requires a customized integration as they have different data models, business logic, and processes. The integration of all corporate systems becomes crucial to ensure the smooth operation of the software components within a corporate IT environment. To add to this challenge, integration leads to increased IT spends and lost income as it takes significant time to integrate, configure, and connect applications with the complicated IT infrastructure.
Challenge 2: Extensibility
The pandemic forced companies to reconsider specific processes and systems that aren't necessarily flexible enough. Amid a fast-changing market environment, many organizations understand why it's essential to manage business processes flexibly.
For instance, supply chain management was among the first areas affected by the COVID-19 pandemic. Most organizations have to extend the capabilities of their supply chain systems in response to changing market requirements.
Modern supply chains require closer collaboration and effort through cross-functional planning, advanced features for supply risk assessment, and real-time analytics for delivery monitoring, etc. The truth is that only companies with flexible systems can stay relevant and extend their opportunities within the shortest time frame.
Organizations that continue using legacy software lag behind those implementing scalable software solutions that are easy to extend with new capabilities once it's vital to meet new requirements.
Challenge 3: Data-to-Value
Businesses also need to adhere to a data-driven approach to keep up with evolving market trends. While the amount of data increases, the question is, how to best drive business value from enterprise data. However, studies show that 69% of companies don't follow a data-driven approach.
Another challenge in this struggle is how to ensure simple access to all enterprise data within an organization. Thus, it's crucial to create a single source of data to get real-time insights into all company's processes.
What's the Technological Foundation for Addressing Digital Transformation Challenges?
As we've mentioned above, business transformation requires strong capabilities of enterprises to migrate their assets to the cloud and to integrate and extend their applications. SAP Business Technology Platform was created for this very purpose, to further drive these transformation processes. It's a business-centric and open platform that provides the technologies needed for the digital transformation of business processes.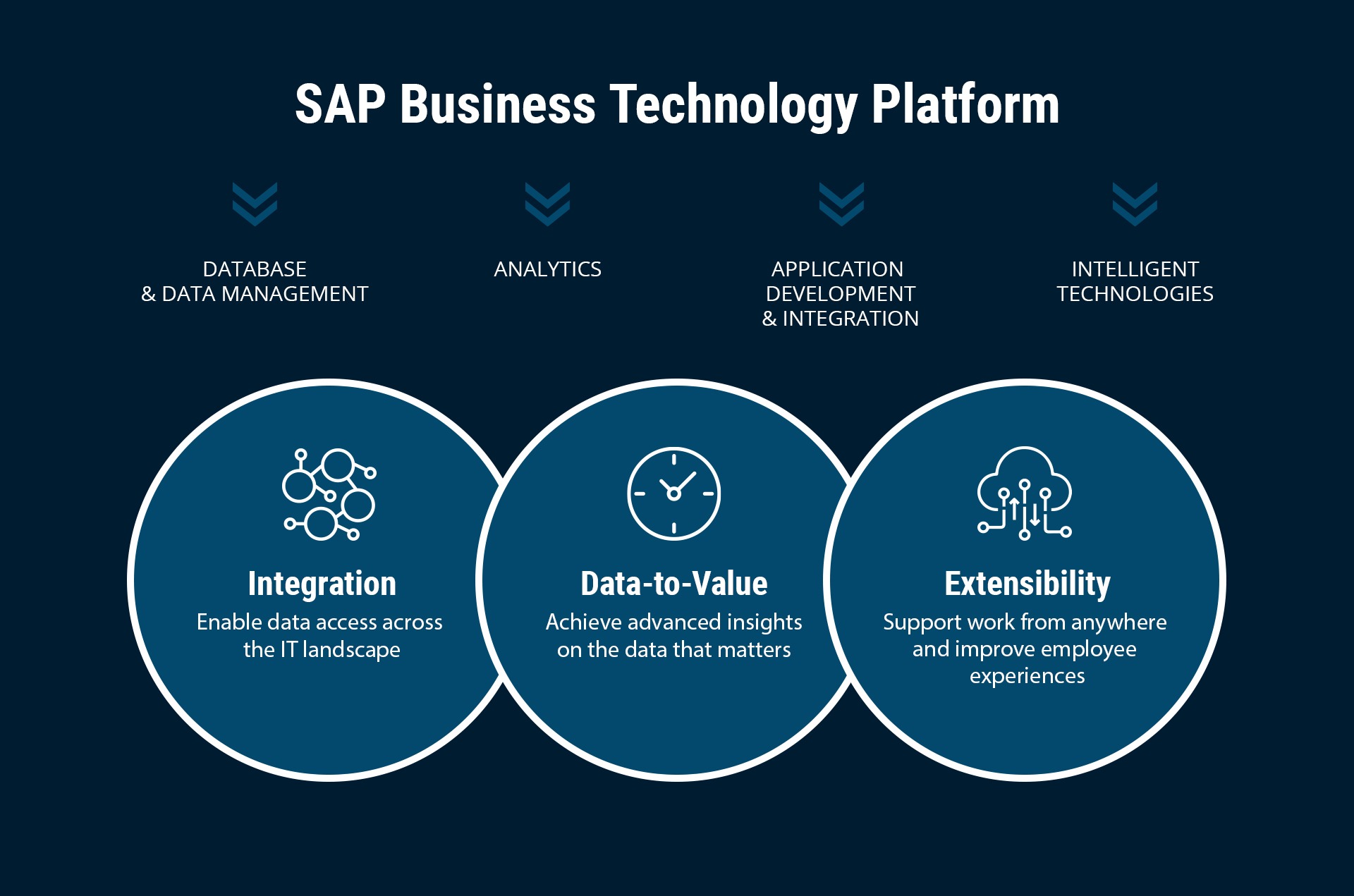 So, how can organizations leverage SAP Business Technology Platform to address the three challenges they face in their business transformation journey? Below are several SAP BTP components that can help businesses with application integration, extending app experiences, and getting advanced insights into enterprise data.
SAP Integration Suite
As a Platform-as-a-Service, SAP Integration Suite allows businesses to integrate both on-premise and cloud-based applications and processes with tools and prebuilt content developed by SAP. To streamline and simplify the integration process, you can use the platform's capabilities as follows:
Connect and contextualize processes and data while integrating applications.

Connect and contextualize experiences for customers, partners, and employees across your enterprise.

Select the integration strategy based on the business use case that works best for you.

Integrate with the right technologies according to your integration style and use case.

Simplify the implementation and maintenance with the AI-based Integration Advisor capability.

SAP Extension Suite
With SAP Extension Suite, you will create consistent and personalized experiences across different business functions and interaction channels. The solution enables automation and adaptation of business processes to align with your software solutions. Due to the capabilities of the suite, you can:
Simplify application development

Enhance digital experiences

Improve digital automation

Increase development efficiency and productivity

SAP HANA and SAP Analytics Cloud
To simplify data processing and cut down development costs, you can use SAP HANA and SAP Analytics Cloud. The solution will help you create a single source of enterprise data and analyze those data to get business insights. SAP HANA and SAP Analytics Cloud are a perfect combination to reach these objectives, since the former is a scalable database with services for creative innovations, while the latter allows users to analyze, predict, plan, and report wherever they are at the moment, be it an office or a meeting with partners.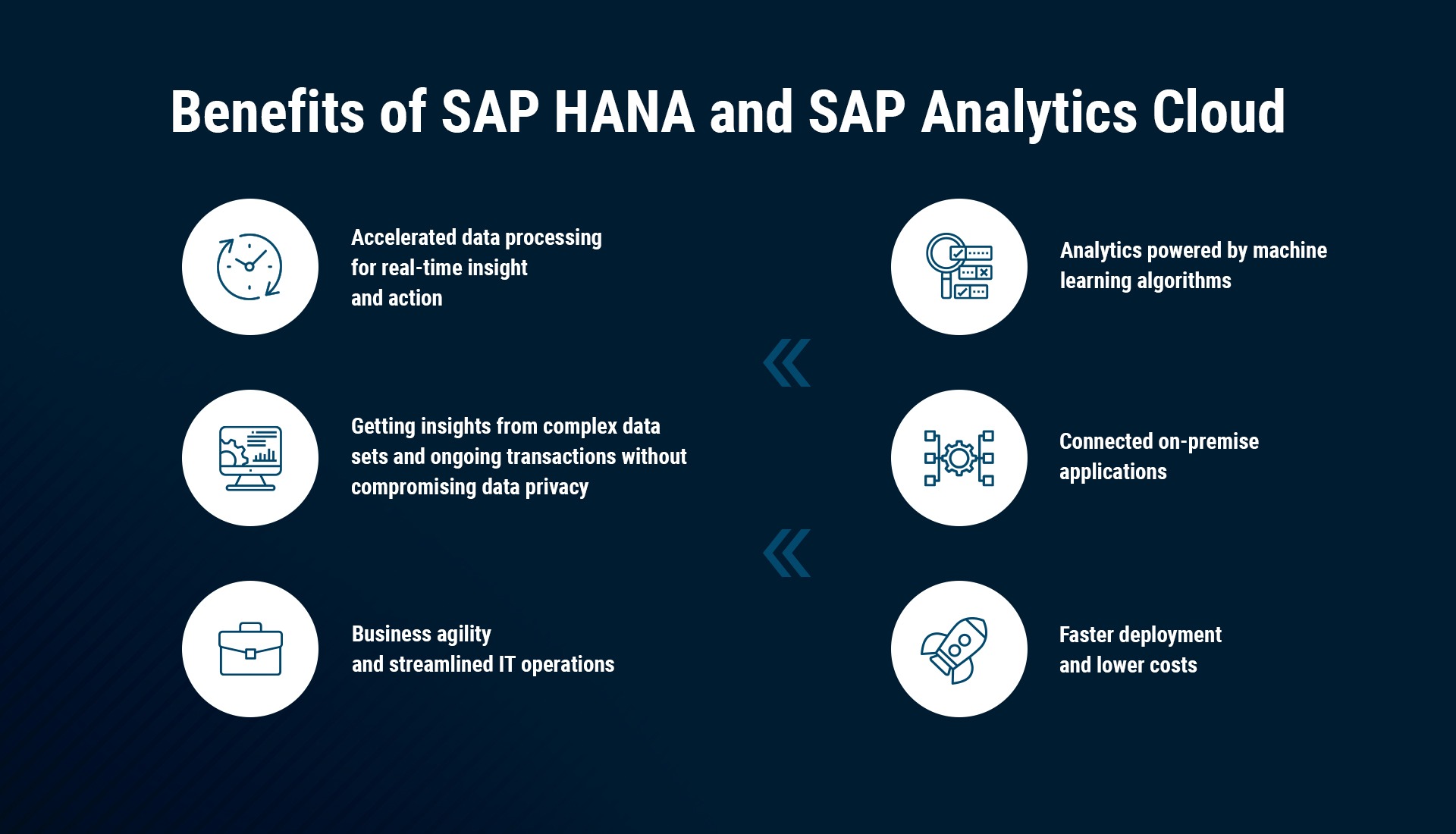 Combine SAP Business Technology Platform with Microsoft Azure
As a scalable, secure technology foundation, SAP Business Technology Platform helps businesses build flexible end-to-end processes and create and extend SAP and non-SAP applications faster. For example, by combining SAP with Microsoft Azure, you can reach new markets by creating new cloud-based business models.
SAP and Microsoft announced the expansion of the existing partnership to collaborate on improving availability, integration, connectivity, and security for SAP solutions on Microsoft Azure. Some of the planned activities are aimed at the enhancement of network integration security, network performance, integration of Microsoft Azure and SAP software development environments, etc.
As an SAP partner, LeverX has the expertise to ensure a rapid business transformation journey based on the capabilities of the SAP Business Technology Platform. If you are on your way to an intelligent enterprise and looking for a reliable digital transformation partner, book a free consultation with LeverX SAP consultants. Our experts will dive deep into your business processes to help you address digital transformation challenges.