SAP S/4HANA migration is one of the most discussed points among enterprises thanks to a 2027 deadline.
Why You Should Migrate to SAP S/4HANA: Main Reason and Real-Life Examples That Prove It
SAP S/4HANA migration is much-discussed among enterprises is one of the most discussed points among enterprises thanks to a 2027 deadline. The majority of businesses are questioned if they need to migrate their legacy ERP to SAP S/4HANA immediately or they'd better stop, think over, and find true value drivers for migration. Though businesses may be driven by a vast majority of obvious and less popular reasons, there's only one true reason that should power their SAP S/4HANA migration project to bring value in the future perspective.
In our blog post, we'll reveal this reason and demonstrate its value based on the experience of enterprises and service providers from different industries.
Most Popular Reasons to Migrate to SAP S/4HANA
There are three popular reasons why enterprises would migrate to SAP S/4HANA.The most common one is the deadline that stops the maintenance of SAP ERP systems released before SAP S/4HANA. This seems like an obvious yet wrong reason for the majority of businesses. On the one hand, if your company's ERP will not be updated in the future, it's a strong reason for migrating to the new SAP S/4HANA system. On the other hand, there's no urgency in migrating right now as you have at least six years more at your disposal. The lack of urgency means that it may not be your top priority, and spontaneous migration may not be done thoroughly, leading to reduced value.
The second reason is associated with embedded analytics offered by the new technology, and it seems obvious as well. Still, why shouldn't it be the only reason for SAP S/4HANA migration? Without a clear vision of what aspects should be improved, you may potentially turn up a negative return on investment.
Finally, the third reason is to achieve true digital transformation. And this reason makes the project valuable for the entire business. Let's dive deep into why digital transformation should become the main driver for SAP S/4HANA migration.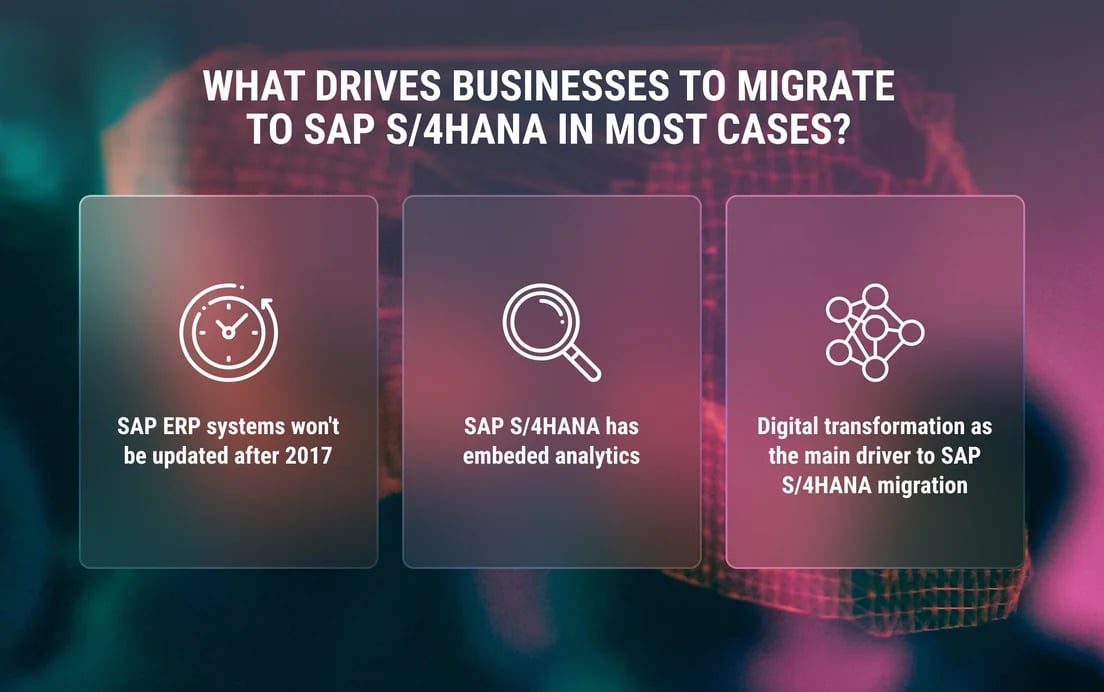 Why Is Digital Transformation the Key Reason?
Companies always deal with changes, but the COVID-19 pandemic has strengthened the importance of transformative initiatives for enterprises. The latest crisis caused by the COVID-19 lockdown shows that the modern business has changed the way it functions. So, it's high time to redesign the organization's landscape and go digital in the areas of operation. In the current market conditions, if companies don't transform themselves digitally, they won't be likely to survive. Thus, enterprises that will choose digital transformation as the main driver towards SAP S/4HANA migration will find value for their businesses. Why does it make sense?
Because of the specific nature of their activities, enterprises accumulate a massive amount of data that has been growing significantly over time. They may acquire or merge with another company but not harmonize data appropriately to eliminate associated costs. Or they may close a division but not delete the data from the corporate system to avoid additional investment. Anyway, organizations have to deal with a lot of unstructured and sometimes out-of-date data.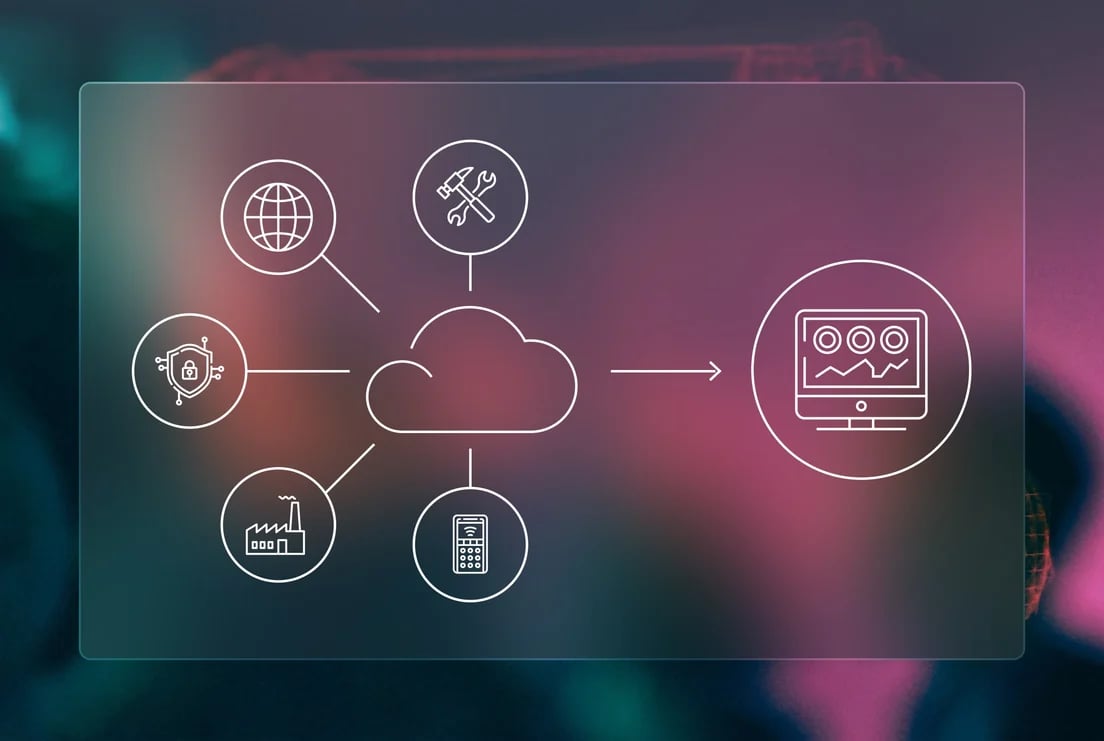 The real benefit of digital transformation is an opportunity to clear the system out of unnecessary data, migrate historical data, and create a centralized data source for making instant decisions across all the divisions.
A Gartner survey reports that 66% of CEOs expect to change their company's business model in the next three years. Many of them have already adapted their supply chains and other areas to the new normal, but the pandemic-powered digital transformation will continue for most enterprises and require an agile approach to its implementation.
How Covid-19 Accelerates Digital Transformation
According to a survey, about 70% of European executives, including the ones from Austria, Germany, and Switzerland, agree that the pandemic will accelerate the pace of their digital transformation. Asian banks that have quickly transferred their physical channels to the online environment are another vivid example that proves this tendency.
Digitalization makes it real for all businesses to survive during the pandemic and long after it. The common areas impacted by the new normal are shown below:
Supply Chain
When the pandemic spread around the world, and most countries had to be on lockdown, many retailers were experiencing stock-outs. The shortage of toilet paper in the USA and buckwheat in Russia are just some of the examples. To eliminate such supply chain difficulties, retailers and other enterprises from various sectors need to be able to detect demand-pattern changes. In the new normal reality, it's crucial to ensure the transparency and flexibility of supply chains to respond effectively to evolving market changes.
The digitization of supply chains is the way to address this challenge. With AI-powered ERPs and inventory management systems, it's easier to predict the demand for specific products and manage inventories.
Remote Working
In March 2020, the global pandemic lockdown caused most companies to adapt their offline operations for remote working. The new mode of working required flexible access to corporate ERP systems. That's why cloud data storage became even more relevant than before and became a reasonable solution to adapt to a new remote working model.
Though many small and mid-size businesses run their ERP systems on-premise, there's a clear reason that drives their solutions to the cloud. Cloud ERP systems such as SAP S/4HANA Cloud have a significant advantage as remote working and management is built-in by default.
Cloud-based ERP systems also bring cost benefits: they are typically cheaper to maintain than in-house management of on-premise data centers as they require less assistance from in-house IT specialists. Moreover, cloud ERP providers like SAP offer advanced cybersecurity and privacy protection and regular updates to address evolving challenges.
Operation Automation and Optimization
Another common issue emerging in the pandemic times is how to maintain productivity. Learning how to be productive is critical not only during the pandemic crisis but also after returning to offices. To capture the most value from the new normal, companies must optimize and automate their core operations.
With the rapid spread of coronavirus, self-service applications for customers and employees make it possible to get their task done without stepping out of their home. Particularly, support specialists can solve technical issues remotely by accessing their colleagues' personal computers and other devices, while intelligent chatbots can consult customers on services. And these are just some of the numerous examples.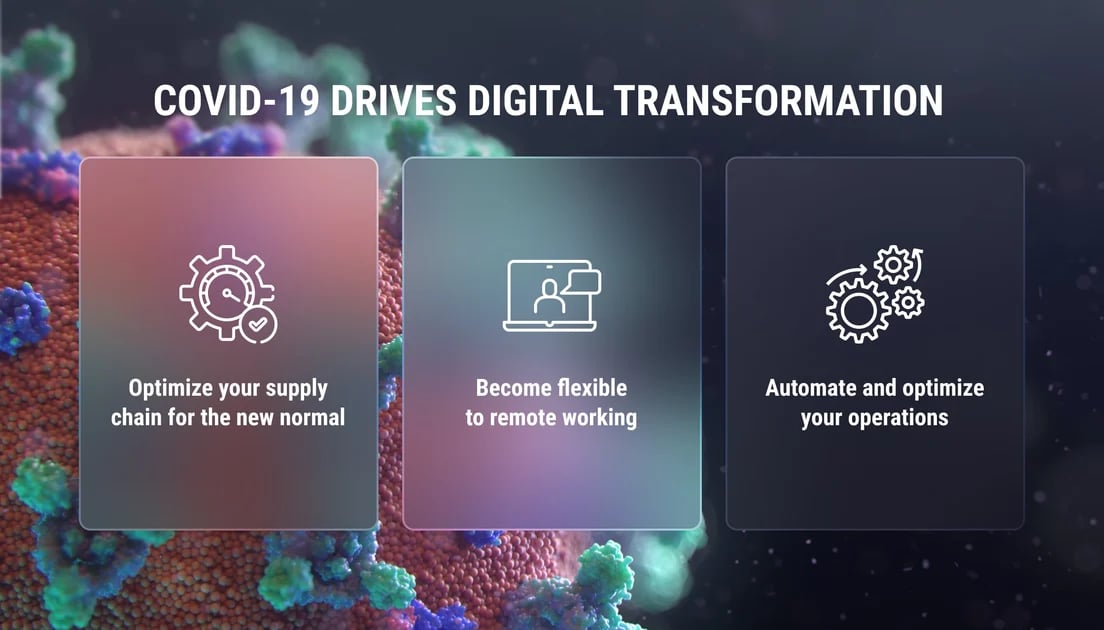 3 Digital Transformation Examples That Will Inspire Others to Act
An Airline Company Reduced Procurement Costs through Digital Transformation
Though the services of one of the American airline companies brought good returns, they had high procurement costs. By migrating to SAP S/4HANA, the company transformed themselves into a digital business and reached a significant annual ROI. How will they benefit from this kind of transformation?
The SAP S/4HANA implementation will help the company manage and categorize procurement costs in real-time. In particular, they will be able to track each cost individually, including costs for spare parts, fuel, maintenance, etc. The embedded analytics will provide them with valuable insights for negotiating buying terms. Though the analytics saves only 1% of total costs (an annual procurement outflow is $30 billion), it's $300 billion, which is a significant ROI per year.
A Healthcare Provider Repurposed the Existing Analytics System for a Smart View of COVID Impact on Patients
Digital transformation is a must not only for businesses that produce goods but for service providers, too. In 2020, an American healthcare provider, like many others, had to quickly find answers to critical questions about worker safety, capacity planning, and delivering quality patient care. They realized that they found the answers in data sets. For this purpose, they transformed their legacy analytics system to combine all the data sources and ensure a smarter view of how COVID-19 affected patients at their facilities.
In cooperation with SAP and Intel, they combined structured data from the corporate ERP and raw data from clinical notes to load the data sets into an SAP HANA database on servers equipped with Intel's processors, memory, and network adapters. Finally, by employing AI and ML, they built an analytics system and digitized over 700 million clinical notes. The system provided the research with valuable insights on the ways medications, devices, and treatment affect patients.
A Huge Retailer Migrated to the Cloud for More Efficient Operations
As early as in 2019 a famous US-based retailer rebooted its technology strategy and migrated to the cloud. Their hybrid cloud system, powered by Microsoft and other partners, connects their corporate checkout system to thousands of point-of-sale devices. The analytics system also generates data insights on store operations and customer experience, providing the company with valuable information for business decision-making. One of the goals of the cloud migration is reducing the time spent on inventory counting and optimizing all the aspects of inventory in real-time.
If you plan a digital transformation journey at your organization, it's worth considering a packaged solution Rise with SAP that will provide you with an opportunity to smoothly yet quickly become an intelligent digital enterprise.
In a Nutshell
Looking back at the global experience, digital transformation should become the integral part of the technology strategy within any enterprise. Be it SAP S/4HANA migration or other SAP solutions implementation, the project driven by digital business transformation will bring you a better ROI and help to adapt to evolving changes, and in particular to the new normal caused by the COVID-19 pandemic.
If you have any questions concerning SAP S/4HANA migration for your organization, feel free to contact our SAP consultants.
Further reading on the topic: