In 2023, a resilient supply chain is an opportunity to break away from the competition. To maintain sustainability, digitization is the key to success. Read this article to learn everything about digital supply chain management.
What is Digital Supply Chain Management?
In most companies, digitization has long been a topic that decision-makers must address.
With all the disruptive processes in logistics that companies face, having an established digital supply chain is a competitive advantage. This advantage grows with increasing complexity and dynamically changing framework conditions. The targeted use of best-of-breed IT solutions throughout the supply chain ensures agility, a high service level, and cost efficiency.
Many companies are on the path to digitally transform their supply chain. In this article, we look at what drives the development of supply chain management and its short- and long-term benefits.
What Is a Digital Supply Chain?
The supply chain management (SCM) definition comprises the planning and administration of all activities involved in sourcing and procurement, conversion, and logistics management activities. It also includes coordination and collaboration with channel partners, suppliers, intermediaries, third-party service providers, and customers. Supply chain management integrates supply and demand control within and across companies.
Efficient and end-to-end digital supply chain management enables supply chain vendors to optimize the resources of all companies involved in the supply and value chains. The material and information flows of these chains cover all value-creation processes. The goal is to capture and optimize all processes along the value chain. Successful digital supply chain management is a key competitive factor in a global market that is becoming increasingly complex.
What Makes Supply Chain Management Digitization Important?
The principle of the labor division is a revolutionary experience for companies. Today, global organizations share various tasks in the value chain. Integrated planning opens up new markets, however, the companies depend on each other. These relationships require closer cooperation and a more intentional exchange of information.
SCM ensures cross-company, process-oriented planning and control of the entire value chain. Consumer habits force enterprises to rethink their logistics, so high customer expectations and short product life cycles are considered. Furthermore, the relationships with the suppliers are examined to optimally design and control the delivery of goods, cash flows, and information flows (supplier relationship management).
For now, there are many obstacles to improving supply chain processes.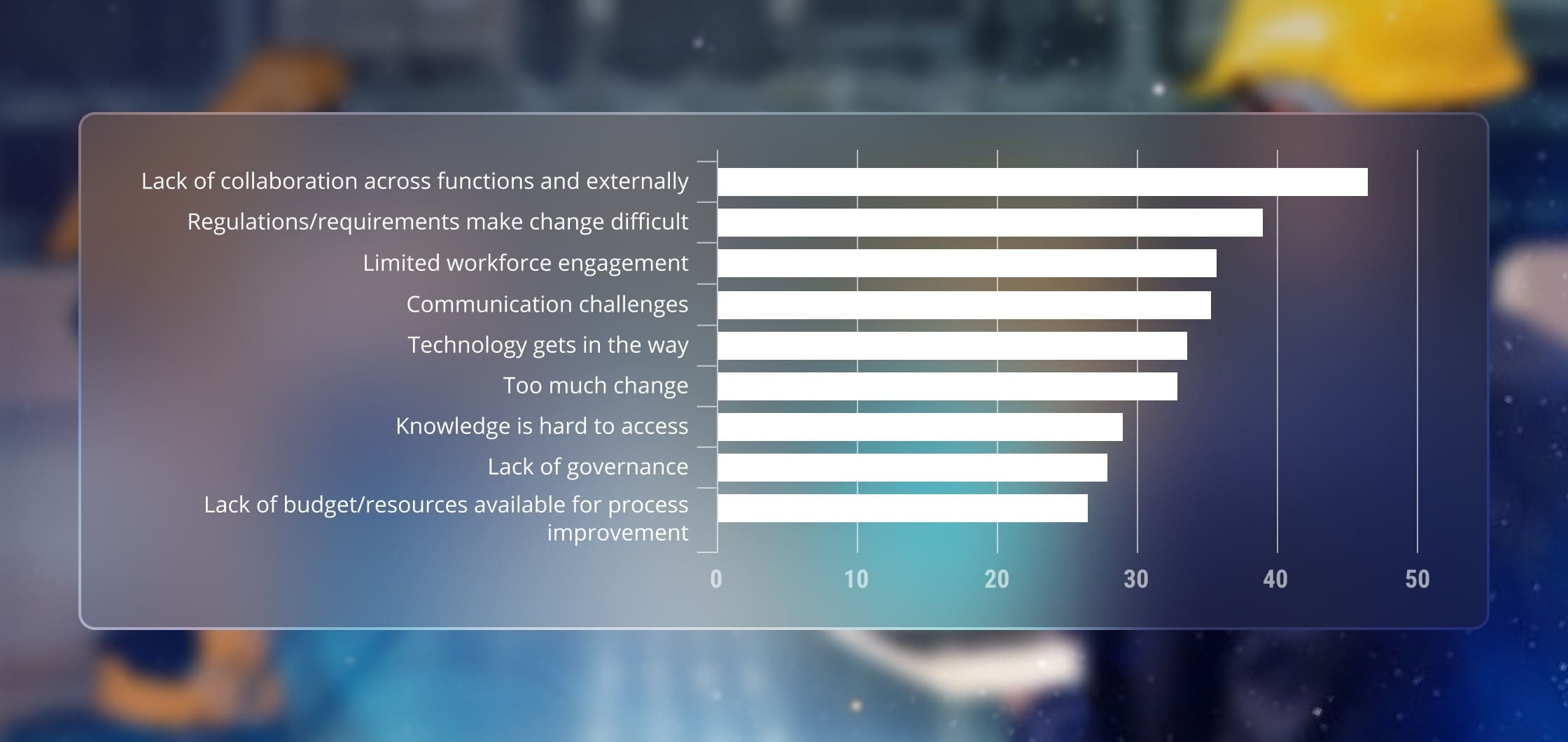 Source: 2022 Supply Chain Challenges and Priorities Survey Report by APQC
Let's look in detail at what the digital supply chain is used for.
What Is Digital Supply Chain Used For?
Supply chain management provides the following functions:
Planning
This function helps businesses develop plans to use resources that meet desired objectives efficiently and ensure sustainable needs-based production.
Scheduling
This function enables companies to create a schedule for each activity across all value chain stages to build short-term and long-term plans.
Control
This function allows enterprises to monitor progress and adjust the plan to ensure the synchronization of supply with demand, avoiding oversupply or the absence of goods in warehouses and, consequently, minimizing debts to partners.
Improvement
This function involves continually looking for ways to refine planning for future demand, capacity, and inventory levels, improve inter-organizational operations management, and increase the effectiveness of the production process.
Numerous sub-goals can be derived from these long-term goals:
Destocking along the value chain
Reducing storage costs
Securing the just-in-time supply
Increasing delivery reliability
Shortening throughput times
Benefits of Digital Supply Chain Management
A successful digital transformation of the supply chain offers the following advantages:
End-to-end supply chain visibility
Stable processes and high service levels
Significant cost reduction

To capitalize on the full optimization potential, the transformation must be holistic. The aim for companies must be to find the global optimum and not the local optimum of individual supply chain silos. To do this, the processes must be standardized, harmonized, and linked across site boundaries and functions.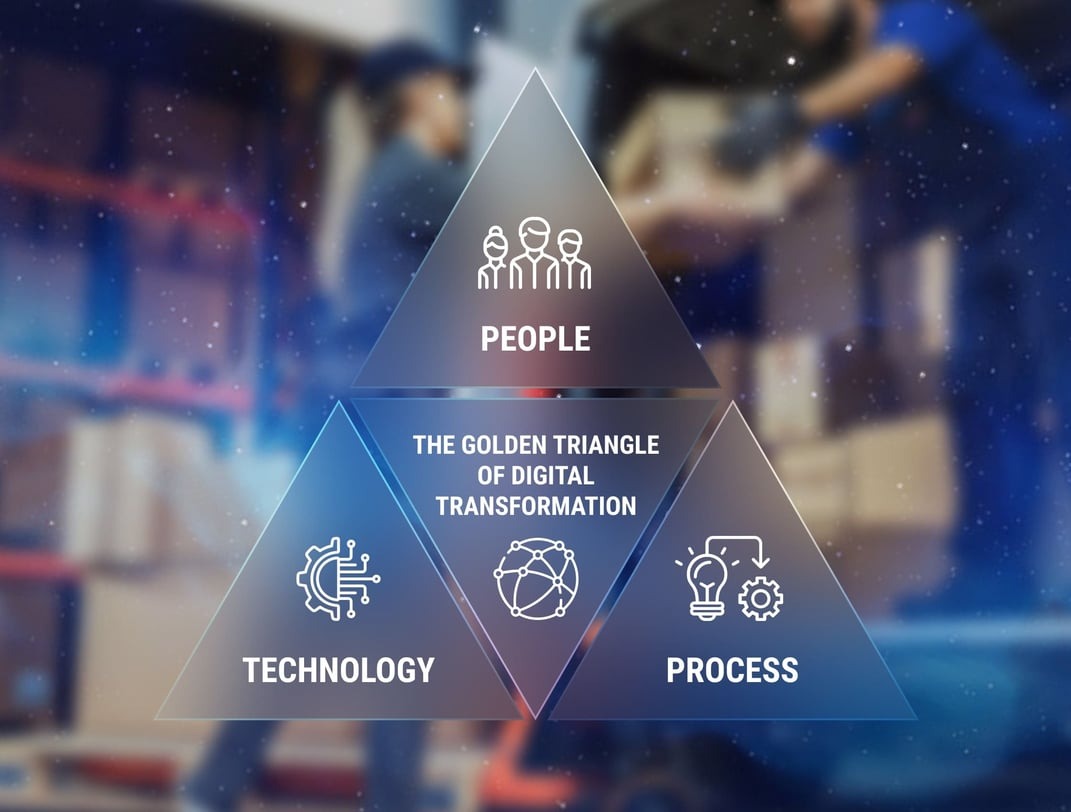 The so-called golden triangle of the supply chain management digital transformation comprises in-depth changes in technology, processes, and, of course, involved people. The results of the organizational changes allow you to:
Optimize the use of resources such as machines, staff, space, services, etc., which significantly reduces costs
Increase agility to increase service levels and revenue while avoiding wasted resources
Set the optimum basis for decision-making through real-time information and scenario-based planning
Increase customer benefit and efficiency through digital cooperation with customers and suppliers
Save license, interface, and maintenance costs, as well as reduce expenses through the harmonization of IT systems
Core Functionalities of SAP Digital Supply Chain
A well-architected digital supply chain is a completely integrated ecosystem that is fully transparent to all the players involved — from the suppliers of raw materials, components, and parts to the transporters of those supplies and finished goods to the customers demanding fulfillment.
Integrated Business Planning (IBP)
SAP IBP combines classic planning and forecasting functions with modern machine-learning tools. IBP comprises state-of-the-art methods and processes for demand, distribution, production, and procurement planning for sustainable processes in a value chain. IBP is intended to enable fact-based decision-making that considers financial indicators.
Yard Logistics Management (YL)
SAP YL provides real-time 3D visibility of warehouse management processes, optimizes berth scheduling with the new Gantt Chart UI, and adds process flexibility across transportation unit planning and organization.
Transportation Management (TM)
SAP TM comprises freight management, optimized transport planning and execution, comprehensive management of transportation costs, and compliance with varying regulations and compliance policies.
Extended Warehouse Management (EWM)
SAP EWM automates the management of logistics centers and warehouses. Visualizing all goods movement across the warehouse allows for efficient resource spending and storage optimization.
Production Planning And Management (PPDS)
SAP PP/DS helps create and improve production plans (short-term, medium-term, and related to a final product release), draft purchase orders, and ensure optimal resource usage.
Serialization Control (ATTP)
SAP ATTP facilitates serialization (labeling of products) management, traceability of goods with serial numbers, and the provision of regulatory reporting.
How Your Company Can Benefit From Digital Supply Chain Transformation
Industry 4.0 and global distribution make supply chains more complex than ever before. These are often distributed over several continents. While this brings cost advantages, it also introduces a supply chain prone to disruption. Additionally, companies are under pressure to deliver products and services even faster and more reliably. Customer expectations are high — in B2B and B2C businesses alike.
Delivery bottlenecks can impede tightly timed processes, which are crucial in the manufacturing industry. Therefore, supply chain systems that seamlessly combine planning and execution and provide real-time information are in high demand — these incorporate reduced freight costs, well-founded decisions, and timely plan changes.
According to the industry study, supply chain automation helps businesses to:
Streamline operations
Increase production uptime
Lower parts acquisition costs
Keep transportation costs down
Meet customer/industry demands
Ensure consistent, reliable carrier capacity
Align with the latest technology solutions
Establish on-time pickup and delivery performance
Access the responsible person during shipping issues
Provide visibility/real-time shipping status
Enable internal talents to utilize e-platforms

Through the multifunctional SAP environment, SAP offers corresponding possibilities to get real-time insights into processes and, thus, to be able to react quickly and efficiently to challenges.
Conclusion
A goal-focused digitization strategy enables the development of a tailor-made, optimized supply chain and the associated IT strategy, the creation of business cases, and clearly defined roadmaps with a well-thought task priority. LeverX Group has many years of supply chain expertise and a comprehensive system of proficiency, which makes customer-specific support possible throughout the entire transformation until the final implementation.
We have many years of experience in managing enterprise-wide transformation projects backed up by teams of experts assembled on a case-by-case basis. If you are interested in DSC solutions with a future-proof strategy, schedule a consultation with our experts.