Today, we will focus on the SAP S/4HANA on-premise to figure out how businesses can benefit from this ERP system.
Features, Benefits, and Pitfalls of SAP S/4HANA On-Premise Edition
A fast-growing business can't remain outside of digital transformation. Of course, you can try to do business without an ERP system, but why? When refusing to implement it, you limit your chances of success.
The SAP S/4HANA ERP system will help you build a single digital landscape, combining all the company business processes and keeping them under complete control. In our previous article, we told about the SAP S/4HANA Cloud. Today, we will focus on the on-premise edition.
It's All About Independence and Control
First, let's dive deeper into the reasons why companies should pay their attention to an on-premise ERP.
Complete control
With the on-premise edition, you don't depend on your vendor since an ERP system is installed on your equipment and supported by your IT team. It means you have complete control: you decide when the system must be updated, tested for security, etc. And you don't need the vendor's approval for these activities.
Reduced costs
Long-term ownership costs for an on-premise ERP are lower than for cloud ones as the subscription prices are constantly growing and, in the long run, may cost more than an initial payment.
Customizability
An on-premise ERP system provides better customizability opportunities. So you can transform and modify it according to your business needs.
Data security
All your data is stored in-house, and nobody outside your organization can access it. Moreover, you don't depend on the speed and quality of an internet connection.
Internet independence
The quality of an internet connection is crucial for a cloud ERP system, and even a minor glitch can become a problem. If you implement an on-premise ERP solution, you can provide system productivity regardless of the WI-FI signal. It is worth considering if you deal with strict time limits or perishable goods.
What Companies Should Choose SAP S/4HANA On-Premise?
According to the Panorama Consulting Group report, two-thirds (65%) of enterprises implement cloud ERPs, but such a system doesn't fit every business.
SAP S/4HANA On-Premise is suitable for large manufacturing enterprises. In this case, an industry doesn't matter; the main thing is well-established internal processes that do not need changing.
This ERP edition is suitable for enterprises that already use SAP ECC and want to migrate to SAP S/4HANA due to the discontinuation of support for the former version in 2027.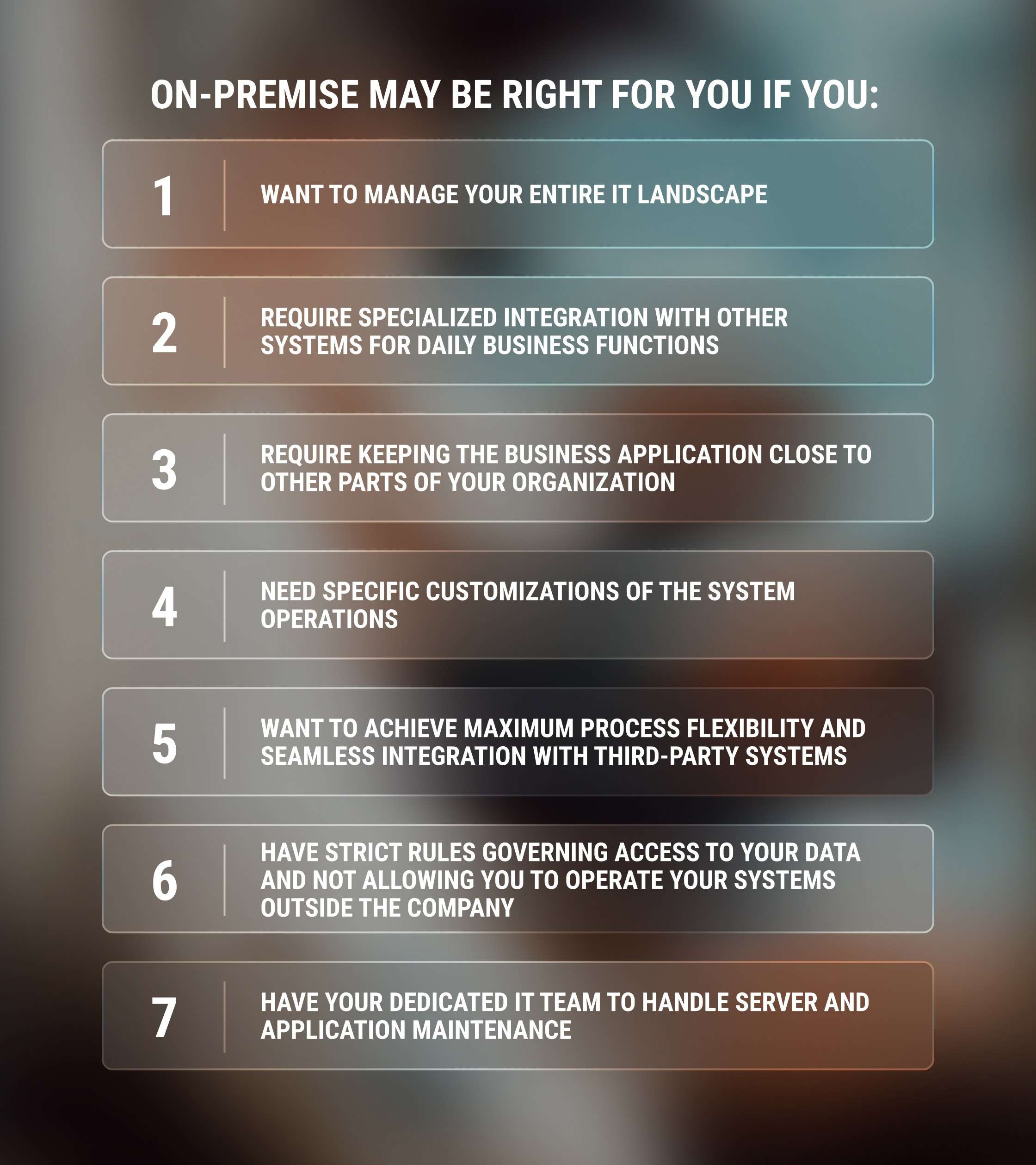 How Does SAP S/4HANA On-Premise Work?
SAP S/4HANA On-premise is an internal platform operating on the standard SAP licensing model. It is installed on your company's servers or virtual machines and annually upgraded by SAP.
This SAP product is based on the most advanced in-memory platform (SAP HANA) and modern design principles (SAP Fiori UX). SAP S/4HANA delivers massive simplification features, ranging from customer adoption and decision-making to business processes and models. This ERP system also provides innovations like the Internet of Things, Big Data, business networks, and mobile-first to help businesses run simple in the digital economy. Moreover, all these features and innovations can be customized according to their business needs.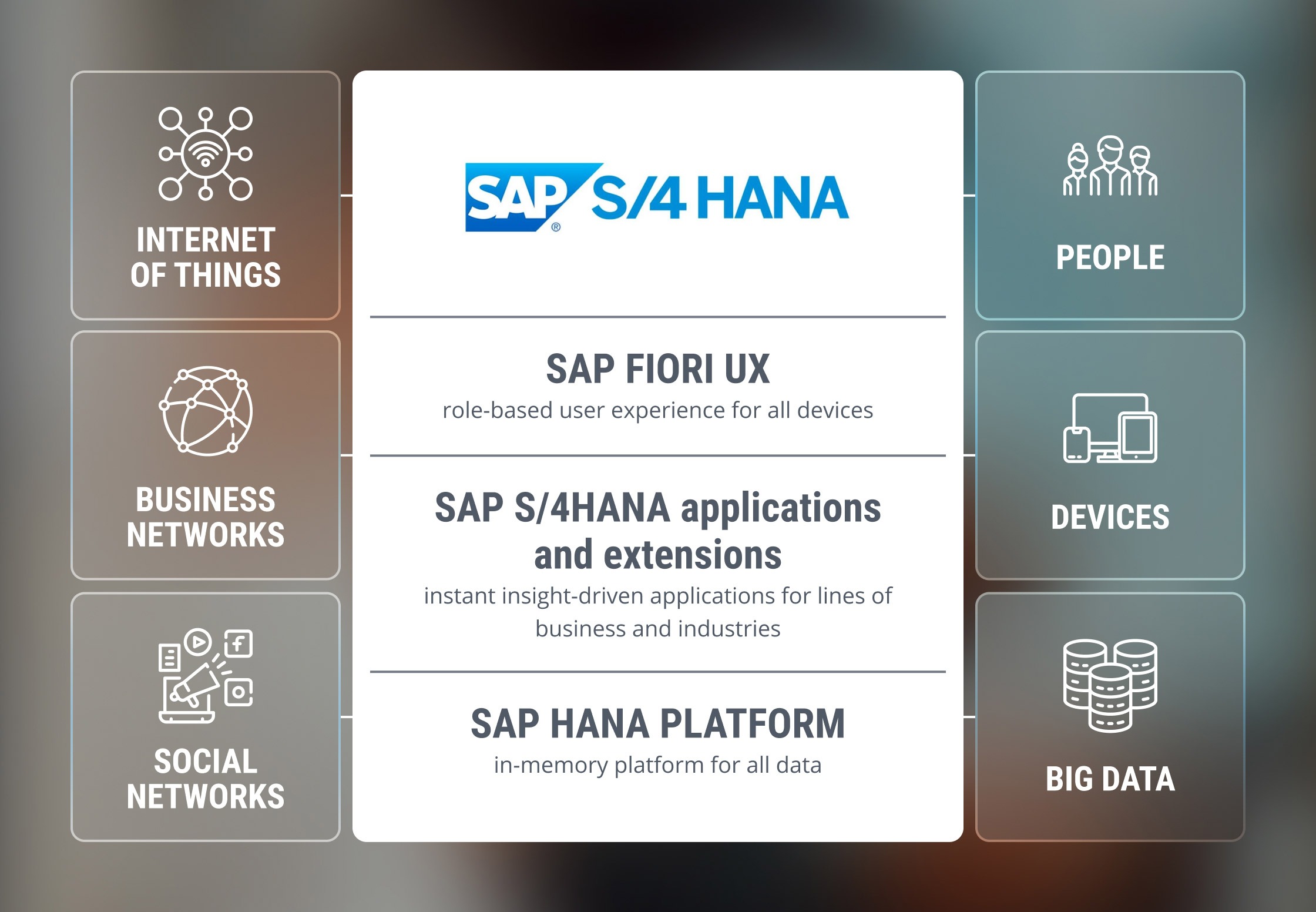 What Challenges May You Face When Implementing SAP S/4HANA On-Premise?
High upfront costs
The on-premise edition requires significant upfront hardware, software, and dedicated IT team investments. High spending levels can remain as the system requires constant maintenance, configuration, and updates. But in the long run, SAP S/4HANA On-premise may be more profitable because the subscription prices for cloud ERP constantly grow.
System adaptation
SAP S/4HANA On-premise is a customizable system, but its configuration according to your business needs can also be challenging. Since the ERP modules are closely related, the alignment process may affect multiple modules and require additional costs and efforts.
Sole responsibility
Complete control over the entire ERP system has its reverse side — your sole responsibility for system performance and security. In this case, human errors increase your risk of costly security breaches. Moreover, the on-premise system isn't updated automatically; this is your IT team's responsibility.
Lack of remote accessibility
To work with an on-premise ERP, you need to be located onsite the ERP to leverage this technology. Lack of mobile accessibility can limit a company's growth potential and leave the business less adaptable to circumstances that prevent employees from being onsite.
Delayed implementation
The on-premise ERP implementation takes longer than the cloud one because of additional modification and configuration. It might defeat the organization's target and/or plans, especially the time-sensitive goals.
In a Nutshell
While we can compare SAP S/4HANA Cloud and On-premise systems, we are unlikely to find an in-size-fits-all answer for any business. To make the right choice, they should analyze their specific business needs and consider their industry requirements.
You are ready to migrate to SAP S/4HANA but experience any difficulties in decision-making, LeverX is here to help you. Contact us, and our experts will help you at any project stage.
In case you have missed some of our previous articles about SAP/4HANA: