Join LeverX experts on the second free online webinar dedicated to Don't miss it!
You're Invited to Attend the Lean Enterprise 2022: Requirements Acquisition Best Practices Webinar!
Online webinar | September 8, 2022 | 4 AM EST
Listening to customers is about connecting with them, therefore significantly speeding up the product development process. So, why are some business representatives still finding themselves stuck on product requirements acquisition?
As with any type of enterprise product development, product managers and owners face unique challenges when it comes to gathering feedback, including capturing the voice of customers, analyzing test results, and defining final requirements.
In this online webinar, we are going to explore the best strategies for product requirements acquisition and the role test management plays in accelerating time to market.
Meet the speakers: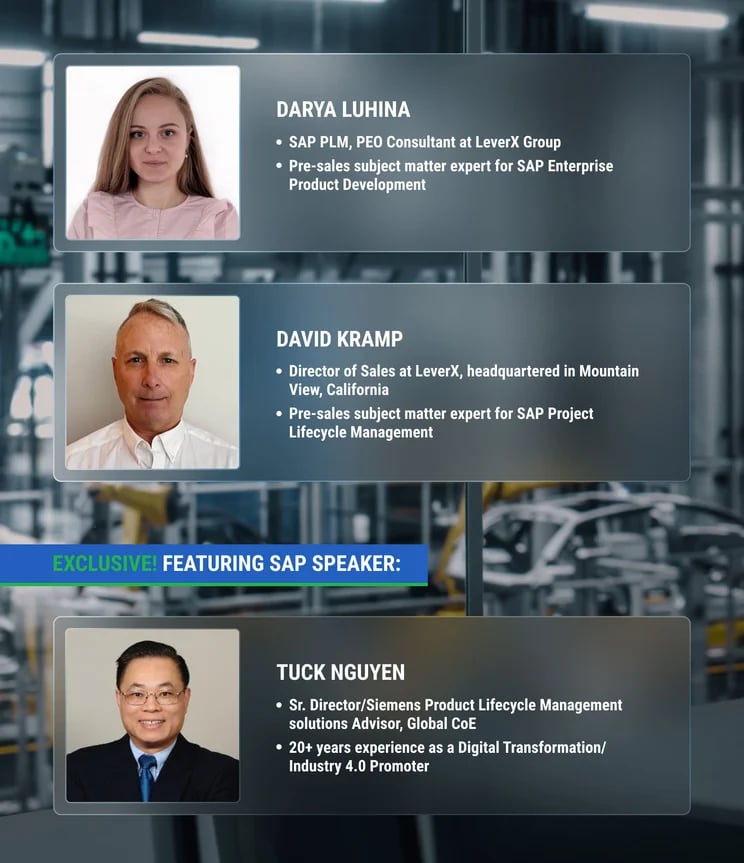 Join the discussion on Thursday, September 8, as they will offer their insights and real-world experience on how to leverage your development strategy to its full potential.
The experts will be happy to answer the following:
How to collect and analyze feedback from customers to best meet their future demands?

How to consolidate the market feedback into the most desired product features?


How can customers' identified needs be turned into more precise product requirements and therefore GREATER profits?
Plus, experts will be doing a live Q&A session after the event, so feel free to ask anything personally!
The chief thing for participants: watch the FREE SAP EPD demo in real time!
You will:
Get a full understanding of how SAP EPD works.
Realize how combining data-based product engineering results in a true digital thread for the entire product lifecycle.
Receive customized recommendations depending on your business requirements.



Looking forward to your presence at the webinar!
More information about Enterprise Product Development