This webinar involved the business community in a new and unique way. Check out this article for key takeaways from the seamless integration of corporate software with SAP BTP!
Why Is Software Integration a Must for a Modern Enterprise?
If you've ever tried to automate data-related tasks, you would probably agree that data management involves a lot of back and forth. As the enterprise becomes more complex, so do the requirements for data management solutions. Automation is extremely good at what it is designed to do. However, as a business grows and requires additional functionality, it often doesn't meet all modern-day requirements.
Most often, enterprises will look at add-ons as an opportunity to grow. However, additional add-ons often create disparate systems, generating further problems. How do you overcome the associated challenges and maintain the previous development pace? The answer is to shift focus from automation to creating an intelligent enterprise. That is what one of LeverX's webinars has been about.
It was fantastic to host many interested people and receive many great questions for the Q&A. In the following paragraphs, we will discuss the most interesting outtakes from the event.
Top Challenges That Disparate Systems Bring on to Business
Data manipulation has always been a challenge. Moreover, detecting what's hindering the process is not always easy. Therefore you shouldn't look for definite answers to why it occurred – it is necessary to see the prime cause of these events.
The most significant blocker of the software operation will depend on your business workflow. To give you a more precise picture of what could be pushing back the timelines, here are some of the most important reasons.
1. Time-consuming multiple data entry
Before data can be utilized effectively, it needs to be cleaned and organized. Since data comes in many formats, data is normalized to allow for easier comparison of data sets and remove variation. As a result, many spend most of their time preparing data rather than using it effectively.
< /div >
2. Complex running reports
Enterprise-wide quality reporting can be troublesome when you're pulling data from multiple systems and trying to combine them into a reliable source. It often happens that by the time you have the report in hand, the information is already stale, and decisions are made based on old data. Extracting reports from multiple systems into a single report is also tedious and can result in errors.
3. High costs of maintaining distributed software
Maintaining heterogeneous software, data, and systems is a pain point in almost every enterprise. Most of this issue is invariably associated with increased costs. Disparate systems mean you're spending exorbitant money on enterprise application integration middleware.
Watch the video to learn more about why careful data analysis and integration is a burning issue.
What Is an Intelligent Enterprise, and Why Does it Matter?
Consumers in the digital age expect a smooth, personalized buying experience across all touchpoints they have with a company and a supply chain that is connected to the front office. They expect individualized offerings and next-day delivery, they expect transparency across the entire product lifecycle.
Figures show that over 44% of consumers prioritize brands that align with their values and lifestyles. In the language of enterprises, becoming intelligent is about making the right business decisions at the right time, thus adapting to consumer preferences as fast as possible. Consequently, companies struggle to utilize the increasing quantity of data available, which allows them to build more profitable customer relationships. Also, it helps to free up their employees' time from repetitive analytical tasks for more innovative work.
So, it is no surprise that companies seek to use all available data to provide a first-class experience to their customers. However, they can be easily overwhelmed by enormous data masses, so you need effective analytics to handle it.
Check out the webinar's recording to learn how intelligent technologies can help you in this way.
Course for Intelligence
The Gartner research predicts that in 2023, 60% of EA practices will design intelligence into their business and operating models to support strategy development and execution. Thus, enabling intelligent practices in your enterprise is both a way to implement new business requirements on time and a success factor in today's digital environment.
To turn data into meaningful insight, enterprises need to integrate all their functions and processes, get the complete picture in real time, and make decisions with knowledge of all interdependencies within the organization.
The picture below shows how a wide range of information sources come together in an intelligent enterprise's architecture.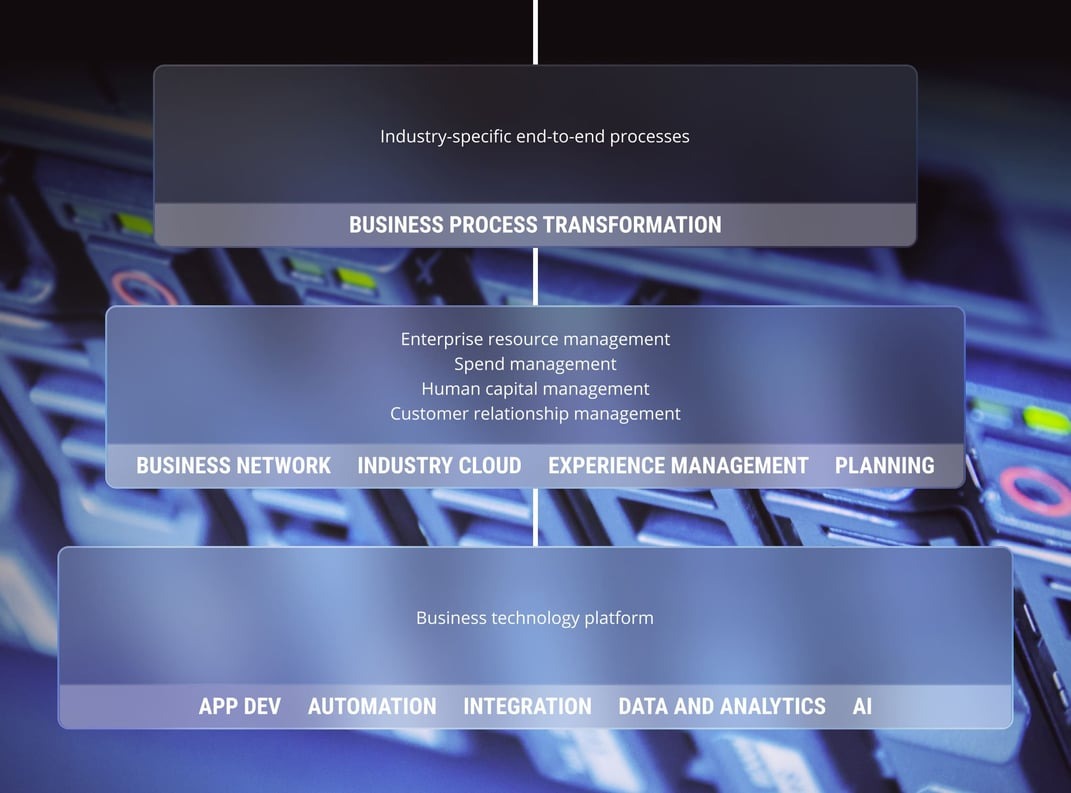 In the webinar, we examined in detail the cornerstone of the enterprise's digital transformation – the SAP Business Technology Platform.
How Does SAP BTP Help?
SAP BTP is the foundation for an Intelligent Enterprise. It is responsible for storing, accessing, connecting, and interpreting various kinds of data. SAP BTP provides an Intelligent Enterprise with all the necessary tools for rapid decision-making, which is the primary business goal. It includes SAP Analytics Cloud, SAP Data Warehouse Cloud, SAP Business Planning and Consolidation, and others.
Using all these capabilities, it's possible to perform the most impactful steps of an Intelligent Enterprise: perform the analysis and make the right decisions at the right time.
Watch the dedicated part of the webinar's recording to learn which SAP BTP capabilities allow enterprises to perform all data-related tasks simultaneously.
Dmitrii Kotov, Integration Architect at LeverX, also describes four fundamental integration principles for the Intelligent Enterprise, so think of it as your go-to instruction for digitalization!
Conclusion
Adopting artificial intelligence (AI), machine learning, the Internet of Things (IoT), and Intelligent Robotic Process Automation (IRPA) at once is no longer a far-reaching plan for an enterprise. SAP makes it all possible in an off-the-shelf adaptive and information-driven business model. LeverX experts are ready to provide you with a profound consultation on how to make your enterprise intelligent and laser-focused on achieving targeted business outcomes.
Stay tuned for our upcoming events and be the first to discover the latest news about digitalization and innovation!