The LeverX speakers will share profound knowledge in a dedicated free webinar. Don't miss it!
Join the Lean Enterprise 2022: Data Visualization Webinar!
Online webinar | September 29, 2022 | 4 PM EST

Picture this: you want to create a ground-breaking software product.
To do this, you go to the development team to make the first step toward a new product's Proof of Concept, design different features you can adopt, and finally see 3D product visuals.
But how to ensure the product's technical or legal feasibility? Design engineers, production & maintenance supervisors, product managers, and owners often have no digital assets of products or equipment used to assemble products. Therefore, released CAD Master Data is not viewable or is hardly accessible by internal enterprises and extended digital supply chains.
In this online webinar, we will explore how to make critical business decisions faster by providing access and visibility to business data, insights, and actions via a 3D visual index.
Meet the speakers: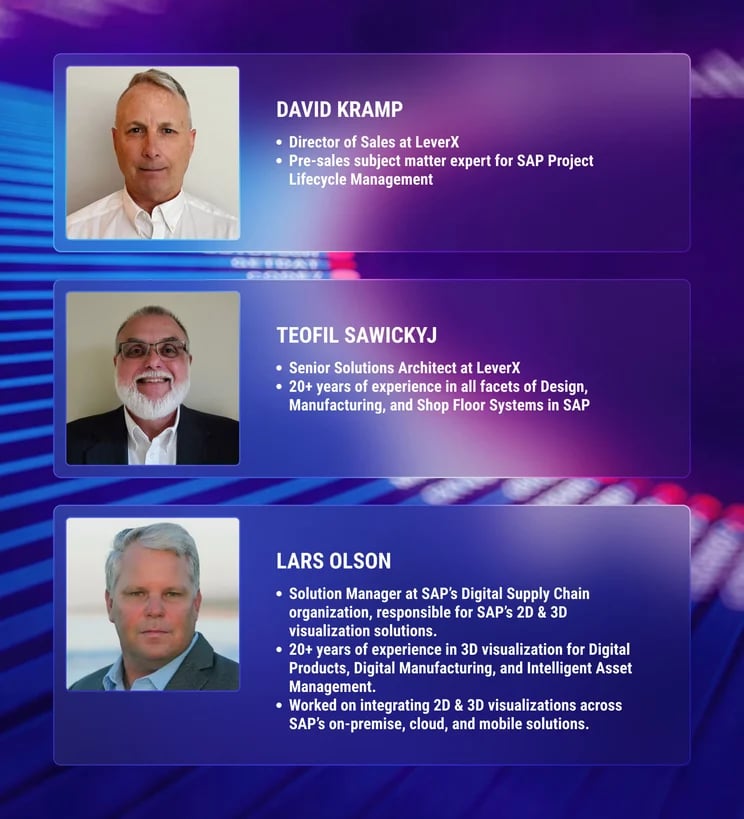 Join the discussion on Thursday, September 29, as they will offer their insights and real-world experience on improving training, manufacturing execution, service, and first-time fix rates of critical assets.
The experts will be happy to answer the following:
How can visualization prevent crucial business issues such as information retention and data losses during cloud migration?
How to use product visualization to know precisely whether or not there are any issues with the development process?
How visual data integration automation helps to realize the product value in hours?
Plus, experts will do a live Q&A session after the event, so feel free to ask anything personally!
The chief thing for participants: watch the FREE SAP EPD demo in real time!
You will:
Get a complete understanding of how SAP EPD works.
Realize how deep visualizing product-related data results in a proper digital thread for the entire product lifecycle.
Receive customized recommendations depending on your business requirements.



Looking forward to your presence at the webinar!