Every industry increasingly relies on technology to do its jobs better, and it's no different for supply chain management. Check this article to know how SAP EWM and SAP TM deliver value and stimulate sustainable growth for logistics service providers.
SAP EWM vs. SAP TM: How They Add Value to Supply Chain Management
Each company deserves a truly personalized approach in a world where one size fits no one. This is especially true for today's warehouse managers, who face various challenges that make the job more complex than ever.
SAP solutions that stay at the sharp end of the supply chain can bring drastic differences to supply chain management. In this article, we'll dive deep into SAP Transportation Management and SAP Warehouse Management to define how they add value to the supply chain and how they differ.
What Is SAP Transportation Management?
Being a part of SAP's Supply Chain Execution Platform, SAP TM harmonizes the way fields for container and vehicle resources in the forwarding and freight documents are used. The system ensures a consistent data transfer to the successor documents, which is crucial for large enterprises.
SAP TM supports end-to-end collaboration between carriers/subcontractors, logistics service providers, shippers, and customers. It delivers high value with a complete, best-in-class, multi-industry offering across multiple scenarios:
Direct truck shipment
Truck networks
Multi-modal domestic shipment
Airfreight D2D
Airfreight shipment P2P
Ocean LCL shipment D2D
Ocean FCL shipment D2D
SAP TM creates freight units containing items corresponding to the scheduled line items of order-based transportation requirements. Configured on custom settings, SAP TM can build freight units automatically when the order-based transportation requirement is created, or the user can trigger the creation manually.
Generally, the SAP TM module is responsible for the following:
Provides customizable templates for calculation sheets, rate tables, and scales in more detail, for example, validity periods in rate table templates and preconditions in calculation sheet templates.
Builds dynamically generated, optimized routing proposals based on business rules, thus helping to avoid extra freight costs.
Displays a harmonized user interface supported by SAP Fiori for stage data in a forwarding order, freight unit, and transportation unit.
Determines distance and duration for a stage of the actual route of a forwarding order.
Allows search for any business documents using the improved input help.
Defines tolerances for time conflicts during planning.
Improves resource utilization and carrier selection, thus reducing transportation costs.
Handles huge volumes of data through the automated planning process.
The Future Scope of SAP TM
SAP TM is a new way of accessing credible, transparent costing, sizing, and timeline estimations for the company's digital supply chain transformation project. The most promising direction for improvement is resource planning. To form strategic freight procurement, transportation agreement building, and strategic freight selling, SAP TM will strive to:
Increase the visibility of transportation resources.
Determine supply and demand of empty transportation resources, including forecasts.
Balance the stock of empty resources.
Trigger plan execution in the transportation management system.
Monitor resource-related KPIs.

What Is SAP EWM?
Similarly to SAP TM, SAP EWM is part of SAP Supply Chain Management, but it provides more robust and advanced features to manage key activities in a warehouse. As experienced supply chain managers acknowledged, it is a time-proven choice for a solid IT strategy.
Although this might be obvious, warehouse management systems such as SAP EWM are not plug-and-play systems. As such, systems usually remain in place for decades, making it vital to choose the right solution and especially the right time to implement it.
SAP EWM is responsible for the following:
Control throughout warehouse activities, such as picking, posting, managing storage bins, and checking receipts.
Optimizing storage concepts using slotting for products and automated arrangement of goods in the warehouse.
Storage and handling of hazardous substances and their transportation per regulations from SAP Environmental Health & Safety EHS.
Interactive reporting about inbound deliveries, outbound deliveries, waves, stock location, and stock movements.
Connectivity to multiple ERP systems to a warehousing system with no capacity loss.
How Is SAP TM Different From SAP EWM?
SAP TM helps in the reduction of freight costs with the optimization of resource capacity, while SAP EWM assists in the improvement of warehouse efficiencies. SAP Extended Warehouse Management is similar to warehouse management. Still, it provides more features like picking, shipment, radio frequency mobile data entry (RF framework), warehouse structure, and more flexible options to manage warehouse functions. On the other hand, SAP TM primarily focuses on transportation planning and optimization, freight tendering, and charge management.
SAP also offers direct integration between SAP TM and SAP EWM. Which one shows more efficiency? Evaluating the requirements against the priority of needs, supply chain managers usually rely on the business requirements, taking into account the platform's capabilities.
Below you can see key differences between SAP EWM and SAP TM within their functionality.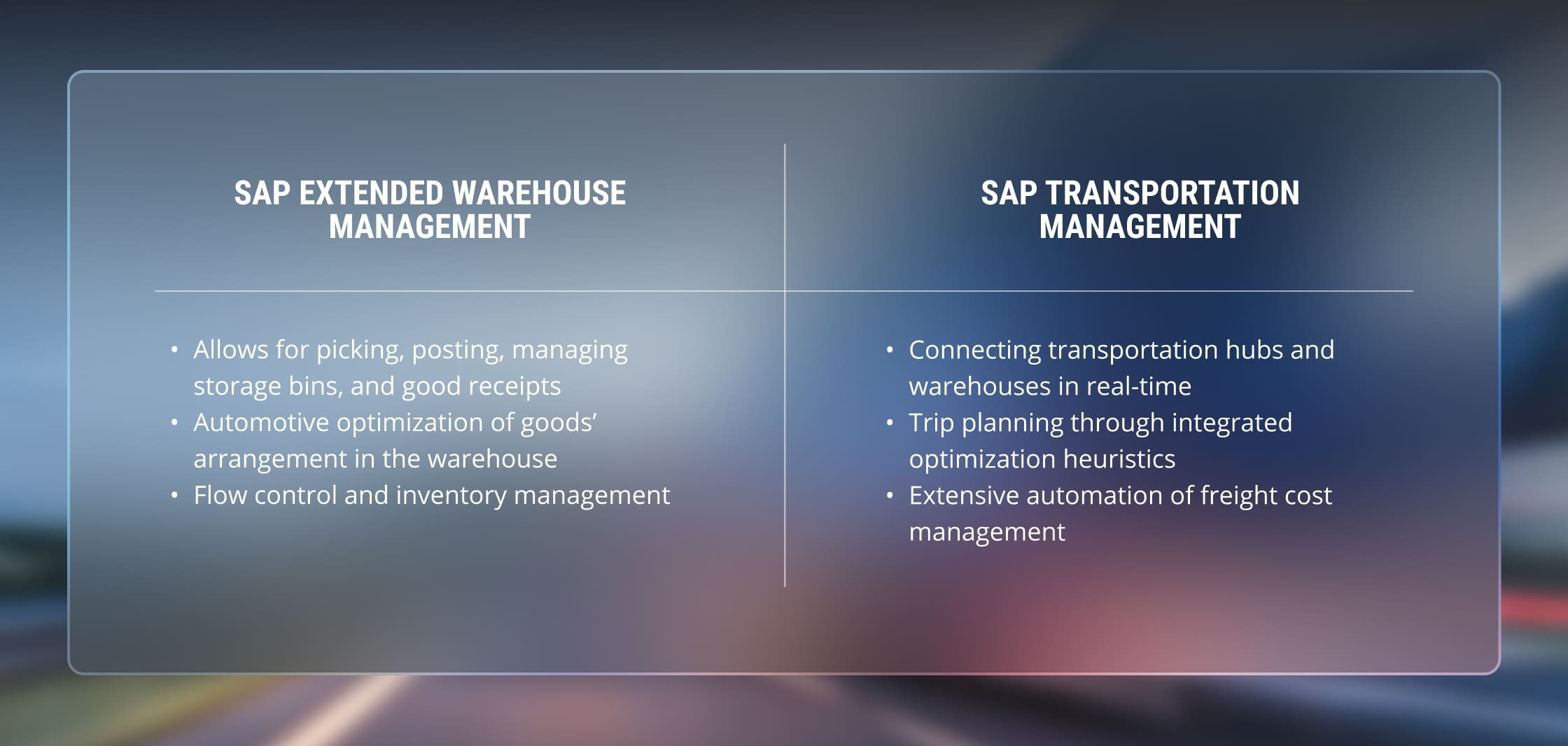 In a Nutshell
Only a significant advantage can lead an organization to key supply chain trends when disruption is constant. To win the market, enterprises simply integrate disparate existing solutions. However, SAP solutions help businesses run better by converging processes with a dynamic platform strategy to integrate products and technologies.
Digital transformation strategy unifies the capabilities of SAP EWM, SAP TM, and SAP Business Network for Logistics with the power of intelligent technologies, including the IoT, machine learning, and blockchain. Together, they help you orchestrate warehousing and logistics with greater efficiency and fast, error-free data communication.
Contact our consultants if you want more information about SAP solutions implementation. For even more guidance, an expert team can help you get your warehousing management system up and running.