Learn how to optimize your warehouse management processes. Join our free webinar!
Transform Your Warehouse Management With SAP EWM
Free webinar |November 3, 2022 | 4 PM EST
The complexity of modern supply chains has become a real issue for warehouse management, and the COVID-19 breakdown has made things even more difficult and unpredictable. So is there a way to ensure successful performance in such a complex and unstable environment? We know that there's a perfect one - SAP Extended Warehouse Management (SAP EWM).
Companies that leveraged SAP EWM not just managed to survive but to enhance their performance. A unified business environment with a great level of transparency into processes brought a lot of benefits, including minimized human errors and accidents, improved task distribution, reduced labor costs, and so on.
On Thursday, November 3, we are going to hold a free online webinar to introduce you to the potential of SAP EWM, discuss how it can help you in your unique situation, and provide you with expert advice on how to start working with the solution.
Meet the speakers: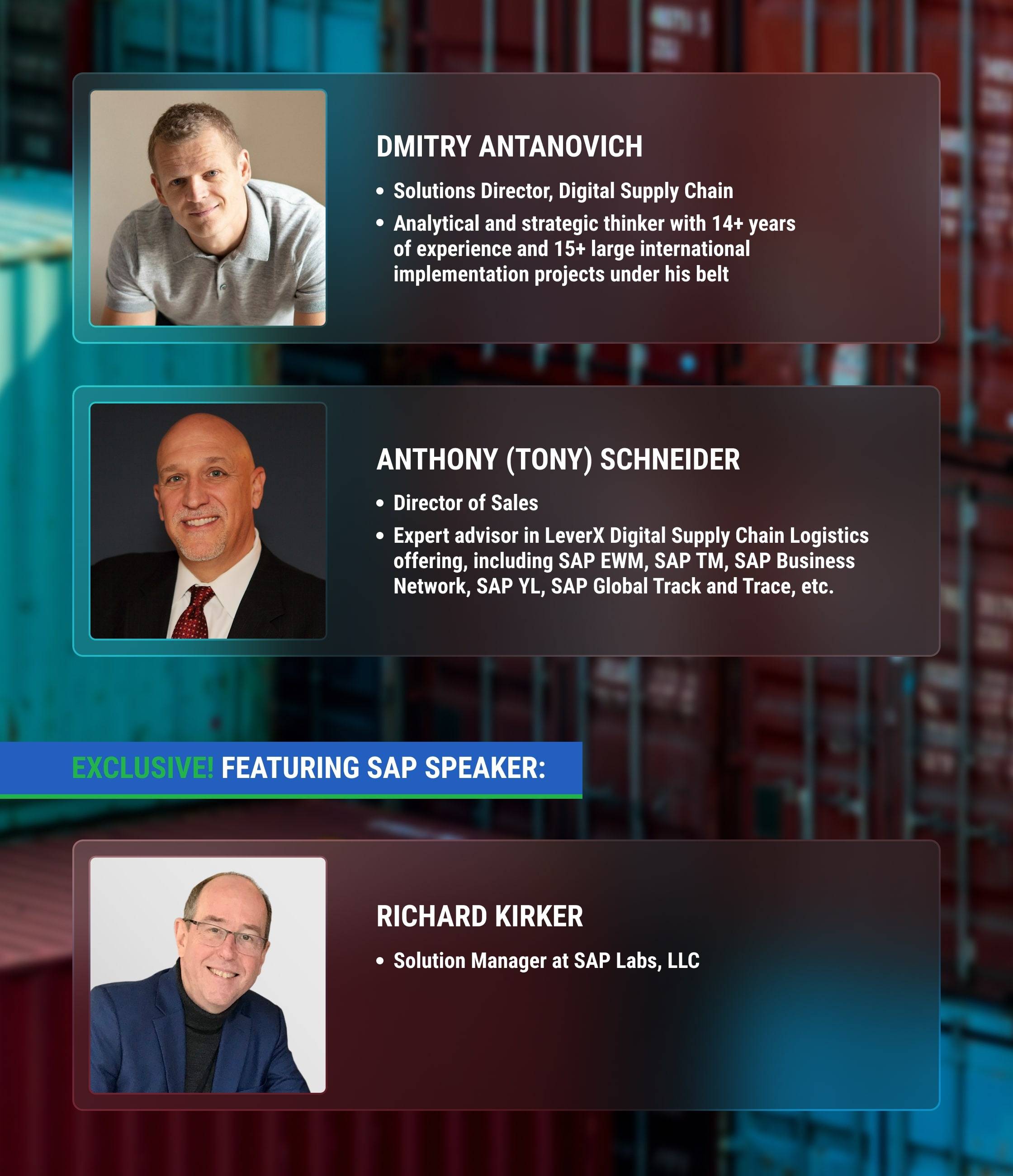 Join us to receive valuable insight from speakers with first-hand experience with SAP EWM.
Did you know that companies using SAP EWM managed to:
Save up to 15% time on order processing.
Improve follow-up and alert monitoring by 30%.
Ensure 20% more effective task distribution among your employees.
Reduce intra-warehouse movements of raw materials and supplies by up to 40%.
Save up to 30% on labor costs.
Our mission is to get you to that level of performance and further!
leverx group
Do drop in. Click here to register for the webinar
And here is the BONUS: FREE SAP EWM demo in real time!
You will:
Get a full understanding of how SAP EWM works.
See how the solution adds transparency and simplicity to your IT landscape, lowering the total cost of ownership.
Receive customized recommendations depending on your business requirements.
Waiting for you at the webinar!