According to Statista, over 91 million Americans were offered the option to work remotely either full- or part-time in 2022. As employers continue to face the challenge of securing and retaining top talent, it is essential to implement strategies that meet the needs of remote employees. This blog post will explore how SAP SuccessFactors can help address this challenge and motivate remote teams.
SAP HR Software for Effective Remote Team Management: Introducing the Key SAP SuccessFactors Capabilities
In today's interconnected world, managing remote teams has become increasingly imperative. Factors such as the impact of the Covid-19 pandemic, the growth of businesses expanding internationally, and the rise of remote work have made effective team management a critical HR problem.
According to Statista, over 91 million Americans were offered the option to work remotely either full- or part-time in 2022. As employers continue to face the challenge of securing and retaining top talent, it is essential to implement strategies that meet the needs of remote employees. This blog post will explore how SAP SuccessFactors can help address this challenge and motivate remote teams.
The Key Remote Work Challenges Organizations Face Today
Remote work can be daunting for many organizations due to the various obstacles they must overcome to set up a thriving hybrid work environment. Among these obstacles are:
Misalignment between in-office and remote employees, hindering effective communication and collaboration.
Balancing participation and engagement during meetings for both in-office and remote team members.
Complexities of managing office space, rent, and overhead costs to accommodate remote and in-office employees.
Addressing collaboration and management issues in a distributed work environment.
Ensuring a uniform and satisfactory employee experience for both remote and in-office workers.
Difficulties related to health and well-being, including work-life balance and managing physical and mental health for remote employees.
Employee self-service options, such as updating personal details, accessing pay statements, and communicating with HR, can be challenging for remote workers.
Complexity of payroll management with multiple teams in different locations, currencies, and legal regulations.
Increased security risks and the need for comprehensive data protection measures for remote workers accessing sensitive information.
LeverX can implement a solution to address these problems while ensuring remote employees' health, productivity, and safety.
What is SAP in Human Resources: How SAP SuccessFactors Meets Remote Work Challenges
SAP SuccessFactors is a comprehensive solution that can help organizations overcome the challenges associated with remote work and establish a successful hybrid work environment. Designed to address the complexities of managing a distributed workforce, SAP SuccessFactors provides a range of capabilities that support effective communication, collaboration, and employee well-being, including:
It provides powerful office space management tools and cost allocation solutions to address the challenges of accommodating different work styles.

It focuses on employee experience and promotes initiatives to facilitate work-life balance, health, and well-being.

Self-service tasks can be simplified, allowing remote workers to update their information, access pay statements, and communicate with HR.

The solution simplifies payroll management for diverse teams while ensuring accuracy, compliance, and timely payments.

Robust data security measures protect any sensitive information accessed by remote workers.
What Are the Features of SAP SuccessFactors That Help Manage a Remote Team?
You can empower your distributed teams to reach their highest potential by leveraging the following features of SAP SuccessFactors: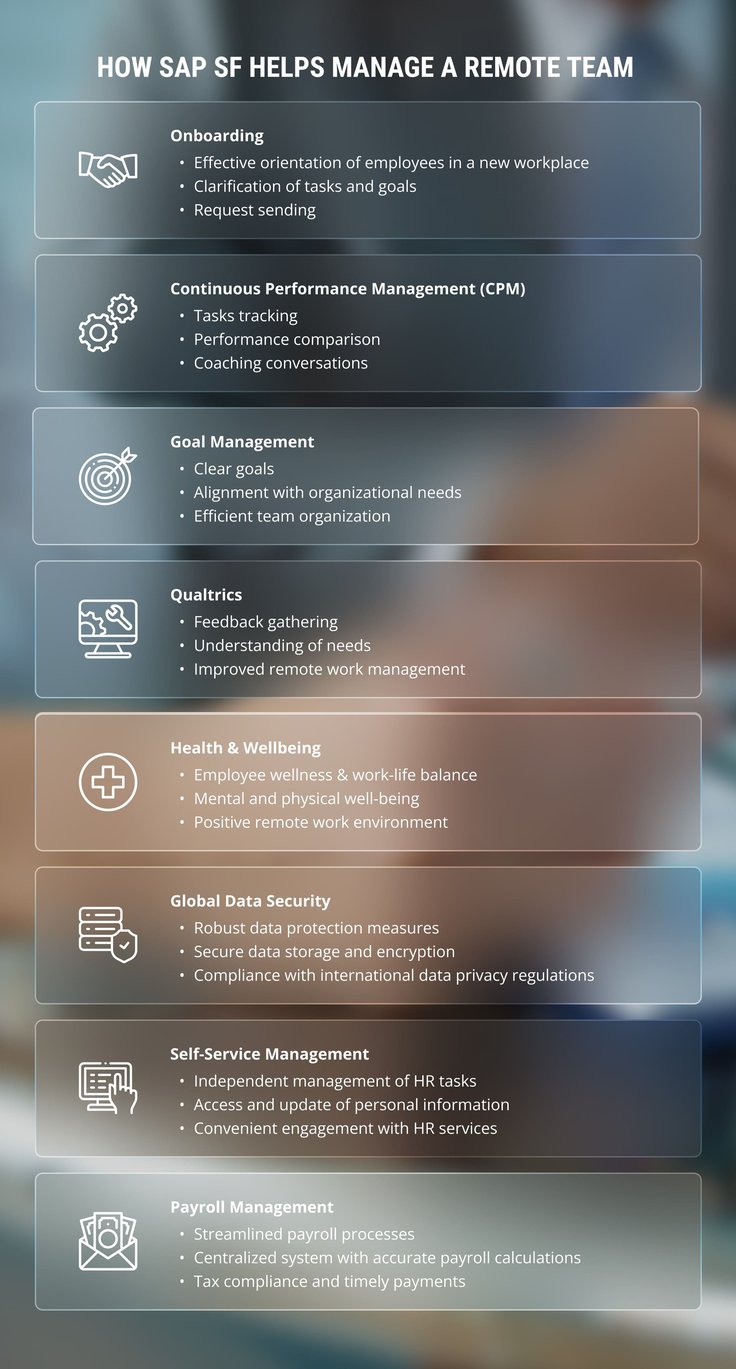 Onboarding
Onboarding remote workers can be a challenging task for organizations. With SAP SuccessFactors, you can simplify this process and effectively orient your new hires. This feature helps your employees send requests for equipment to IT departments and eliminates the need for in-person visits to the office to complete paperwork. It saves you time and money while ensuring your new employees fully integrate into your company's structure. With automatic notifications, all the participants are properly guided to complete onboarding tasks on time.
Imagine managing your onboarding process efficiently while keeping your remote employees engaged and connected from day one. With SAP SuccessFactors, you can make this a reality. You can reduce costs, save time and easily streamline your onboarding process.
Continuous performance management (CPM)
Are your teams struggling with motivation? SAP SuccessFactors has the perfect solution for you. With its CPM feature, you can easily track the progress of your remote employees and motivate them to achieve their goals. Whether it is task monitoring or coaching support, this feature will keep your team engaged and motivated.
Managers can use this feature to identify skill gaps, create development plans and engage with individual team members to foster a culture of openness and regular communication. Not only does it ensure that all employees are working towards a common goal, but it also keeps them on track and motivated to achieve success.
Goal management
As remote work is becoming the new normal, setting clear goals is more important than ever. SAP SuccessFactors' Goal Management feature allows managers to structure and organize remote teams effectively. This tool provides flexibility in setting goals for individuals or teams, catering to different levels of the organizational structure.
By aligning targets with the organization's needs, managers can ensure that goals are well-defined and not overly burdensome, leading to happier and more productive remote employees. With SAP SuccessFactors, you can ensure that your team is set up for success, no matter where they are.
Qualtrics
With SAP SuccessFactors and Qualtrics, you can finally give your remote employees the attention and support they need to thrive. Through conducting surveys and gathering feedback, you can identify pain points and areas for improvement that might be holding your team back. With valuable insights and a comprehensive view of employee engagement, you can tailor your HR strategy to better meet their needs.
By focusing on employee engagement and well-being, you can build a strong company culture, increase productivity and create a happier, healthier workplace for everyone. SAP SuccessFactors makes it easy to keep your remote workforce engaged and thriving.
Health & well-being
Working remotely can make finding the right work-life balance challenging for employees. They may be juggling multiple responsibilities and not taking enough time to prioritize their physical and mental health. This can lead to burnout, decreased productivity, and dissatisfaction with their job.
The good news is that you can leverage SAP SuccessFactors Work-Life, an add-on to the main solution pack, and encourage healthy habits for the entire workforce. This solution will provide resources, programs, and initiatives that promote employee wellness. With this feature, you can offer your employees the support they need to achieve a healthy work-life balance, boost their mental and physical well-being, and create a positive remote work environment.
Global data security
As businesses shift to remote work, managing employee data security becomes a bigger concern than ever before. Hackers are becoming increasingly savvy, and data breaches can happen in an instant, leaving you and your remote team vulnerable. You need a solution that you can trust to keep your team's sensitive information safe.
SAP SuccessFactors has your back. With their Global Data Security feature, you can rest assured that your remote team's information is safeguarded. With secure data storage, encryption, access controls, and compliance with international data privacy regulations, SAP SuccessFactors is the solution you need for peace of mind.
Self-service management
Managing HR-related tasks and information can be a nightmare for remote employees. Keeping track of personal information, pay statements, time off requests, and HR services can become overwhelming and time-consuming.
Not being able to access these essential HR functions can lead to unnecessary stress and wasted time. Miscommunication, slow response times, and frustration are common problems remote employees face.
Say goodbye to HR headaches with SAP SuccessFactors and its Self-Service Management feature that empowers remote employees to take control of their HR needs independently. This means less administrative burden and more autonomy for your team members.
Payroll management
Are you tired of dealing with the headache of managing payroll for your distributed workforce? Trying to keep track of different locations, currencies, and employment regulations can be a headache.
That doesn't include the time and effort it takes to ensure all your remote teams are paid accurately and on time. Manual payroll calculations and distribution can lead to errors, unhappy employees, and even legal issues.
The payroll Management feature in SAP SuccessFactors provides a centralized system for accurate payroll calculations, tax compliance, and payment distribution across all your remote teams. With SAP SuccessFactors, you can automate payroll tasks, ensure timely and accurate payments, and simplify your distributed workforce's entire payroll management process. Say goodbye to the stress of managing payroll and hello to streamlined efficiency and happy employees.
The Advanced SAP HR System: How SAP SuccessFactors Benefits Employees, HR Teams, and the Company
There are a number of benefits that SAP SuccessFactors offers for employees, HR teams, and the company in general.
SAP SF benefits for employees
Enhanced onboarding experience, ensuring a smooth transition into the company and remote work environment.

Increased motivation and goal achievement through continuous performance management, with regular tracking and coaching conversations.

Clear goal setting and alignment, fostering a sense of purpose and direction in remote work.

Improved well-being and work-life balance with access to health and well-being resources and support.
SAP SF benefits for HR teams
The streamlined onboarding process saves time and resources while effectively orienting new remote hires.

Simplified performance management, enabling efficient tracking, coaching, and skill development for remote employees.

Organized and structured goal management, facilitating effective team organization and goal alignment.

Enhanced employee engagement and satisfaction through feedback gathering and tailored HR strategies.
SAP SF benefits for the company
Increased productivity and efficiency through well-managed remote teams and streamlined processes.

Stronger company culture and employee satisfaction that results in improved retention and talent attraction.

Enhanced data security measures ensure the protection of sensitive employee information.

Simplified HR management reduces the administrative burden and allows HR teams to focus on strategic initiatives.




The Bottom Line
At LeverX, we understand the tremendous value SAP SuccessFactors can bring to organizations striving for success in remote and hybrid working environments. With our proficiency and comprehensive knowledge in deploying the SAP SuccessFactors solution, from the initial planning stages to post-implementation service, we are the perfect partner for you, with the capability to help your organization make the most of what SAP SF offers. Therefore, you can always count on us and contact us with any questions regarding SAP SF capabilities, benefits, and implementation.