Office work from 9 AM till 6 PM, familiar workplace, and colleagues within arm's reach — This office routine changed forever in March 2020, when the world was rocked by the COVID-19 pandemic.
Remote Employee Management: Why Flexibility Matters in 2022
Office work from 9 AM till 6 PM, familiar workplace, and colleagues within arm's reach — This office routine changed forever in March 2020, when the world was rocked by the COVID-19 pandemic. It forced employers, who wanted to keep their business growing, to reconsider their attitude towards remote work. This is not to say that transition to a remote format was easy, but already in May 2021, a Mercer study showed that 70% of companies plan to implement a hybrid work model for employees.
Now let's look at this question from the employees' point of view. According to a FlexJobs survey, 58% of respondents want to work remotely all the time, and 39% are for a hybrid format. As a result, 97% of employees prefer one of the remote formats. That is, now the question is not whether we need remote work, but how to organize it properly?
Why Companies Should Be Flexible in HR Management
According to a recent Gartner survey, 64% of employees are ready to consider a new position or job if employers provide flexible hours. A FlexJobs survey found that 58% of employees would look for a new job if they couldn't work remotely at their current job.
That is, today remote work is not only an opportunity to maintain work processes in a pandemic but also a way to retain your existing employees and attract new ones.
It also affects the employees' productivity. As per a survey conducted among more than 2,000 employees , 95% of them report that their productivity is either significantly higher or the same when working from home.
Here are some of the main reasons for productivity growth they pointed out.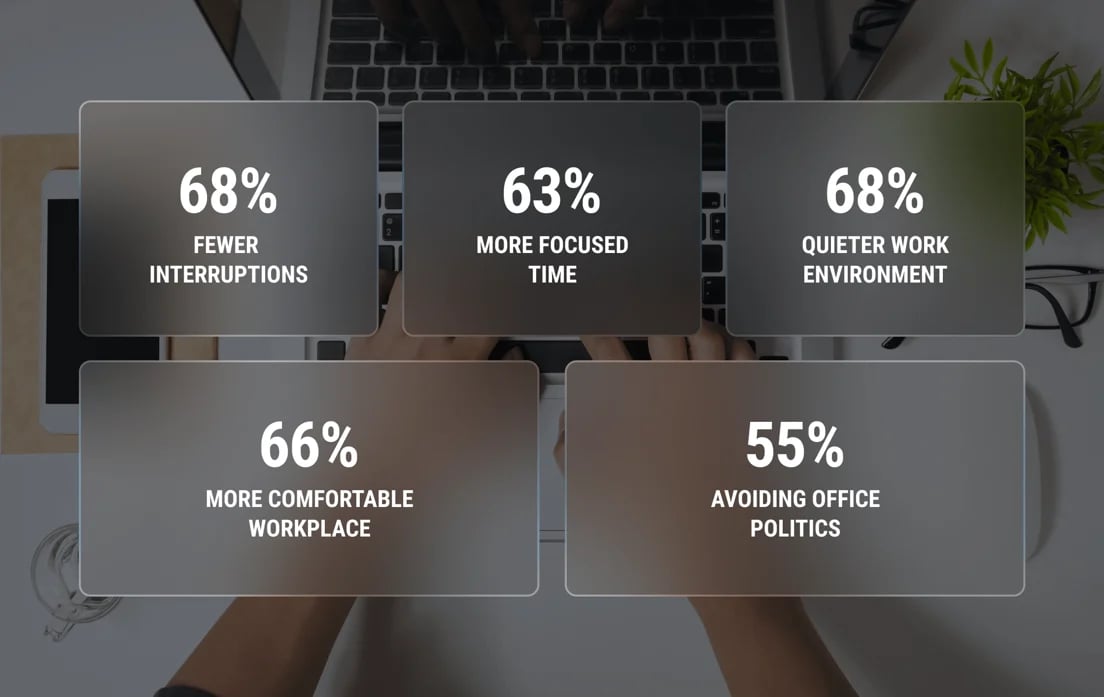 Source: FlexJobs
Also, the work environment affects employees' mental and emotional health. The Mental Health America study found that employees who couldn't work remotely were twice as likely to have mental health problems.
In contrast, 48% of remote workers are satisfied with their work-life balance, and 54% receive the necessary emotional support. For comparison: Among people working from the office, these are 36% and 45%, respectively.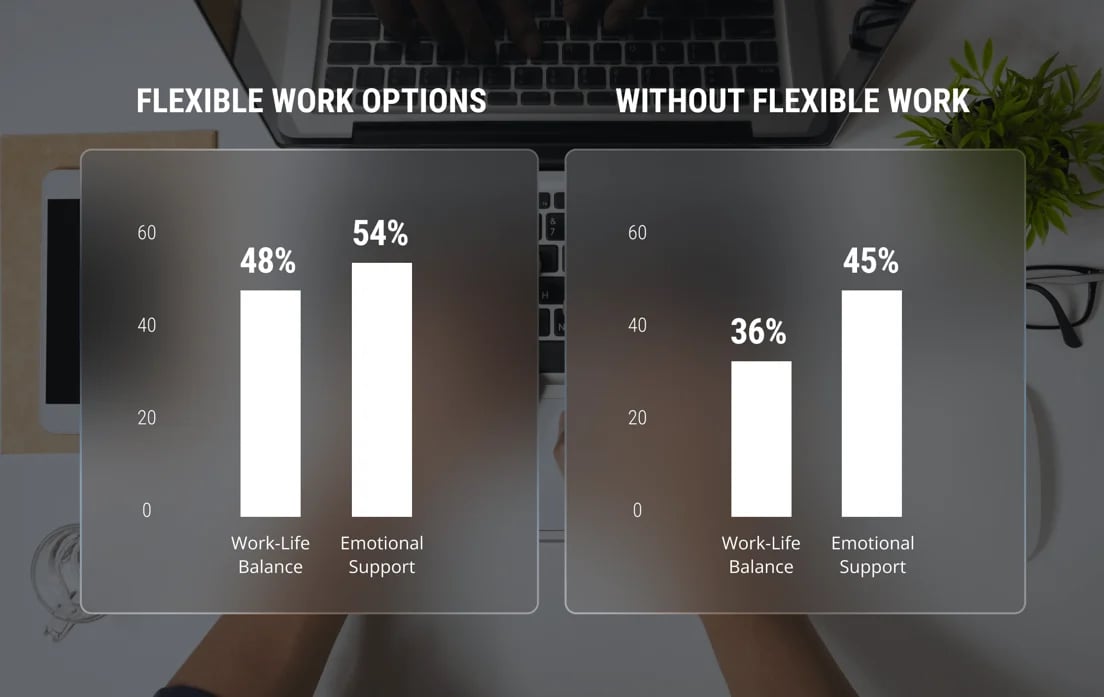 Source: Mental Health America
Challenges of Remote Employee Management
Although "work from home" has been with us for two years, companies still face problems associated with this format.
Communication
When employees work from offices every day, it is easier for them to stay on top of current events in the company. If the team works remotely, it makes it more challenging to maintain close team communication and monitor their current activities. That's why remote work platforms for effective communication and collaboration are crucial for companies to stay connected and productive.
Productivity
Although many employees are seeing an increase in their productivity while working remotely, some employees report they are less productive at home. .
Communication between employees and their level of productivity are closely related things. The BCG survey reveals that successful communication within a team can increase its productivity by three times when performing joint tasks.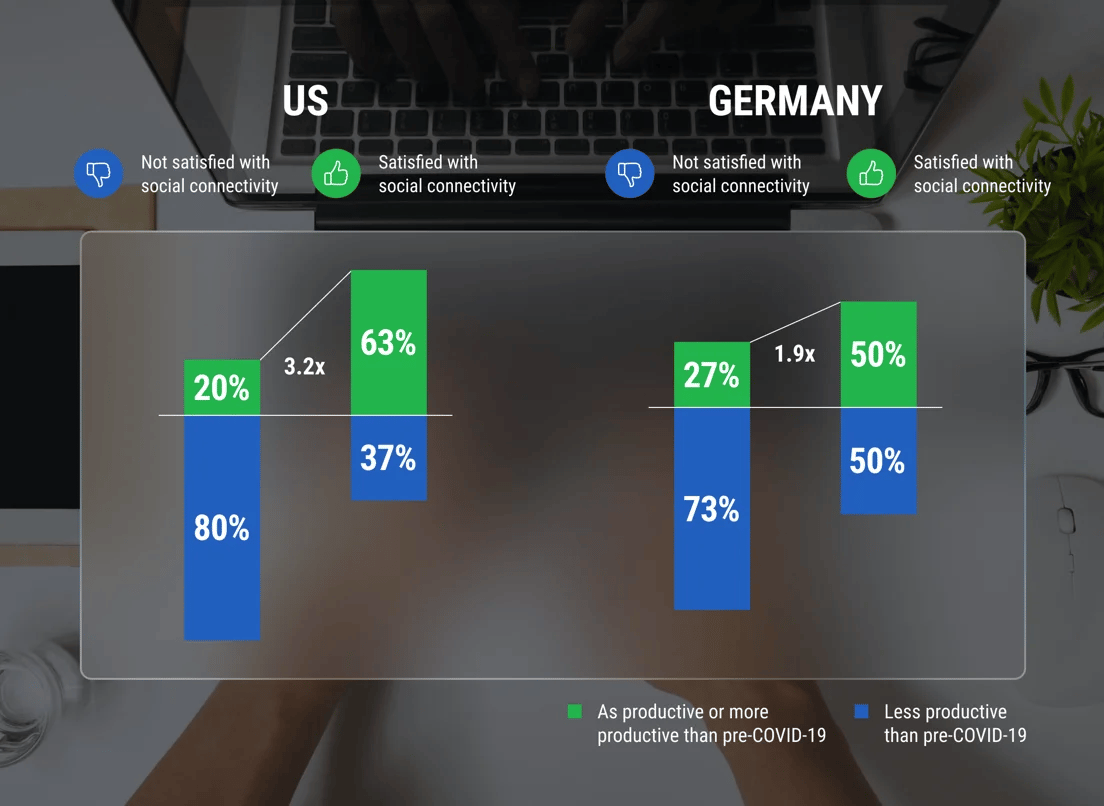 Source: BCG
Burnout
Remote work requires a high level of self-discipline. Along with social isolation, deadlines, and challenging tasks that employees have to deal with independently, this can lead to burnout sooner or later. The situation is also exacerbated by the lack of work-life balance: when working remotely, many employees try to work non-stop and be accessible 24/7, thus losing control over their working hours.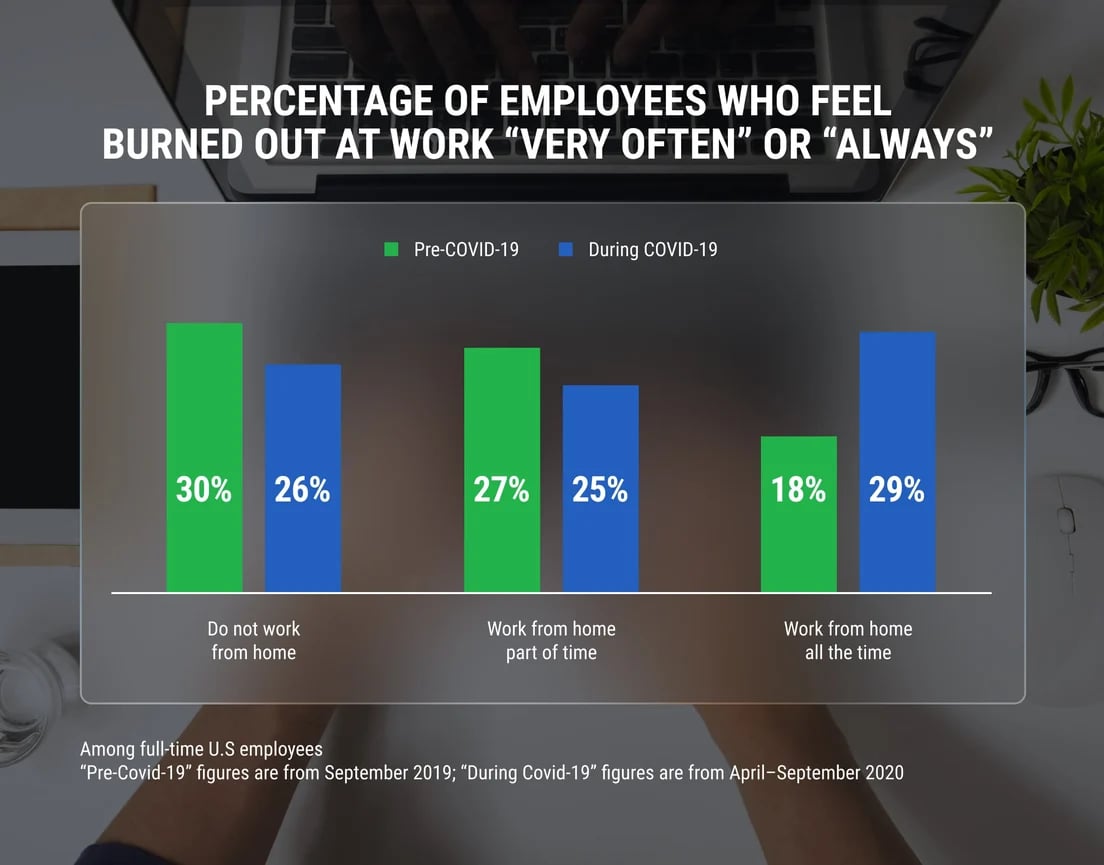 Source: Gallup
Motivation
Since remote employees work isolated from the rest of the team, their level of responsibility for the overall success may reduce. Close cooperation with colleagues and personal growth within the company encourage employees to work for the company for a longer time .
Company Culture
Company culture is an important tool for improving productivity, team spirit, and employee engagement. Onboarding helps to instill its basic principles in newcomers, as well as establish strong links between new employees. However, the situation becomes complicated if newcomers work remotely from the first day.
Team up Your Employees with SAP
As you can see, it is the transparency of work processes and close communication between employees that ensure their productivity and achievement of the common goals even when working remotely. You just need to choose the right tools.
SAP SuccessFactors Employee Central is a cloud solution for personnel management that allows you to:
Create a single ecosystem within the company;

Keep track of working hours efficiently;

Create and manage queries received from employees

Automate the calculation of working hours and payroll;

Standardize employee benefit management, including reimbursements, benefits, pensions, etc;

Ensure compliance with labor laws, both local and international.
Regardless of your company's size — whether it is a small and medium business or an international corporation — the Employee Central module is easily scalable and integrated with any SAP or third-party system. It helps you track the life cycle of each employee from hiring to leaving the company for whatever reason.
With SAP SuccessFactors Employee Central, the following indicators become higher by: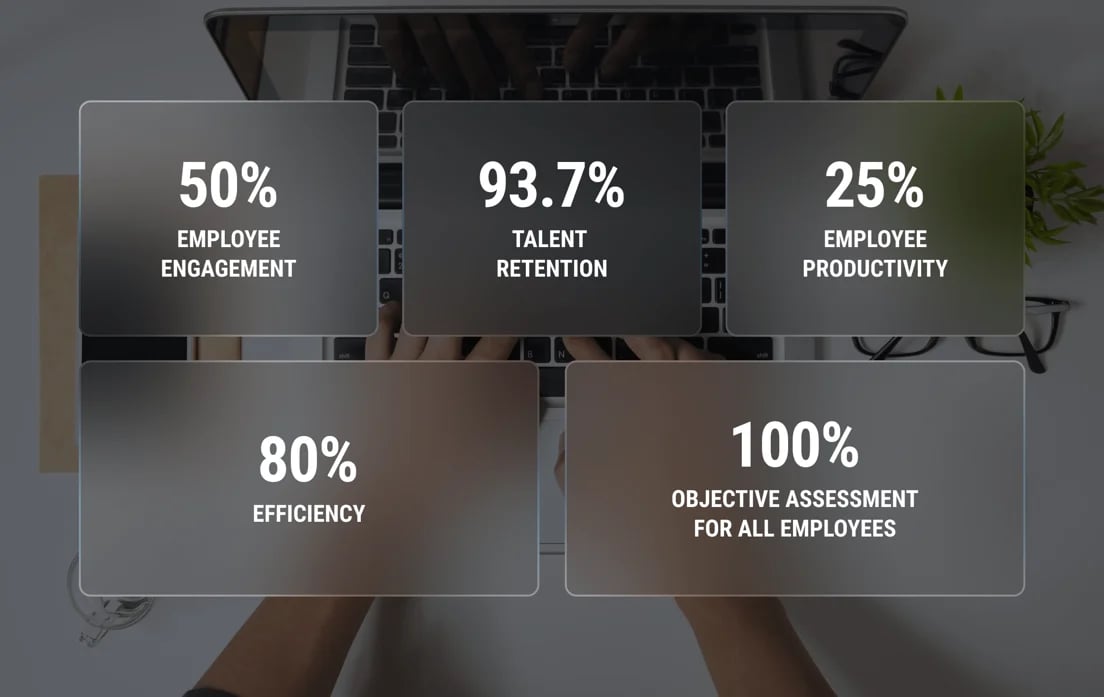 The Bottom Line
The WFH model is not only a way to achieve specific business goals, but also an opportunity to attract new talents to the company and retain your employees.
The SAP SuccessFactors Employee Central module will help you build effective remote work within a team. To learn more about its capabilities, please contact our specialists.