ROLE-BASED
A role-based approach reflects an organization's structure, highlights different user responsibilities, and improves the understanding of how goals are achieved.
COHERENT
SAP Fiori is committed to a coherent visual design and interaction language. With it, all parts of the app feel like a single entity throughout the entire system.
RESPONSIVE
SAP Fiori responds to the user's behavior and environment based on screen size, platform, and orientation. It adheres to the standards of an intelligent enterprise.
SIMPLE
Make your business shine online with a well-thought out software interface, elegant in its simplicity. Save time and drive savings by reducing training costs.
DELIGHTFUL
Sometimes, all it takes to establish a productive workflow is to eliminate mundane tasks. SAP Fiori is the right tool to enrich your day-to-day work experience.
Improve user experience while increasing productivity and data quality!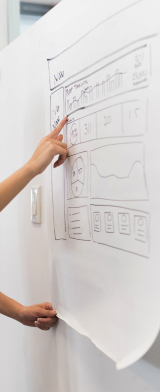 Standard interface logic for different workflows
Cut training time and ensure consistency in user experience across different applications. Since SAP Fiori provides predefined Floorplans for most typical scenarios, it will be easy for the end-user to learn how the new application works.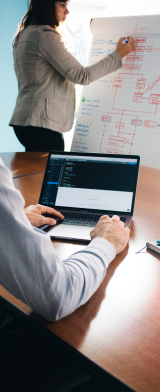 Accelerate the development of enterprise software
Meet new enterprise IT criteria for microservices architecture. Adding new functionality is also more secure with SAP Fiori than with monolithic enterprise applications, as you can create separate applications for new operations without affecting core functionality.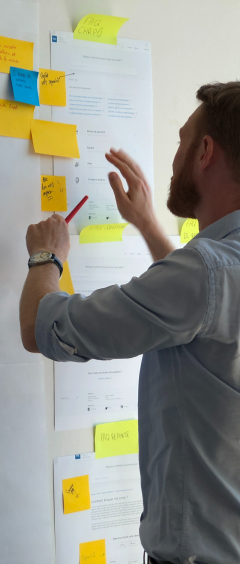 Modular design approach based on business roles
Thanks to the role-based approach used in Fiori applications, the lightweight interfaces provide the functionality individual users need.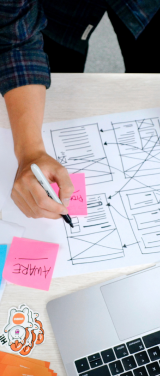 Reimagined UX with user-focused tasks and workflows
Create user-friendly interfaces for both existing and new business processes. Applications are maximally localized, containing only those features necessary for specific operation functionalities.
CONTACT US
If you are looking for an SAP Global Strategic Supplier or Technology Partner for your business, fill out the form below, and we will contact you at short notice.
Having joined the SAP AppHaus network, we established the first SAP AppHaus community in Eastern Europe, providing a creative space for personally interacting with customers. Together, we host design-thinking workshops, determine a project structure, and define the most effective approach for translating existing functionality or creating new functionality using Fiori. We set clear goals that address challenges faced by users and provide timely feedback.
Analysis of requirements
Our methods are flexible and as diverse as our clients. Depending on each requirement, we ensure transparency, design flexibility, and regular communication with the client in each stage of development.
Development
We conduct thorough end-to-end testing of the implemented app to ensure full compliance with every business process. Applying the SAP Fiori design guidelines during the entire process will maintain a consistent SAP Fiori user experience.
Quality Assurance
SAP Fiori consists of a high-level architecture. We verify that its final implementation and design delivers the intended user experience to the targeted end-users with the fewest possible barriers to adoption.
Realization
To ensure a successful rollout, we provide informational and IT support for the customer. Post-release maintenance helps achieve a seamless experience with expected workflows and user interfaces.
Post-release support
All-Round Human Support
Our customer success team is ready to solve any unexpected issues. We provide turnkey service from analysis of the current situation and customer's wishes to post-release support.
Close Cooperation With SAP
Because we know the technology from a programming perspective, we can influence development of the solution, not only use the result. We are among the first to learn about best practices that are applied to projects for our customers.
Tailor-Made Fiori Journey
Our many years of experience in the field allow us to tailor optimum fiorization strategies with clearly defined pathways for each case, allowing for an iterative and smooth transition to Fiori.