The LeverX expert answers popular customer's questions about SAP MES.
TOP 10 Questions About SAP Manufacturing Execution System
Modern competitive markets and customers demand constant industry and process changes and quality improvement from manufacturers. To stay a step ahead, businesses need a comprehensive understanding of production based on up-to-date data and process transparency.
The tool that can meet these business needs is SAP Manufacturing Execution System (SAP MES). We've collected ten common customers' questions about this solution and asked Ruslan Aliev, Senior SAP PP/QM/DMC Consultant at LeverX, to answer them.

#1 What Is SAP MES?
SAP MES is software that automates separate manufacturing processes and overall production management. It offers a wide range of tools and features to ensure complete process and resource transparency. With SAP MES, you can monitor and track the lifecycle of every single product, as well as improve product quality and reduce downtime and costs.
#2 What Are Key SAP MES Benefits?
This solution has many business advantages. I won't describe them all, but enumerate the ones that our customers mostly point out.
Better quality control
SAP MES has a quality control feature that collects and transfers data in real time. When receiving an alert about interruptions or other manufacturing issues, you can timely stop production, avoiding scrap and re-work.
Reduced downtime
This solution offers advanced workforce, material, and equipment planning tools. It helps simplify the operation of procurement, shipping, and planning departments and reduces production, transportation, and storage costs.
Reduced inventory
With SAP MES, you always know exactly what resources are on hand. It also streamlines the work of procurement, shipping, and planning departments and reduces production, transportation, and storage costs.
Human factor minimization
SAP MES allows you to reduce paper- and manual work and reduce risk related to human factors. Moreover, you have round-the-clock access to data on manufacturing processes that helps you make faster and more efficient decisions.
Better product tracking
Production cycle tracking has never been easier. With SAP MES, you can monitor the manufacturing progress from the order through production and shipment.
#3 What Manufacturing Stages Does SAP MES Cover?
SAP MES covers all the manufacturing processes, from detailed scheduling to performance analysis. With this solution, you manage the entire operations when tracking the progress of your products and their genealogy. Real-time data collected by SAP MES helps you analyze the asset status, including machines, materials, and labor, to make allocation decisions. The maintenance feature allows you to identify potential equipment issues before they happen and adjust them to reduce downtime. Moreover, SAM MES also offers tools to manage and distribute different documents: instructions, drawings, batch records, etc.
#4 What Are SAP MES Functions?
SAP MES offers a wide range of tools and functions to keep your manufacturing processes efficient. Among them are:
Data collection
Quality control and management
Time management
Online monitoring
Equipment testing and repairing
Analytics, etc.
I can name Shop Floor Control Unit, Routing, and Activities as its key features. The first one is a unique identifier to track Shop Floor Control ID that can be associated with a single batch or a lot-size-one product.
The routing feature is responsible for the design and setup of process routing. It offers different levels of detailing and flexibility for any manufacturing scenario.
Activities help companies adapt their manufacturing process and systems to meet production needs. Any manufacturing operation such as process launch, event logging, or data collection can be assigned as an activity, and you decide when they must occur.
#5 Can SAP MES Be Deployed Without Any Other SAP Solutions Installed?
Yes, SAP MES is an independent solution for SAP and non-SAP customers. You can implement it in the manufacturing landscape without having an SAP ERP system. In contrast, if you have implemented SAP ERP, you can smoothly integrate it with this system.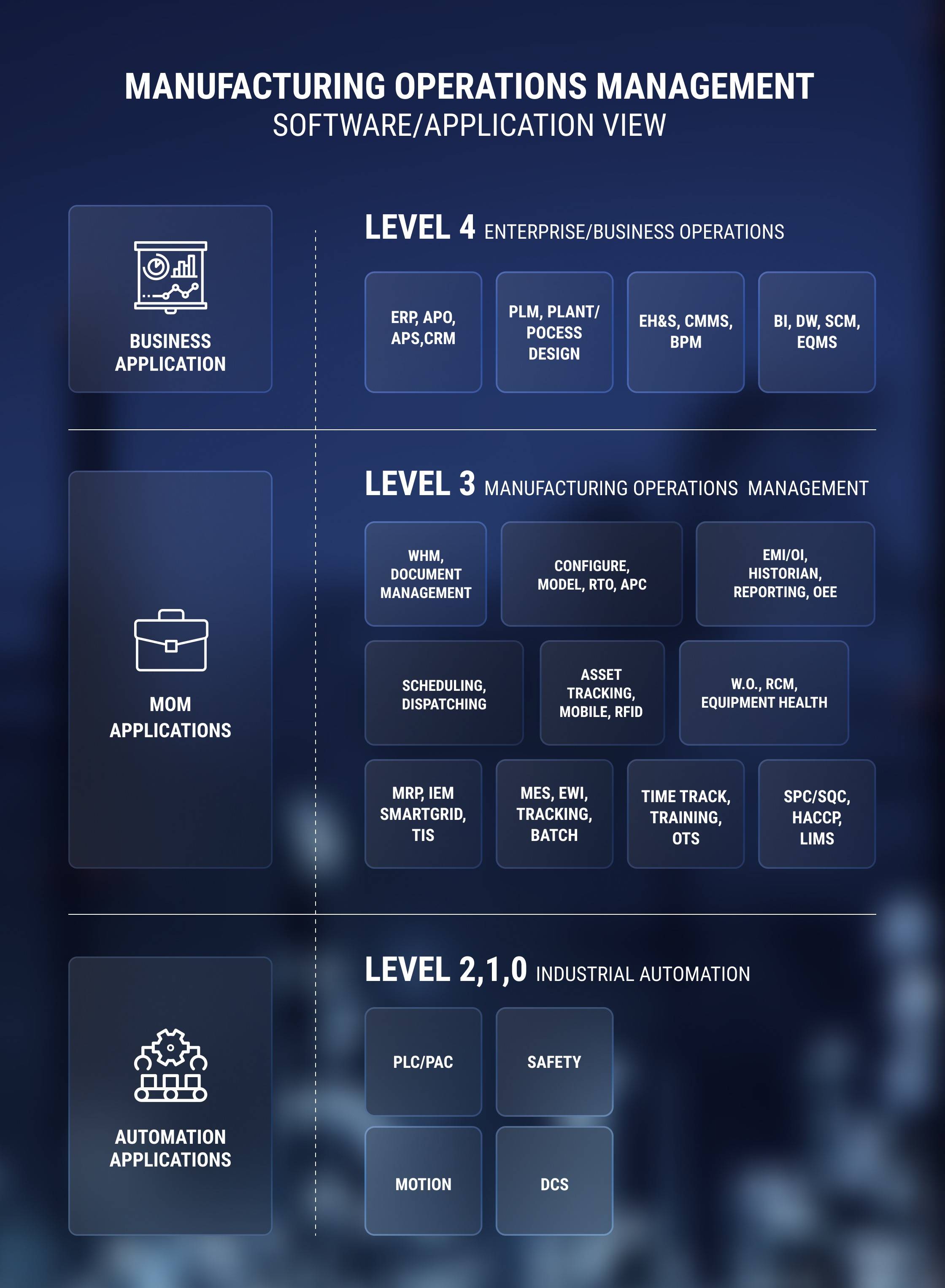 Source: LNS Research
#6 What Is the Difference Between SAP MES and SAP ERP?

SAP MES and SAP ERP aren't interchangeable solutions. SAP ERP supplies data on products to be produced, and SAP MES integrates this information with plant floor data to define how to produce with less waste and more profit.

SAP MES and SAP ERP create an integrated ecosystem that provides businesses with a complete overview of finance, procurement, supply chain management, production logistics, etc. Combined data provided by these systems increases flexibility and creates a basis for better forecasting in all the business lines, from sales through asset management and production management.
#7 What Are Deployment Options for SAP MES?
There are three deployment options:
Rapid deployment
This approach helps companies quickly deploy SAP MES within discrete manufacturing with a rapid-deployment solution. This predefined tool combines software and services required to deliver core shop floor processes.
On-premise deployment
This option suits businesses that want complete control over their manufacturing environment. To deploy SAP MES on-premise, you can use your infrastructure or an IaaS (infrastructure-as-a-service) provider. Moreover, you can customize and extend the solution to meet all your manufacturing needs.
Private cloud deployment
You can also move your manufacturing landscape to a cloud-based environment with a subscription model. SAP HANA Enterprise Cloud provides all the necessary tools to get the most out of a privately-managed environment to meet your industry-specific needs.
#8 What Is the Effort to Implement SAP MES?
Many factors impact the implementation effort and duration. It all depends on your company and industry type. SAP MES is a unique solution that is configured for every company individually. To understand them and the entire project scope, the LeverX experts conduct an in-depth analysis of the system and customers' business needs. But as a result, you get a solution that meets all of them.
#9 Does SAP MES Fit Every Manufacturing Industry?
Yes. SAP MES can be configured to any specific manufacturing company. It means this solution differs depending on the company's business line. For example, SAP MES at an FMCG company is not the same as in a pharmaceutical organization.
Every manufacturing industry has specific functions, and tools that successfully help discrete manufacturing companies can be useless in process manufacturing. And SAP MES can be personalized to meet the specific needs of each company.
#10 How Can SAP MES Be Helpful for End Users?
SAP MES makes enterprise operations more efficient by simplifying and accelerating end users' work. Among features that help achieve these goals are:
Real-time visibility across the entire company
Access to real-time data
WIP tracking and management
Plant performance optimization
Quality improvement
Easy-to-configure dashboards and PODs
If you have additional questions about SAP MES and its features, contact the LeverX experts! We are happy to help you.