How to establish efficient warehouse logistics and automate routine processes? Join LeverX's free webinar to get expert advice and drive the business forward!
Increase the Speed of Warehouse Processes With SAP EWM Join the webinar!
Free webinar | November 22, 2022 | 4 PM (GMT+1)

Establishing efficient warehouse logistics requires unique expertise both in process automation and warehouse operations. And automation helps to overcome a lot of challenges on the way to boost efficiency and productivity.
How to ensure manual decision-making only in exceptional cases and reduce congestion? Discover the tailor-made software solution – SAP Extended Warehouse Management (SAP EWM). It was designed to reduce specific errors and increase the productivity of warehouse operations processes, with the current challenges in mind the supply chain faces.
On Tuesday, November 22, we are going to hold a free online webinar to introduce you to the potential of SAP EWM, discuss how it can help you in your unique situation, and provide you with expert advice on how to start working with the solution.
Meet the speaker: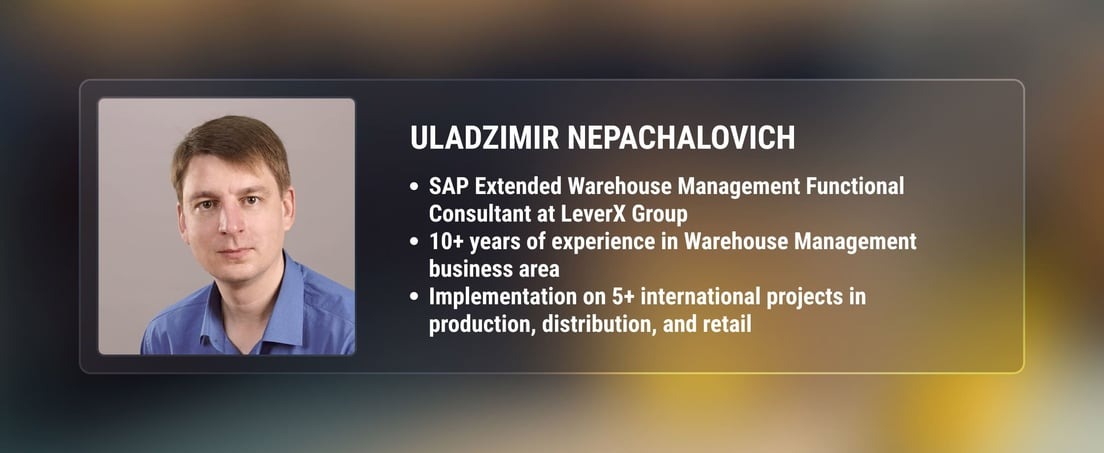 Companies using SAP EWM successfully managed to:
Automate warehouse processes
Reduce the influence of human factor
Increase the processing speed of material flows
Optimize the available space by automating the processes of placing and shipping materials
Our mission is to get you to that level of performance and further!
leverx group
Do drop in. Click here to register for the webinar
And here is the BONUS: FREE SAP EWM demo in real time!
You will:
Watch how SAP EWM integrates with ERP systems.
Discover how the system works for warehouse automation.
Get customized recommendations depending on different business requirements.



Looking forward to your presence at the webinar!