In June 2022, SAP AppHaus Network partners gathered at SAP AppHaus Heidelberg to share their best practices and brainstorm new ideas. Read about the topics raised in our article.
Innovation and Sustainability: SAP AppHaus Network Meetup's Buzzwords
In June 2022, SAP AppHaus Network partners gathered at SAP AppHaus Heidelberg to share their best practices and brainstorm new ideas. How does the creative environment drive innovative business solutions? What wine corresponds to each persona? How to optimize pizza production to make it more sustainable? These are only a smaller part of the questions raised at the workshops.
Sharing LeverX's Best Practices by Networking With Partners Worldwide
After three years of online collaboration, partners from different countries, including Australia, Canada, Belgium, and many more, came together at SAP AppHaus Heidelberg. LeverX was one of them.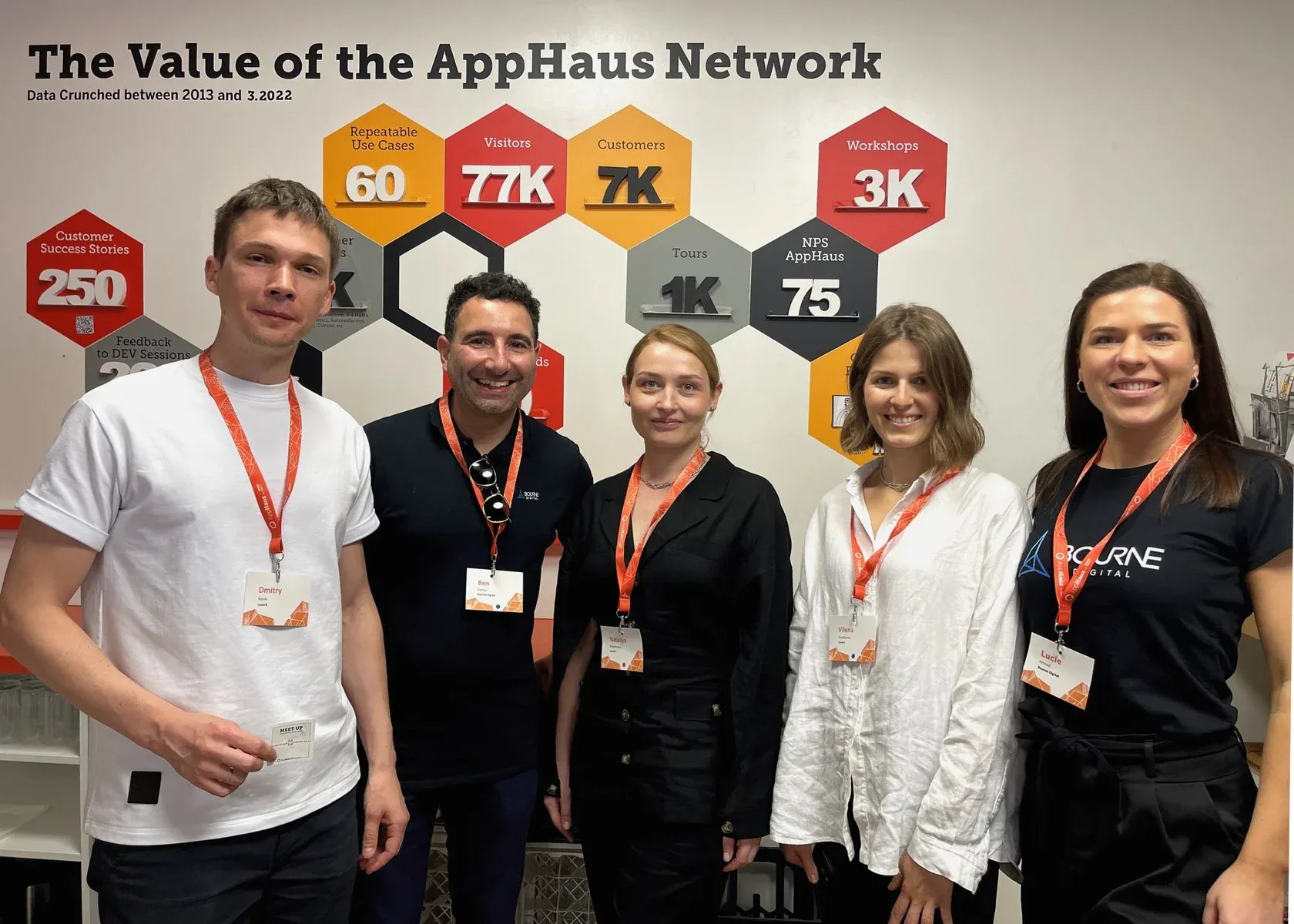 LeverX's UX/UI team with SAP AppHaus partners from Australia
Having joined the SAP AppHaus Network in 2019, we've gained a goldmine of best practices and useful tips to share with our colleagues. Our UX/UI team told the SAP community how design thinking serves as the glue between our company departments and helps build products based on the human-centered approach. Internal workshops and creative sessions are gaining popularity among cross-functional teams in our company. For three years in the SAP AppHaus Network, we managed to introduce DT practices to the team, ensuring teamwork and a productive environment for creating innovative human-centered solutions.
Teamwork Drives Innovations
At the meetup, the partners not only shared their expertise and latest trends but also immersed themselves in the design thinking practices. The teams had plenty of workshops discussing up-to-date business use cases. The importance of innovation-first strategy for businesses was among the workshops' highlights.
How can SAP AppHaus drive innovations? Can it be the business guide on the innovative journey?
The attendees brainstormed ways to encourage company staff to think outside the box, focusing on the idea that innovations are often inspired by employees' initiatives and introduce value in the long-term period.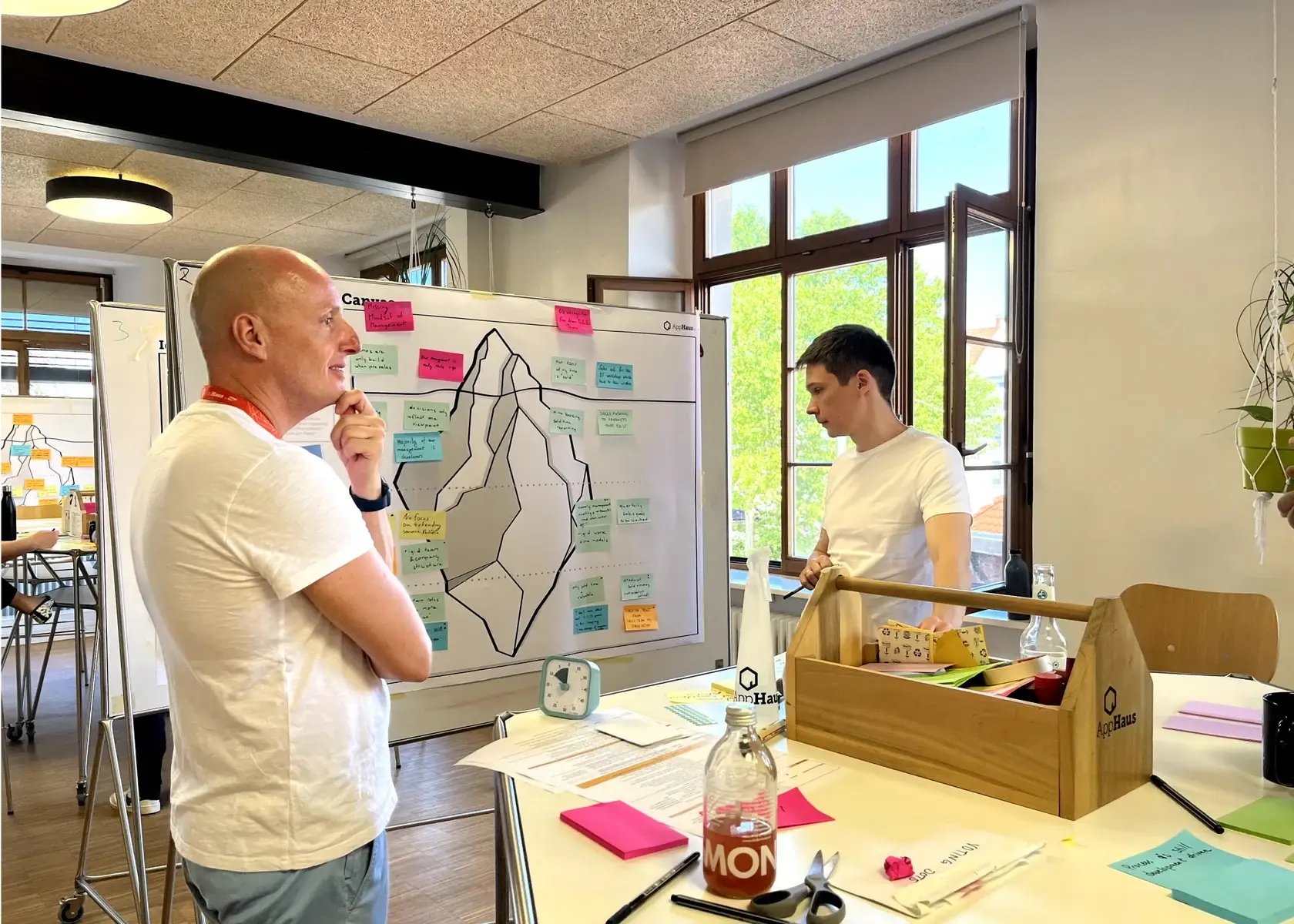 One of the workshops at SAP AppHaus Network Meetup
Sustainability Was Another Key Topic
Sustainability-based approach to business was the key headliner of SAP AppHaus Network meetup. SAP T&I Chief Operating Officer Anja Schneider described the strategic view of SAP Business Technology Platform (SAP BTP) as the foundation for a sustainable enterprise. She emphasized that close collaboration with the partners is crucial to realizing the full potential of SAP BTP and ensuring the customers' success. Glenn Gonzalez, CTO, SAP Germany, also spoke about SAP's sustainable solutions and their role in ensuring sustainability in the global context.
Besides, sustainability issues were discussed during workshop sessions. For example, the partners generated ideas for optimizing pizza baking and selling processes to contribute to sustainable food consumption.
United by One Approach — Building Human- and Life-Centered Solutions
As part of the SAP AppHaus Network, we follow our joint mission that is based on the three ingredients: a human-centered approach to innovation, a multidisciplinary team, and a creative environment. By combining these three components with SAP technology, we provide real value for our customers.