Design Thinking facilitators Nataliya Rubakhava and Vilena Vorobyova will talk about the way we create an environment where the boldest yet very practical product ideas are born.
How to Maximize the Effectiveness of Design Thinking Workshops: Interview With LeverX's Facilitators
At LeverX, we believe that anything can serve as a source of a great idea, and everyone is capable of creative thinking. The Design Thinking methodology we apply to development cycles supports this belief. It helps us, together with a client, go beyond the scope of familiar and apparent ideas, widen and deepen them, discover all pitfalls, and eventually turn the generated insights into solutions that make a difference.
Today we, together with Design Thinking facilitators Nataliya Rubakhava and Vilena Vorobyova, will talk about the way we create an environment where the boldest yet very practical product ideas are born. But let's start from the basics.
A Brief Intro To The Basics of Design Thinking
It's no secret that every mind is full of brilliant ideas: we can clearly see this in cooperation with our clients. But these ideas often come in a tangled web of thoughts, views, and concepts that must be seen, formulated and validated for the creation of a valuable product. And it's exactly Design Thinking that sheds some light on all the elements of this tangle, helping to get rid of unnecessaries, see all the potential strengths, and create a complete picture of the path from point A to B, from idea to final product.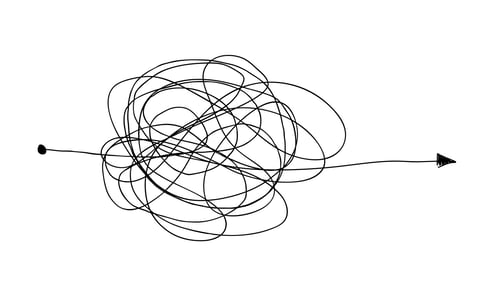 What's more, Design Thinking promotes a human-centered approach, encouraging organizations to focus on users' actual wants and needs to create better products.
Application of the Design Thinking methodology to product development opens up space for:
Minimized risks at the implementation stage
Greater user productivity
Better user experience
Reduced user training costs
Increased business profits
And here's how the process is generally organized by our experts.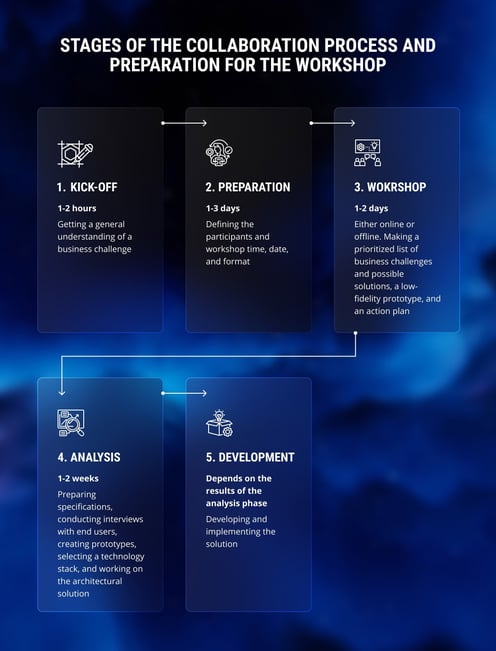 Now, let's learn about the ways our Design Thinking facilitators Nataliya Rubakhava and Vilena Vorobyova organize everything in a joyful and fruitful way for everyone involved.
Insider Tips From LeverX's Facilitators of Design Thinking on How to Conduct Successful Workshops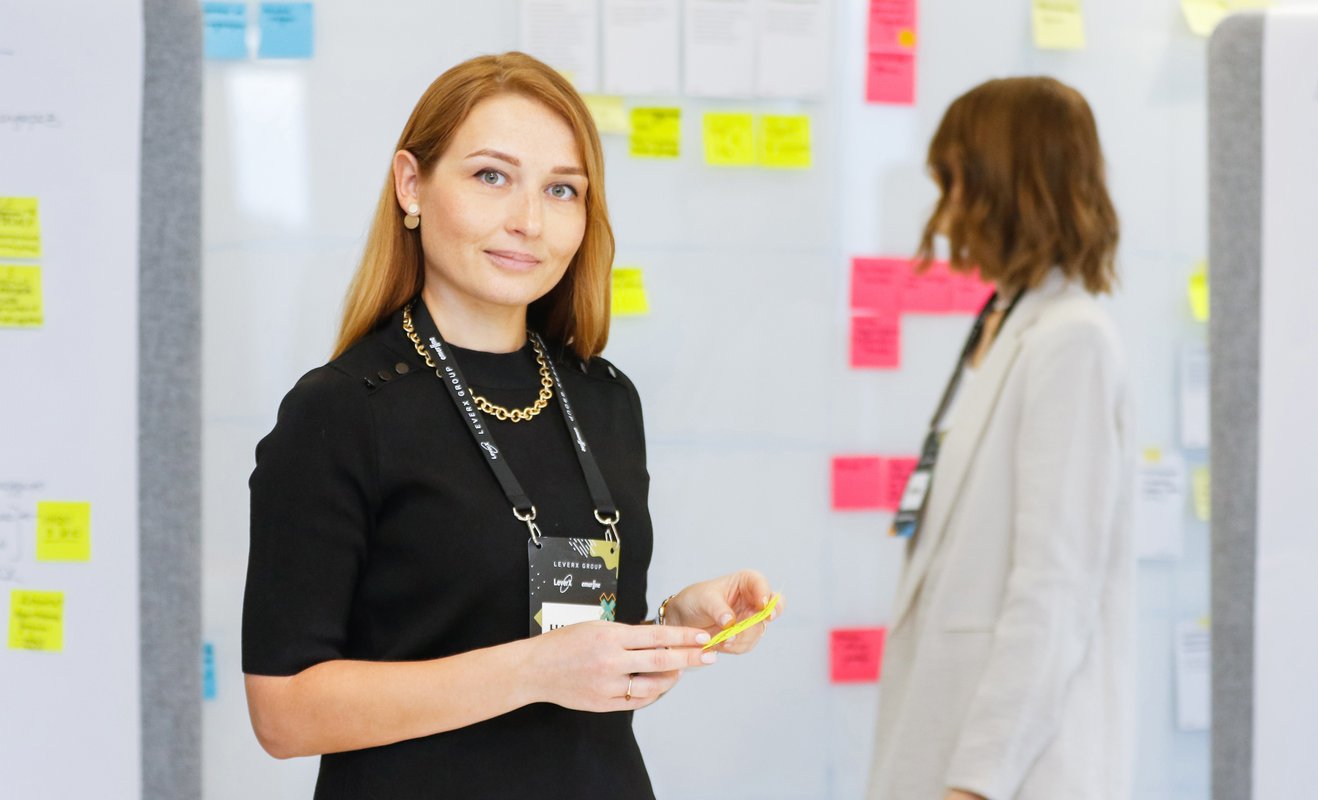 Nataliya, Vilena, you have vast experience in conducting Design Thinking workshops, and we know that you always achieve great results. What's the secret?
Nataliya: I would say that the key success factor to pay attention to is in the preparation and planning process. Together with Vilena, we always put a lot of effort into creating an atmosphere where participants can break out of the office routine and use their creative thinking to the full extent. Our goal is not just to awake the thinking outside-the-box potential but we want participants to understand that there is no box at all. And we have some secret weapons for that.
For example, we think about the space. We held the offline workshops in a specially designed place that promotes constraint-free thinking. The SAP AppHaus creative space covers areas for collaborative work, a relaxation zone, and a projection room - each helping to get the participants to the "think like there is no box" state of mind.
Are there more secret weapons you use? Could you name some?
Vilena: One of the most workable ones is that we learn how to speak our client's language. We dig deep into each domain to understand all the specifics of our client's business operation. So when a workshop starts, we can freely navigate the topic and know how to direct the team to the path where perspectives, opportunities, and solutions can be found.
Nataliya: One more important thing that affects the success of a workshop is that we conduct our own research beforehand. Our clients often come to us with a formed vision of what's happening in their domain. They have an idea of the current drivers for success, their audience's wants and expectations, a direction leading to success, etc. Having such knowledge is natural for them.
By conducting our research, we can help widen and deepen this naturally formed picture, drive their attention to some valuable nuances, or even shift the client's perspective to some brand new direction where previously unseen ways, approaches, ideas, and solutions can reside.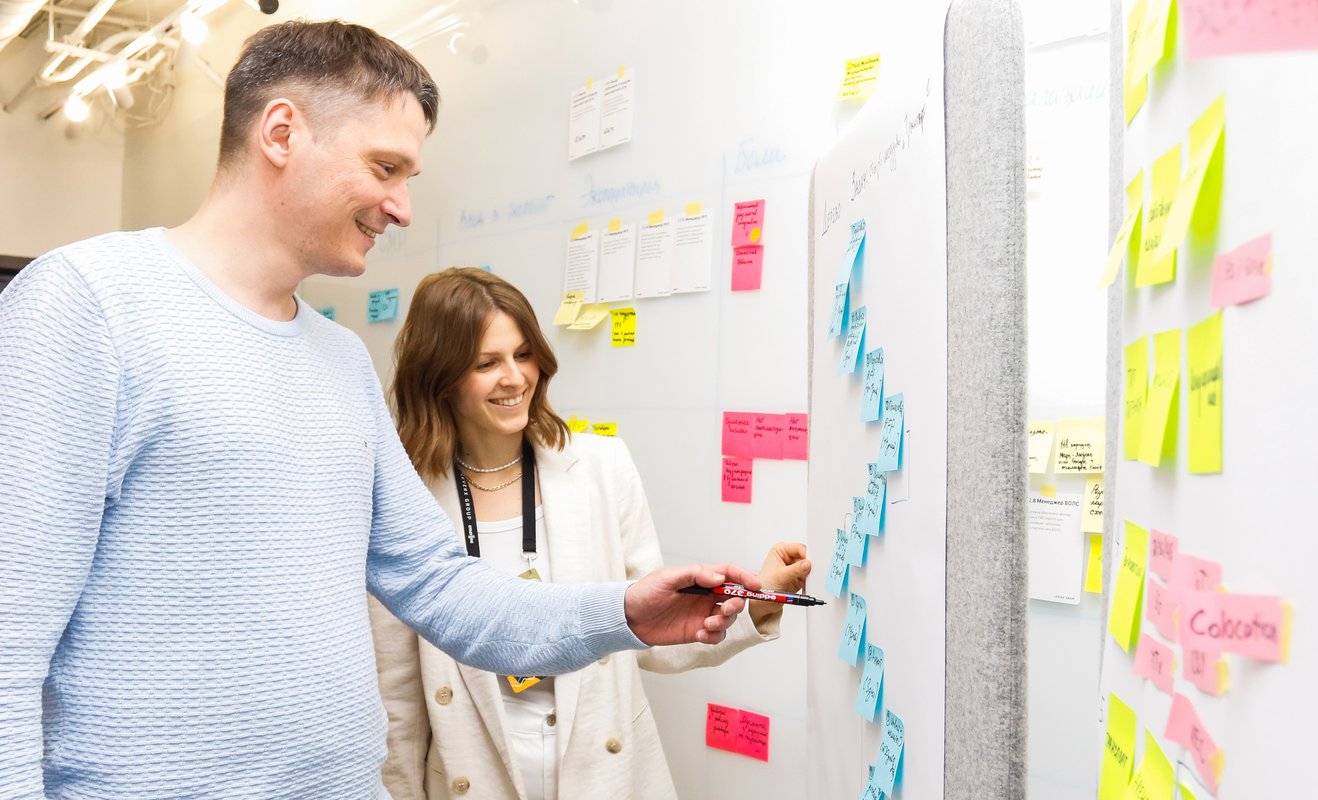 So, are these workshops all about brainstorming around the pre-prepared dry data?
Vilena: Of course not. We know that giving birth to ideas can be challenging, so we do our best to minimize stress factors by creating a bit of an informal, relaxed, easy-going, playful atmosphere. In other words, we always add some fun.
Warm-ups, interactive entertainment, team games, and various creative activities allow us to move participants out of their psychological comfort zone and unleash the maximum power of creative thinking. We always try to dilute the seriousness and tension with some warm, friendly touch-ups.
By the way, we also practice capturing nice moments on camera, so our clients can keep pleasant memories about their teamwork and, if they want, share them on their social media channels.
Nataliya: I would like to add that caring about our clients, their comfort, and internal state is essential to us. And we know how to do it, starting with regular things like coffee breaks with sweets, furnished dinner, provision of dedicated parking spaces, cloakrooms, etc., and continuing with some slight but valuable touch-ups.
For example, we always try to plan the time of the workshop in a way to leave some additional private time for the participants during the day: start the workshop 30 mins later than their normal working day and finish it 30 mins before the planned time. These are small things that contribute to the overall level of readiness to work and productivity.
Sounds nice! But does everything always go as planned?
Vilena: For sure there are cases when a team can get stuck and we have to rebuild our plans on the go. And in such cases, we take advantage of flexibility.
We know that there are numerous ways to get from point A to B, and we have enough expertise and tools to change the path on the go.
We love what we do at LeverX and always try our best to share our passion for work with our clients. Believing that the best results are achieved when everyone involved enjoys the process, our facilitators never miss a chance to add their personal touch to all layers of the process. Thanks to such an attitude, we receive positive feedback from our clients and are happy to see how they conquer new heights and achieve their goals. And this motivates us to accept challenges of any complexity.
Got some? Let's design-think them together!