How to make sure you develop user-oriented products, services, and goods? Check out this article to know how Design Thinking methodology can help!
5 Indisputable Proofs That Design Thinking Actually Works
It's not easy to change a person's mindset. This is why there is a lot of controversy around the Design Thinking methodology.
LeverX decided to clarify many rhetorical Design Thinking discussions and dispel doubts concerning the methodology's actual business value. We contacted our certified DT expert and regular DT workshop facilitator – check this article out to get a profound explanation!
The Design Thinking approach is not for linear processes but has the potential to detect and control risks.
The more complex the business problem is, the more valuable Design Thinking tools are. There is no need to use DT to complete day-to-day tasks like repairing the equipment in the warehouse or considering how many accompanying documents and quality certificates a new batch should have.
The situation looks quite different regarding the repeated problems and specific software product development pain points. And precisely the DT approach also applies to developing the company's corporate values, carrying out PR activities, and adhering to discussion stages. The human-centered principles help to get to the bottom of the issue and find a solution.
We all know worldwide-known software products that started with the question, "How might we solve the following problem with this?". The thing that ties them together is that the cornerstone is the solution. Finding solutions to these problems is the essence of the DT methodology. Not surprisingly, all great innovators relied on such an approach.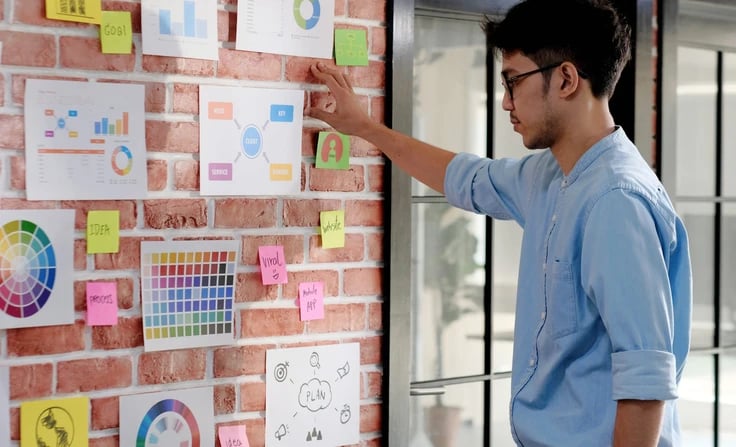 Design Thinking is multi-potential and applicable to startups, small and medium-sized businesses or large enterprises
With their vision clearly chained to clients, design teams and PMs can more easily keep their eye on the goal of the task at hand, allowing the influences of their research to continually pull up on work tasks. Talking about any human-related issue, Design Thinking is deepening into requests from corporations, startups, self-employed people, and other individuals.
Whether it be mobile app development, supply chain optimization, implementing remote training, or clarifying work requirements, there always is a blocker behind it. The key benefit of Design Thinking tools and methods is that they help businesses or individuals to highlight the most crucial obstacles and suggest the way to overcome them.
You can use traditional implementation plans that last for weeks and adopt DT practices to reach goals in a blink of an eye
Coming up with an idea is not complicated, which cannot be said about its implementation. Imagine you have only a couple of hours to provide the solution for the ever-changing development process. How would you cope with the situation?
Design Thinking is applicable to all creative cases, even when you need to get the job done ASAP. Provided the customer understands the value of the approach, provides resources for rapid prototyping and supports the overall facilitation process, even a two-hour Design Thinking session can uncover a high-level pain point. And what is most surprising, one working day is quite enough for thinking through all steps of product development from users' requirements acquisition to prototyping an MVP – all in a single DT session.
One of Design Thinking's most specific features is interactivity, which allows you to deliver results in the shortest possible time. Rapid discussion of the most acute issues, joint prototyping, and other dynamic actions lead to the discovery of dozens of pain points along with the sheer number of possible outputs.
Step ahead great UX and UI
The notion that the concept of design is limited to an attractive appearance is just a stereotype. The term is much broader and means "a plan or specification for constructing an object or system or for carrying out an activity or process". Design is inherently closer to engineering and aims to solve problems through creativity.
Design Thinking is already a set collocation and no longer just a catchword. Now, implementing DT in a modern business environment equates to achieving and maintaining a competitive advantage. Companies that are not ready for Design Thinking risk falling hopelessly behind.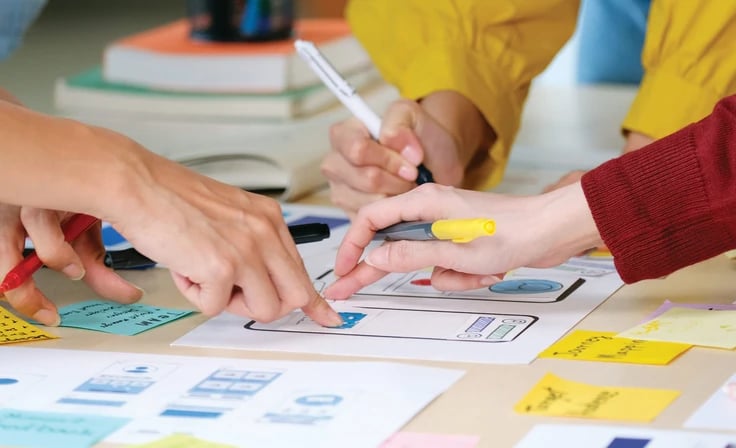 The figures confirm the high demand for methodology because of its beneficial results
The Adobe/Forrester research shows that "companies that foster creativity enjoy 1.5 times greater market share and 70% of design-led companies reported having a better digital experience than competitors."
Design Management Institute states that "design-driven companies have outperformed the S&P Index by 219% over 10 years." As per the Parsons New School research, "71% of organizations that practice Design Thinking said it improved their working culture and 69% of those organizations said innovation is more efficient with Design Thinking."
Are you still concerned about the practical value of the Design Thinking method?
If the foregoing was not enough, the least reason to prove that Design Thinking is an effective toolset for giving businesses the solutions that really make a difference and acquire worldwide popularity is the AppHaus – a creative space where our experts conduct Design Thinking workshops on a regular basis.
The LeverX team helps companies of all sizes to create innovative solutions from scratch – or reshape the existing ones to best meet their customers' needs. Disclose many hot-button issues and discover insights during Design Thinking sessions on how to take the software solution's reliability and quality to a higher level, nurture collaboration between creative professionals and software engineers, build customer and employee journey maps, etc.
Get all your human-oriented business challenges covered with an outstanding Design Thinking approach.
Depending on the particular case, we'll suggest the optimal session's agenda and duration. All you need is to contact us and discuss your business needs.