Nowadays, digital business transformation is not a luxury, it is a necessity. This may be proved by the number of companies that have already changed their attitude towards it. Among them, in 2020, 62% completely revised their business model, and 67% radically changed their operating model.
RISE with SAP: Packaged Solution for Different Industries
Nowadays, digital business transformation is not a luxury, it is a necessity. This may be proved by the number of companies that have already changed their attitude towards it. Among them, in 2020, 62% completely revised their business model, and 67% radically changed their operating model.
By 2022, 70% of all organizations in the world are expected to increase the use of digital technology. However, every company needs to find its way to become an intelligent enterprise.

RISE with SAP packages can assist your business in this transformation taking into account all the industry peculiarities.
Start Digital Transformation of Your Business with RISE with SAP
RISE with SAP is a packaged SAP solution that allows you to carry out a comprehensive transformation of your business into an intelligent enterprise. Thanks to a set of necessary tools and SAP best practices, you can effectively transform your business in a short time.
The package includes the following SAP solutions:
SAP S/4HANA

Cloud.

A modular cloud-based ERP solution that will help to transform and implement innovative solutions using new industry business models and advanced methods;

Business Process Intelligence.

It will provide a clear picture of how all processes work from beginning to end, allowing you to understand them better and transform them quickly if needed;

Technology Cloud Credits

that allows you to complement, extend, and integrate any other SAP partner or third-party solutions, as well as use the data model and business services on the SAP Business Technology Platform;

SAP Business Network Starter Pack

to assist in the rapid creation of dynamic digital connections with trading partners and assets;

Embedded tools and services

necessary for transition to SAP S/4HANA Cloud.
5 Solutions Tailored to 5 Different Industries
The annual conference SAPPHIRE Now 2021 took place from June 7 to 24. At this conference, SAP presented RISE with SAP packages for industries. Industry division allows transforming your business according to the requirements of the industry in which your company operates.
The packages are already available for the following business industries:
Automotive
This package includes the solutions and services necessary for a successful automotive business. It allows you to:
reduce maintenance and operating costs by 60%;

increase production process visibility by 100%;

improve financial efficiency by 20%.
This package enables automotive companies to achieve process agility, reduce business and technology risk, ensure customer satisfaction and increase their loyalty, realize predictable and new revenue streams, and use advanced methods of sustainable development.
The Spanish structural steel manufacturer has already implemented the solutions included in this package. Thanks to the package, the company has managed to:
increase transparency and business processes control;

increase the productivity of the company's ERP system;

reduce infrastructure maintenance costs;

reduce production risks.
Retail
RISE with SAP for Retail is the package that brings together the line of business solutions and services needed for true business transformation. It allows companies to:
increase the visibility over customers' shopping behaviors by 90%;

reduce the planning cycle time frame by 50%;

increase the general ledger records proceeding, even during peak seasons, by 100%.
To stay ahead of shopper and consumer expectations, retailers need to continue to innovate and upgrade their retail processes.
With SAP's omnichannel architecture for retail and intelligent technologies, you can design next-generation processes that will allow you to act on detailed customer and business insights and their personalized experiences.
With industry cloud solutions built on the SAP Business Technology Platform, you will optimize and extend processes, and this will enable you to create convenient and simple shopping scenarios.
With the package, a group of New Zealand companies has managed to:
create a centralized repository for data, automate their collection and storage;

gain access to comprehensive and detailed customer data reporting;

enhance decision-making, thanks to embedded retail analytics;

created a single view of the customer.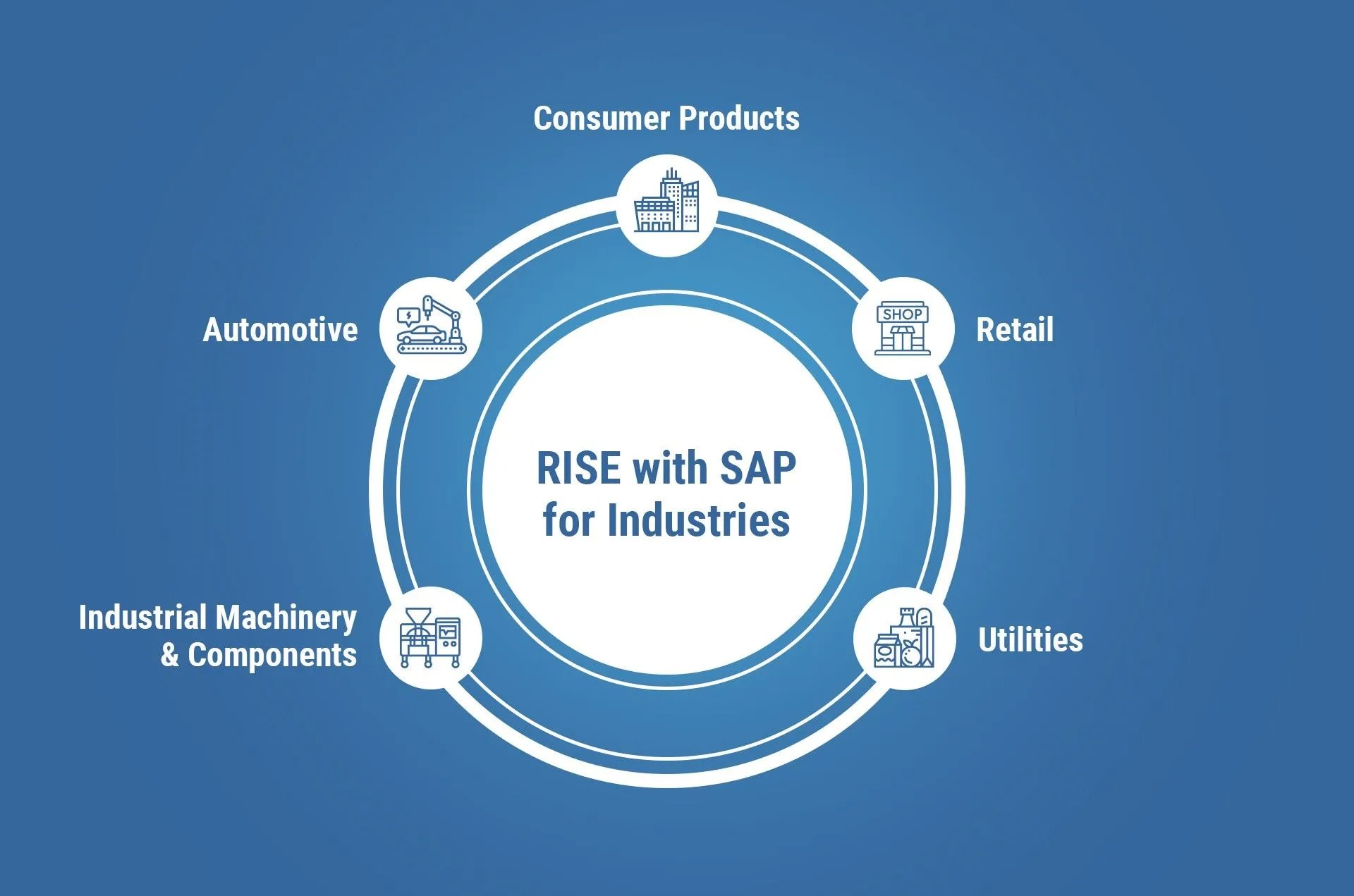 Consumer products
To exceed customer expectations, Consumer Products companies should implement innovative solutions that will enhance customer service quality, automate, and optimize business processes, minimizing environmental impact.
Implementation of RISE with SAP for Consumer Products package leads to the following results:
33% faster financial cycle;

20% reduction in stock;

10% reduction in inventory costs.
It will also improve infrastructure resilience, provide access to simpler support models, and assist in achieving process excellence by integrating and expanding the digital core.
With the RISE with SAP package, you will improve process efficiency, lower costs on customization and product release, reduce downtime, while avoiding stock-outs and ensuring your product is available where and when consumers want it.
With RISE with SAP, one of the largest food producers in Argentina has managed to:
fully automate payment processing;

enhance profitability analysis by industries, product category, sales area, and customer;

harmonize data across regions and company departments;

improve data quality and accelerate reporting.
Industrial Machinery and Components
This package provides industrial manufacturers with differentiated business capabilities through best practices and industry cloud solutions to drive business transformation toward a sustainable economy.
The RISE with SAP for Industrial Machinery and Components package is:
10-20% increase in service revenue from new business models;

20% improvement in production efficiency;

3-10% reduction in energy costs.
With this package, industrial manufacturers ensure superior customer experiences, provide complex solutions, create new business models, and use best practices for sustainable development.
With the solutions of this package, a global leader in the design, engineering, and manufacturing of composite materials and special fabrications has managed to:
ensure real-time data access for project reporting, forecasting, and cost control across six subsidiaries;

increase data integrity and accuracy for deeper analysis;

optimize business processes, facilitating agile project management;

increase visibility and productivity.
Utilities
RISE with SAP for Utilities is a package designed to support the internal processes of utilities. It allows you to:
increase service revenue from new business models by 10-20%;

reduce time to market for new products by 5-8%;

improve overall equipment efficiency by 5-15%.
The package can accelerate the pace of digitalization and transition to green energy, optimize the environmental impact, increase asset utilization, reduce wastes, and increase compliance.
If you need a consultation about the opportunities provided by RISE with SAP industrial packages, contact us. We will be glad to help you!