LeverX ensures customers can migrate and integrate data from any system using an all-in-one migration solution — DataLark. We interviewed our experts, Michael McManaman, our Senior SAP Consultant, and Siarhei Shukaila, our Lead Project Manager at LeverX.
Experts Explain Why DataLark is Easy-To-Use Data Migration and Integration Tool Unlike Others In The Market
LeverX ensures customers can migrate and integrate data from any system using an all-in-one migration solution — DataLark. We interviewed our experts, Michael McManaman, our Senior SAP Consultant, and Siarhei Shukaila, our Lead Project Manager at LeverX.

一 How can a business use the DataLark solution?
Siarhei Shukaila: In terms of capabilities, the solution offers migration scenarios and integration scenarios.
For the Migration scenario, there is a clear and standard use case when you have some legacy system and want to migrate to SAP. Of course, you need to move your historical legacy data from one system to another. And there are a couple of options on how to do it.
The first option is to do it manually, via some standard export-import capabilities, which is a time-consuming, tedious process, and manual mistakes are likely to happen.
The second option is to automate the process with our DataLark tool. You configure the mapping once. Then, connect the systems, enable the data migration, and the data flows from one system to another.
For the Integration scenario, it is an ongoing process, in contrast to migration, which is a one-time process. It is about the establishment of constant data flow between two active systems. With DataLark, you can synchronize these two systems instead of manually inserting data into each system. The solution becomes a part of the landscape and infrastructure, which works all the time, like a power plant.
一 How does DataLark differ from other out-of-the-box migration solutions?
Michael McManaman: Let's start with data migration. Out-of-the-box SAP migration tools can be cumbersome. They are not powerful or easy to use. In contrast, the DataLark migration tool can be used even by people without technical knowledge. It's more flexible and configurable.
When it comes to integration, a custom solution is not supported and requires custom tools and developers. The DataLark solution is customizable, and it's easy to configure into the user interface. If you are using our tool, you will be supported and get the latest and greatest updates.
一 What are the key migration scenarios with DataLark?
Michael McManaman: Generally, customers want to migrate: from old SAP to new SAP or from any legacy system to SAP, or from SAP ECC to SAP S/4HANA. Over the next few years, most companies are going to migrate from SAP ECC to SAP S/4HANA and we can help with that.
一 What are the core benefits of data management with DataLark for customers?
Michael McManaman: Most businesses are looking to cut costs and simplify their systems and DataLark allows both. Companies that have been running for over twenty to thirty years may have ten to fifteen different systems and all doing something different.
The main core benefit of using DataLark is being able to connect all these systems. Even if you are not able to fold all these systems into one, you may still benefit from having an integrated solution across your enterprise. Everything is connected without manual work. You can get a flow of information between different systems and everything is updated automatically.
Other customers' benefits include higher integrity, saving time, and effort in your ability to do work. All the information becomes more accurate, easy to access, and visible in one place.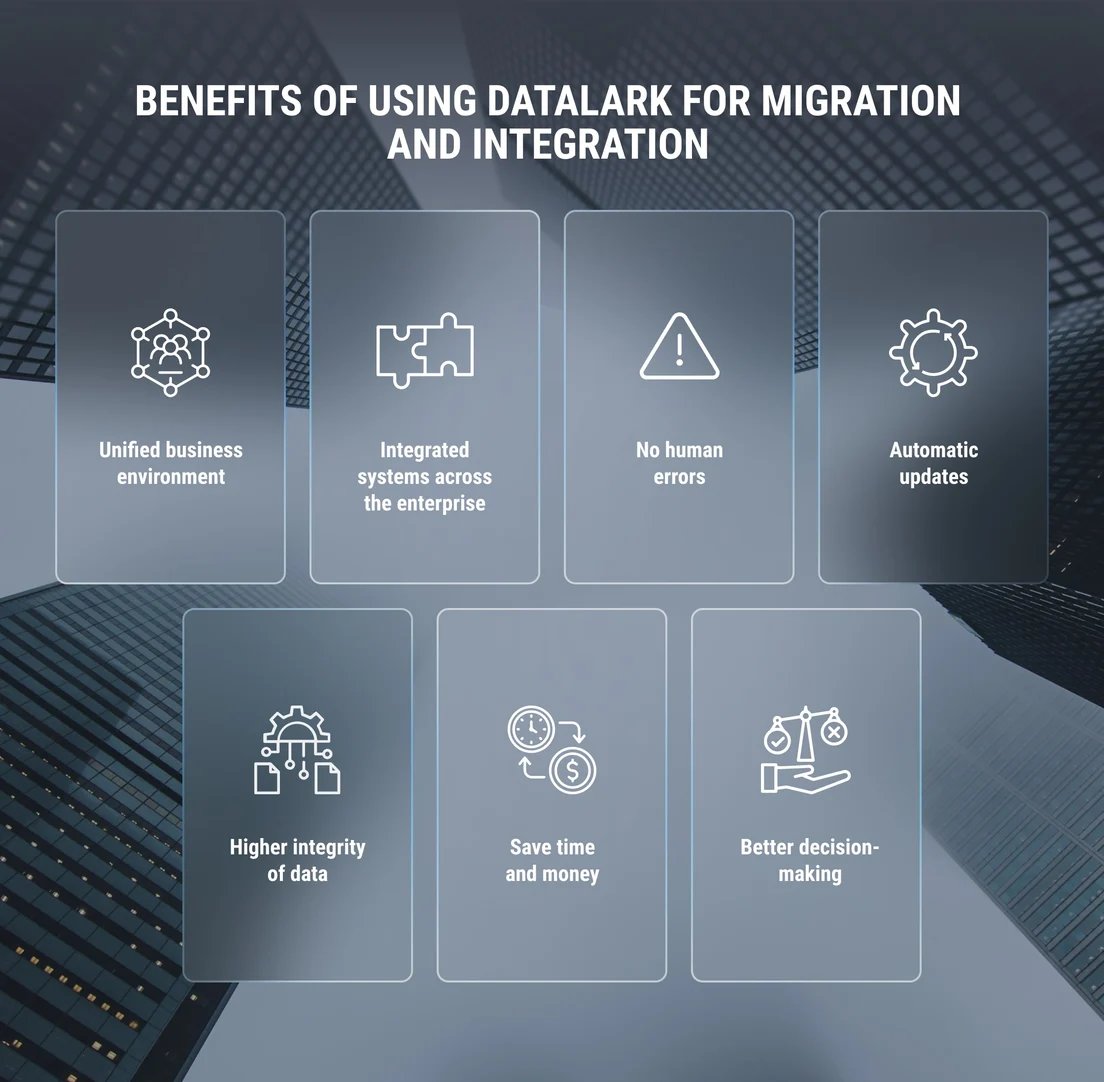 一 In which ways does the solution simplify management processes?
Siarhei Shukaila: What's important is that this tool allows you to connect any systems in your private network, your company. You may put as many installations of data logs in different points between different systems as you want. You can build some kind of web of connectors between different systems following any configuration that you may imagine. You can organize the data exchange on all levels within your company.
DataLark is a very secure system within your private network. It's not like some cloud-based tool that transfers all of your data into the cloud after you buy a license. When it comes to DataLark, your security team doesn't need to take a couple of months' review to find out whether the solution is secure and whether it's allowed to pass the company's data to that cloud and back.
This desktop application is very simple to use and install. Any Windows user can do it with a couple of clicks. You can enable it on any server within your infrastructure and connect to various data sources. These are very nature-based things that are very clear and that are not changing from a sales and marketing perspective.
一 Does DataLark only work for SAP customers? Or can it also be used for SAP and Non-SAP customers alike?
Siarhei Shukaila: The solution can be used by both SAP users and non-SAP users working with other systems. For SAP customers, it would be a great fit because it has built-in functionality for the SAP products and their different modules. All you have to do is to open the application and configure it. For non-SAP customers, when it comes to non-SAP data sources and data targets, DataLark's framework allows incorporating a small connector to connect with a chosen system. We are currently developing capabilities that will allow connecting to almost any system that has REST API with any other system with REST API.
一 Is it possible to customize DataLark for the specific cases of the customers?
Michael McManaman: We can call any SAP functions and we can write custom code and plug it in, do any kind of transformations or load any kind of SAP data.
Siarhei Shukaila: One more important thing is that in case SAP, which is the main target for us right now, fetches the current configuration of your SAP installation data model, you do not need to do manual work to make a call to SAP and fetch your certain data model. It's very individual for SAP installation: you just connect it to SAP and then you work within the two, with that data model that you have configured to this instance.
一 What are the further prospects for product development?
Siarhei Shukaila: We are going to start extending the number of connectors that we build for different customers and create a library. This means that if we already built this small connection to Oracle for customer A, we can just add it to the product library, so customer B can use it without any kind of programming intervention. This is a part of our long-term strategy. We are also working on moving to the cloud because the cloud is better for users that do not want to install any software on their computers locally.
Michael McManaman: In the future, we are going to have standard plug-ins for areas outside of standard SAP PLM. We're going to go into many different areas, whether it be transport management or sales organization, so customers will be able to use the corresponding plug-ins out-of-the-box.
一 Let's conclude: what makes DataLark a powerful tool for business?
Siarhei Shukaila: With two decades of SAP experience, we were able to build a tool that deeply understands the specifics of SAP and allows you to migrate and integrate the data even for the complex SAP objects. DataLark is a tool that allows you to easily, quickly, and efficiently configure and organize the data stream between any systems within your business landscape. It can either be one-time data migration from some legacy system to the new one or it might be periodical data synchronization between two business platforms to streamline the data exchange.
Michael McManaman: While there are quite a lot of migration solution developments, most standard SAP tools can be cumbersome. DataLark has a ready-made framework that ensures your ability to modify easily and use some of the standard functionality out of the box. It also has standard plug-ins that make data migration a lot simpler and more efficient.
If some of your questions about the DataLark migration and integration tool were unanswered, you are welcome to contact our specialists.