The product development process is crucial for growing your business, but it takes some thought and skill to do it well. Read this article to know some useful tips.
Product Development Process Explained
Product development is a highly dynamic and critical aspect of a business. With changing consumer demand patterns, companies are motivated to focus on using advanced strategies to provide the needed service and capabilities levels. So, what does it take to create innovative software from the initial idea to the final market launch?
First, let's overview the traditional product development process applied in software development companies – LeverX Group is not an exclusion. Sometimes software products are developed in a way that doesn't meet set development standards, but generally, there are four main steps.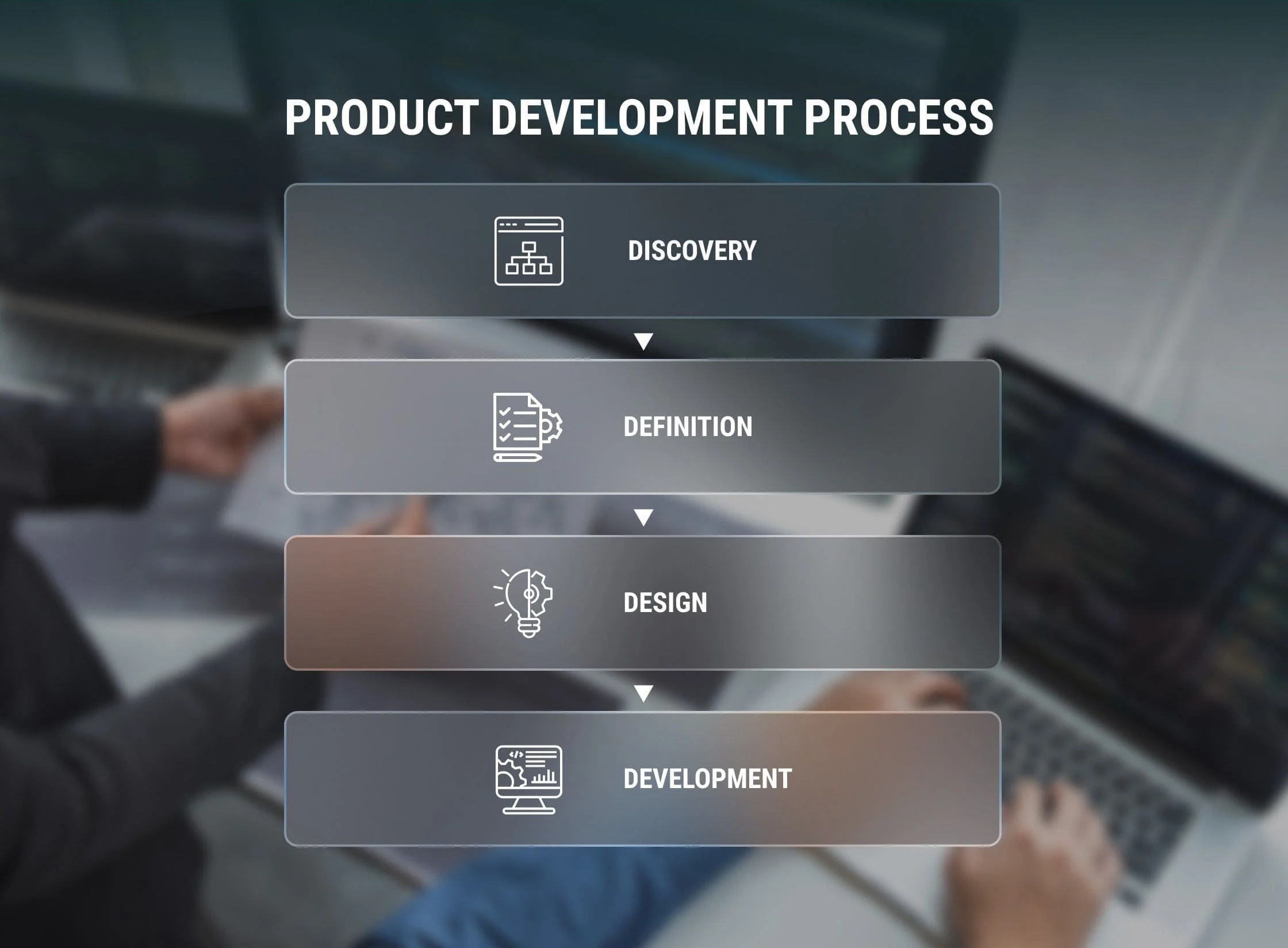 1. Discovery
The first step is to choose a product concept, which begins with collecting ideas to determine the most successful ones in terms of the business strategy and potential outcomes. Moreover, we compare the same-type solutions that already exist on the market and have correlated business goals. This comparison helps to carry out an assessment of potential risks.
2. Definition
This stage is responsible for credibility and strategic alignment. When you have a clear understanding of how the product will fit the market, it's time to move on to team assembling and business plan development, and these steps have a lot of milestones in turn. To reach the product design stage, approved developed business plans are a must. Moreover, they should comply with the company's mission and overall business objectives.
3. Design
This stage consists of preparation for the upcoming product release and correcting any deviations from the plan to align them with the whole business strategy. The Proof of Concept (POC) creation is the first brick in the minimum viable product (MVP) building. After that, a provider proceeds with developing the product's design.
4. Development
In the final stage, the software team ensures that the newly developed product meets sustainability standards. The MVP should be easily modified, satisfy its strategic purpose over time, adjust to ever-changing market conditions, and meet current realities. The development includes the endowment of MVP with the most needed functions, resources for its further maintenance, and final release. Also, at this stage, developers and the marketing team plan all associated enhancements and bug fixing.
When the MVP is released, this is a time for gathering customer feedback and its profound analysis. Therefore, the company can ensure that the product and its main features are price-competitive and precisely meet all the users' expectations.
What makes our product development outstanding?
Here at LeverX Group, we see our mission in providing our partners and customers with high-quality services while allowing them to cut costs by eliminating unneeded developments. We certainly adhere to the traditional development model in cases when there's a complete set of reasonable requirements. However, it more often happens when some idea is just in the air. To make it real, we use the benefits of the practice that facilitate the delivery of products our customers really want and need.
How can design thinking methodology help?
The most stunning insights can only emerge when the team has enough data on the problem, and there is the right time and place to focus on real customers' wants and needs. Design thinking is a tool that most precisely identifies real users' current needs.
This framework is distinctive because it brings together a wide range of experts, including IT and business experts and design and marketing specialists, to find the best solution through brainstorming, role-plays, and other collaborative activities to dive into the product's potential. This process helps to ensure whether the product meets technical feasibility, economic viability in the long run, and eventually – whether customers are ready to pay for it.
The design thinking process contains the following steps.
1. Explore
This stage aims to determine the area the client wants to impact.
2. Discover
It comprises end-user feedback acquisition through observations, interviews, questionnaires, etc., allowing the design thinking team to put themselves into the shoes of users who face some problems.
3. Design
This stage allows for finding the best ways to address all the previously discovered issues by bringing the creative team and end consumers together in one room. The key feature is that the user does not have to put his resources into product development until it makes sure that the company has solved all issues. Positive feedback on the product's prototype speaks for itself.
4. Delivery
Once the technical development process is complete, the product becomes available in different regions and markets.
5. Run and scale
We hold design thinking sessions in a place created for insight development — SAP AppHaus. This creative environment is designed specifically for holding pre-development workshops and has everything to discover insights into all the gathered data and provides areas for collaborative work and data visualization. The room is also equipped with relaxation zones. Such design space is just right to promote the project's success.
Delivery of innovations
At LeverX Group, we use one more specific approach to product development. The dedicated Research and Development (R&D) department deals with the latest technologies like AR, IoT, blockchain, AI & ML, etc.
Compared to the traditional development approach, the research stage in R&D takes more time, which is actually its primary value. The extra time makes it possible to determine how a particular technology can contribute to the success of the client's business as promptly as practicable. In addition, the R&D service allows you to see the prospects of the chosen technology.
Having such a department in a company gives access to state-of-art developments in the IT world, even before they are officially released. There are cases when we can leverage our industry expertise and provide recommendations on how the customer's solution should be optimized to fit perfectly with the upcoming changes in the market.
Furthermore, we take advantage of all the opportunities offered by R&D for the creation of our very own products. These include the GoDog app and 3D ColorBook that feature AR mode and Scanner for Docs with AI technology for fast and accurate recognition of pages with text.
In our previous blog post, you can learn more about the R&D department and its value to IT companies and clients.
Another thing that makes us stand out from other software development companies is that we are not just offering outsourcing services but also serving as a technology partner to our clients. This means that in addition to providing product development services, we dig deep into the client's business processes and analyze them to offer solutions that will make a difference. Sometimes, the client demands extremely expensive development that can be replaced with another, more cost-effective and more profitable one.
Brainstorms in the SAP AppHaus hosted by LeverX Group are designed to get comprehensive, evidence-based product research while ensuring that the developing curve is never too steep.
You are always welcome to ask us any questions on the development process and request a free consultation. The desired product's complexity does not matter because we can help you maximize the return on your investment in development – and avoid potential risks along the way.