Learn our step-by-step guide on choosing an HRM system for your business where we share helpful tips and explain possible implementation pitfalls.
A Complete Human Resource Management (HRM) System Guide
According to Deloitte reports, only 39% of managers and 29% of ordinary employees are satisfied with their professional development in their company. Moreover, 40% of employees leave their employers during the first year due to the lack of professional growth opportunities.
Meanwhile, according to the Built In report, "The True Costs of Employee Turnover", replacing employees in a technical field costs the company 100-150% of their salaries, and replacing employees in a senior position costs the company 213% of their salaries.
That's why businesses are paying more attention to the role of the HR department and its strategic value to the company. Increasingly, technology like HR software, is being used to manage HR tasks.
Why Do Companies Need HR Transformation?
According to a Business Wire report, nearly 50% of companies use HR software. This is 2.5 times more than in 2019. Why is this number constantly increasing? Why do companies focus on improving HR?
Let's look at a few of the top benefits:
Strategic company partner
HR managers work directly with the company's employees and can provide business leaders with relevant analytical information. This data can be used to develop new business strategies or implement crucial corporate initiatives.
Higher talent retention
As mentioned above, virtually 50% of employees leave a company due to the lack of development opportunities. HR software can create employee journey maps, help companies keep great talents, and reduce recruitment costs.
Lower HR costs
HR software can increase workforce visibility across the organization, help reduce external recruitment costs, and save time and resources.
Manual process automation
HR software helps companies minimize human errors and improve the management of essential items while automating daily and admin tasks. It allows HR departments to focus on strategic activities and initiatives.
Analytics & Reporting
HR software offers a wide range of analytical and reporting tools that provide a complete overview of the impact of HR activities.
What Is HR Software?
Human Resource software is used to manage and retain corporate talents. This solution can help companies streamline and improve the following processes: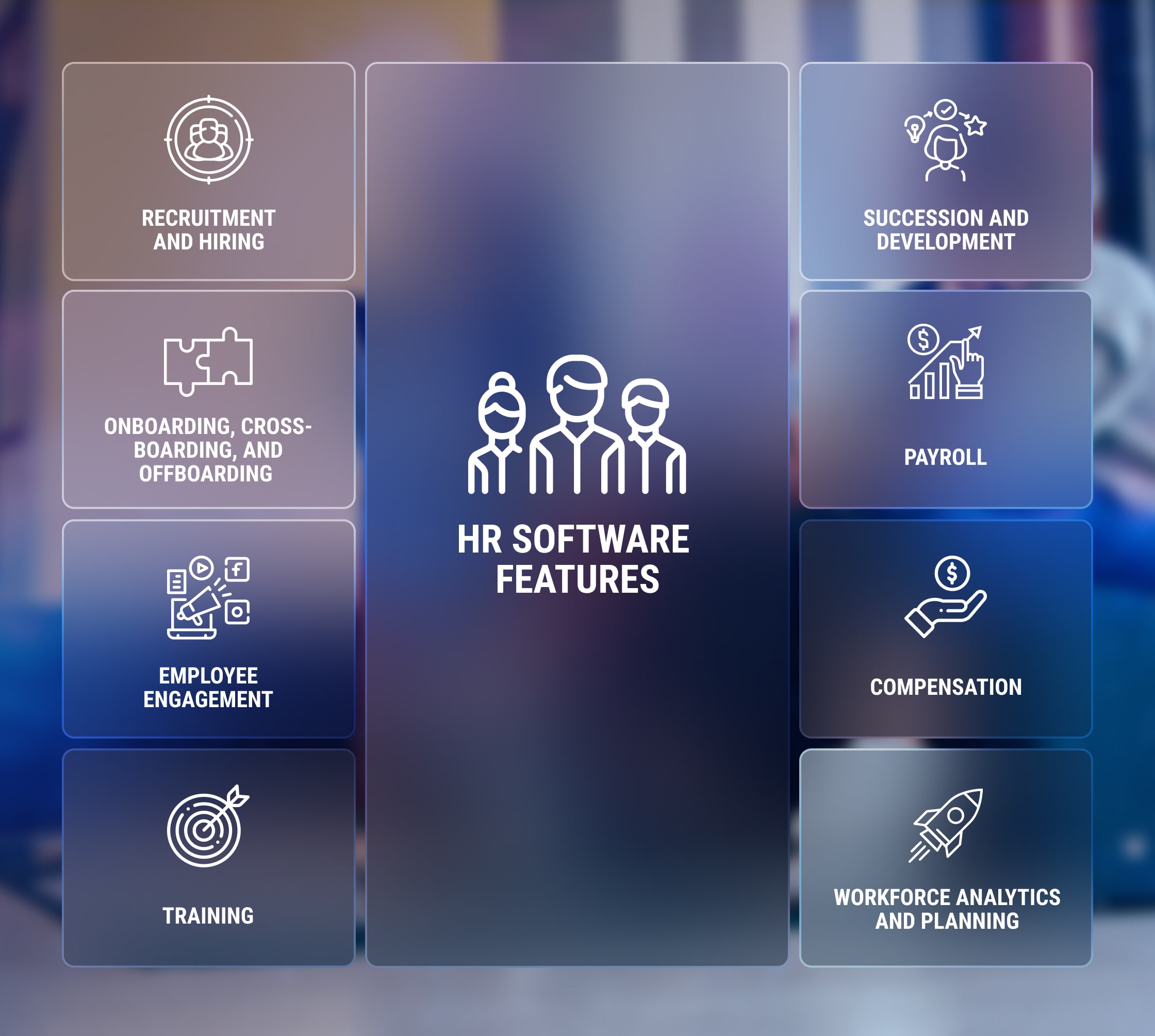 HRM systems are in demand in large companies with 500-1000 employees. But an effective personnel management system is also required by growing businesses with a continuing need for qualified personnel and geographically distributed enterprises.

Excel spreadsheets with lists of employees, their salaries, and sick days are no longer sufficient. Companies require more complex systems with up-to-date information on each candidate, employee, and department to evaluate engagement, collect feedback, analyze satisfaction, track working hours, etc.

Modern technologies can offer businesses three options to achieve these goals: HRIS, HRMS, and HCM.

;
Tips on How to Choose an HRM System for the Business
Today's IT market offers many ready-made HR solutions and the possibility of creating custom systems. That's why it can be challenging to choose the right software. If the system can't meet your business needs, it can hamper efficient HR management.
We have prepared a step-by-step guide to help you make a practical decision.
#1 Evaluate your HR issues
Before choosing HR software, you should define the issues you have managing HR processes. Whether these are related to compliance, data management, training, or employee retention, you need a complete list of challenges to determine the features you need in an HRM system.
#2 Determine a budget
The price of software can vary according to your business requirements. But you don't need to spend a fortune on an HRM system. For example, you can choose a cloud-based solution with a basic HR toolset and only pay for features you use, scaling the system and adding new functionality, if needed.
#3 Choose a vendor
Determining HR issues and budgets can help you shorten a list of possible vendors. Here are steps to evaluate vendors and their products:
Find out if a vendor understands the issues the HR sector faces.
Ensure that their HRM system supports integration and customization.
Request a demo to be sure of your choice.
#4 Make a decision
If a demo proves that the chosen system meets your requirements, you can proceed to the implementation phase. After implementing, ensure employees are comfortable with your human resources software and confident using it.
Effective change management is crucial. Your employees must understand how new HR software can benefit them and the company.
What Could Go Wrong?
Even careful selections can't ensure 100% success in implementation. Below are some common errors companies make when selecting and implementing a new HRM system.
No clear goals
Before implementing a new HR software, you should answer the following questions:
Do you have a clear HR strategy?
Do you really need these solutions? Why?
How can you benefit from implementing them?
Is this software a long-term support or only a temporary solution?
Stakeholders' support
Implementing a new HRM system is always associated with additional costs, so it might be challenging to gain executive buy-in. For example, senior management can question investing in a new system or needing a third-party consultant.
A lack of resources and budget
Ensure you have a sufficient budget to cover the work of a dedicated project team, allocation for business process management, organizational change management, ongoing maintenance, etc.
Attempts to accelerate the implementation
When setting key dates and milestones, consider all the project activities, including consultations with third-parties, internal meetings, data migration, training, etc.
Over budget
In addition to integration costs, there are costs associated with data migration, organizational change management, and post-implementation support. When planning your HRMS implementation project, you should consider them all.
Simple Hiring, Training, and Employee Motivation With SAP
SAP provides two HRM systems — SAP Human Capital Management (on-premise) and SAP SuccessFactors (cloud-based). They can help you manage HR processes and integrate them with payroll, talent management, and people analytics. With this software, you can:
Understand the company's demand for new talents.
Evaluate performance.
Help employees with their professional development.
Retain key people.
Reduce administrative costs.
Automate reporting.


Source: SAP
In a Nutshell
Employee experience and the value they give to the company are the core of any business's success. Depending on what HR process you want to improve, the LeverX Group experts will offer only those solutions that will meet your business needs and help to deploy, integrate, and support them.
Contact us to learn more about cutting-edge software for efficient human capital management!