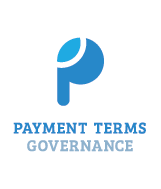 Payment Terms Governance
Set up payment terms correctly and monitor the accuracy of purchasing documents.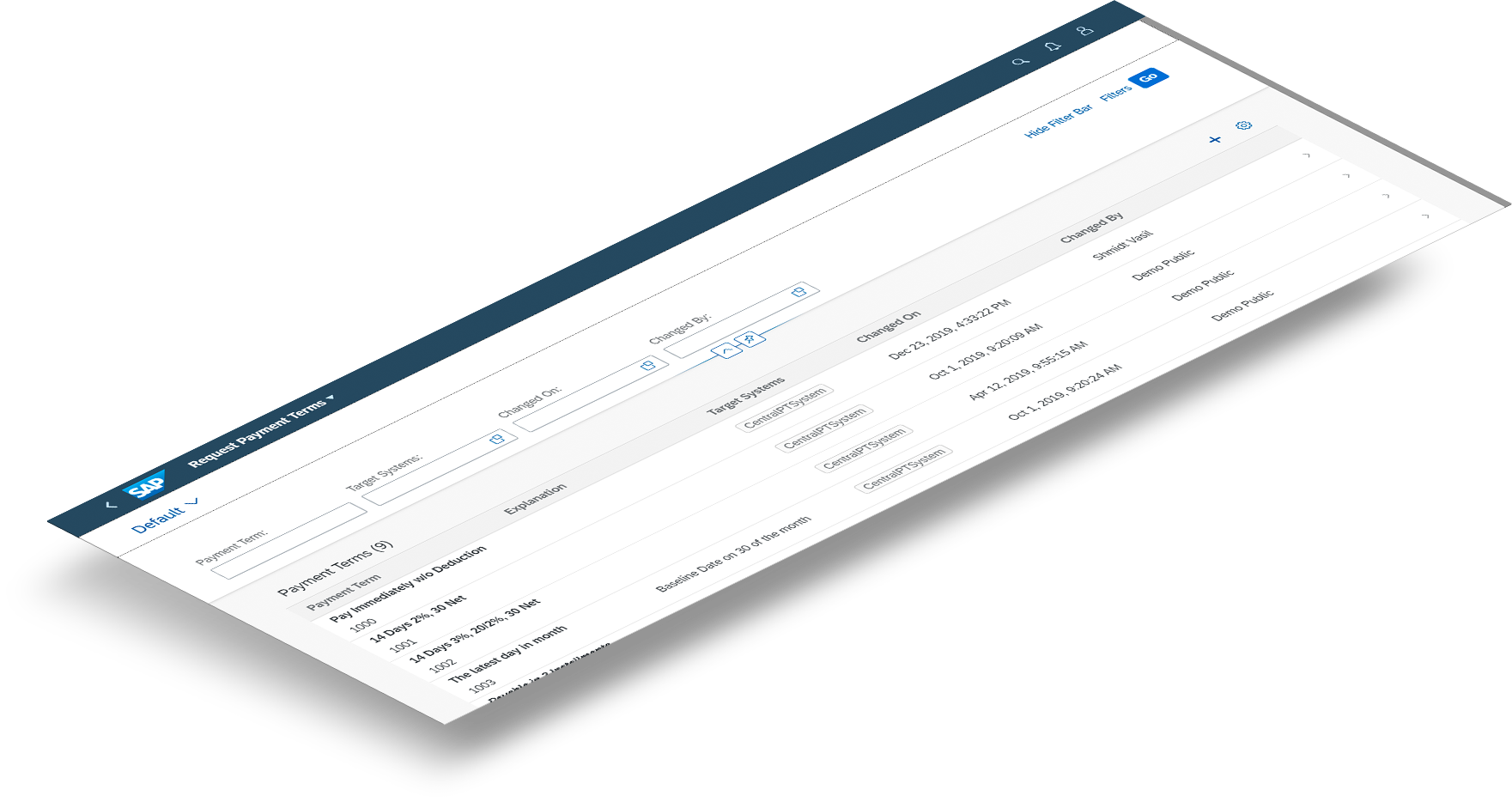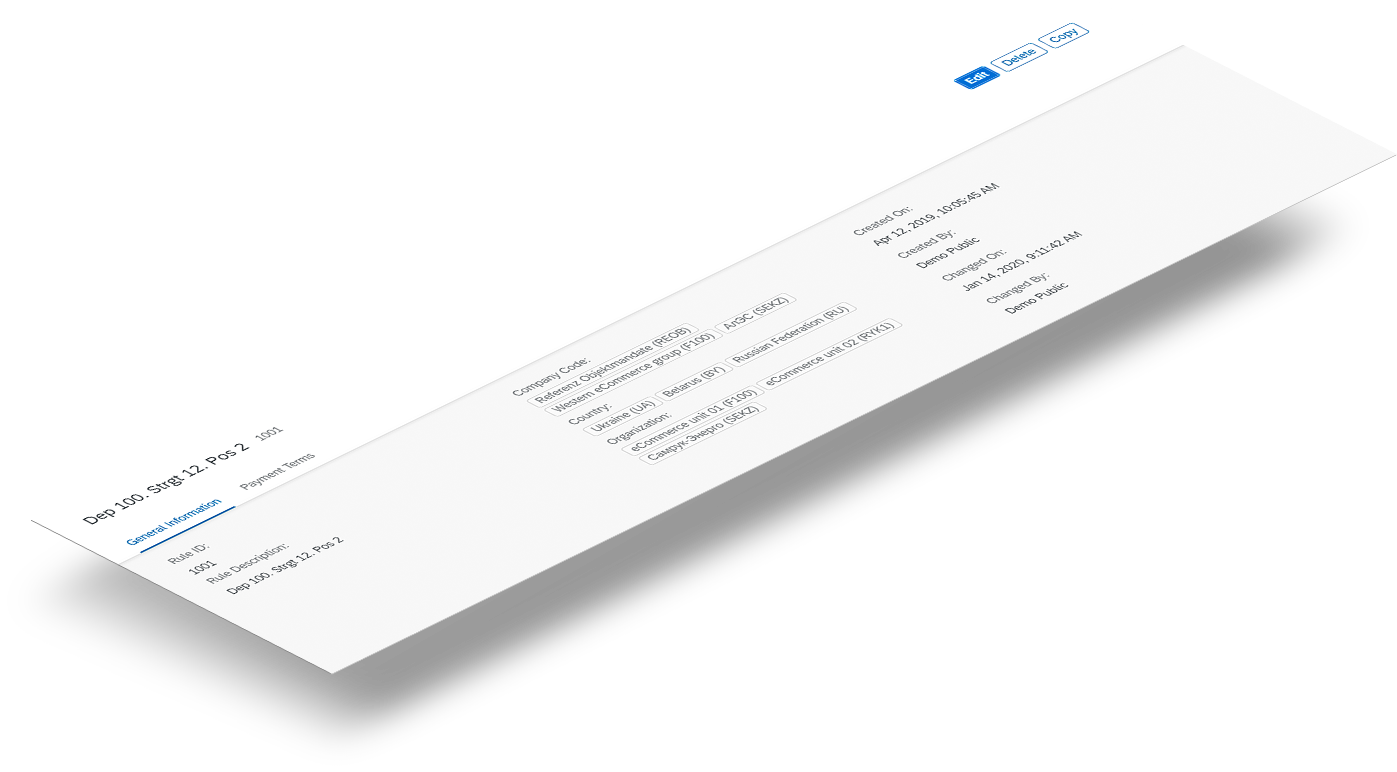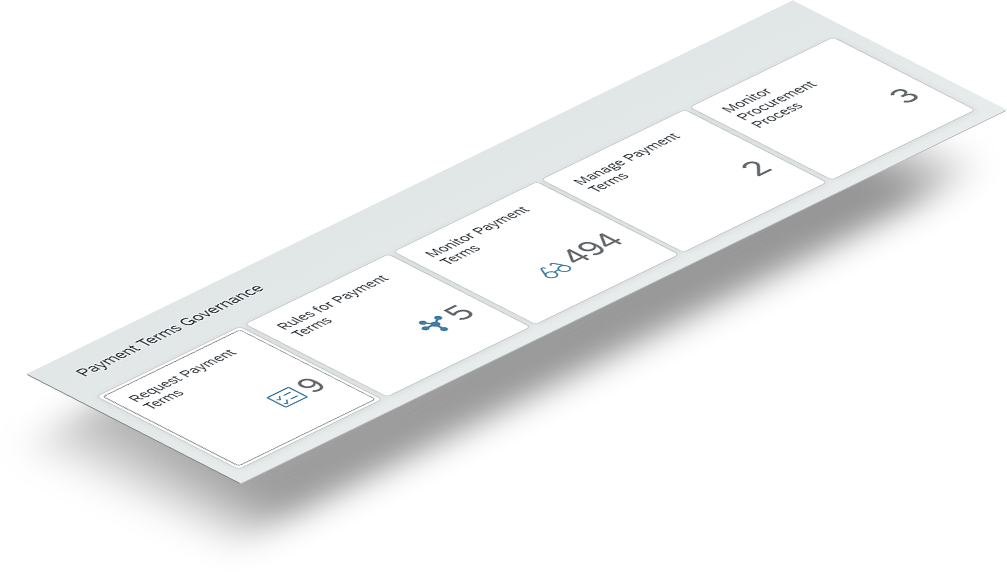 Manage Payment Terms Across All Integrated Systems
Payment Terms Governance represents a set of four indivisible applications designed to establish correct payment terms for purchasing documents.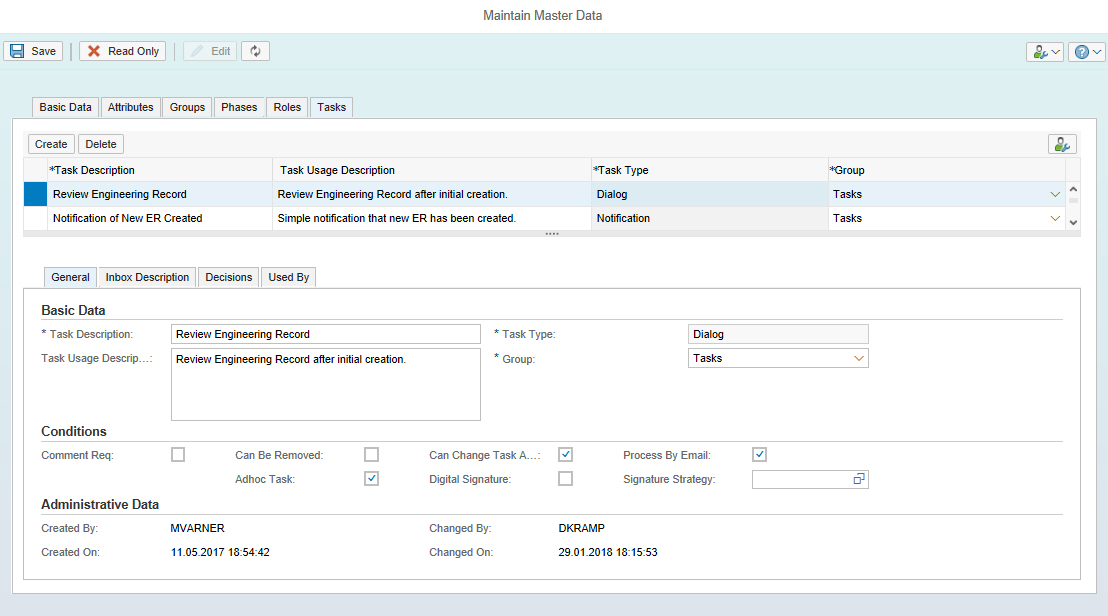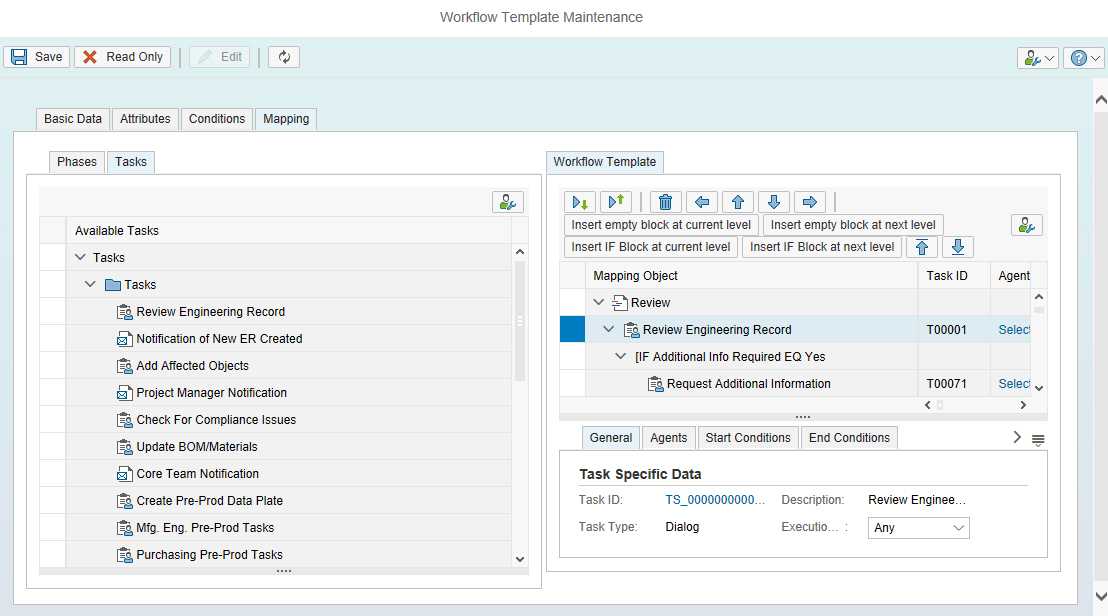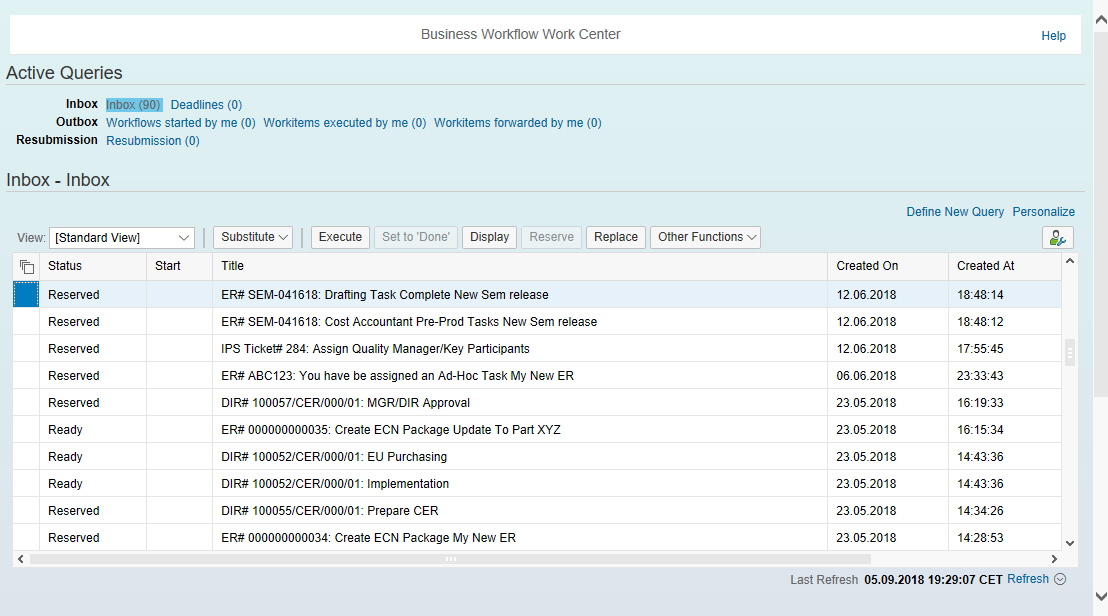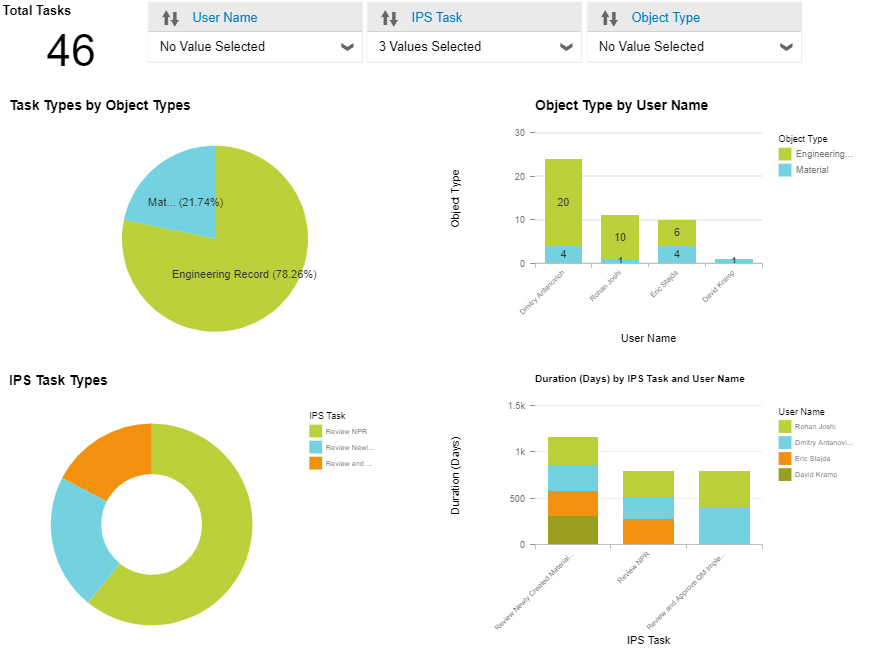 5 reasons why you should consider Payment Terms Governance as a tool for simplifying payment terms management
The major objective of Payment Terms Governance is to enable a right choice of payment terms for all documents created across any SAP system.
Eliminate any uncoordinated activities from purchasers.
Avoid random payment terms selection and forget about chaotic actions.
Maintain payment terms in a centralized way.
Track all purchasing documents without efforts after connecting Payment Terms Governance to your SAP systems.
Define which payment terms work best for specific purchasing documents with the help of Payment Terms Governance.
One application group provides multitasking functionality to its users
Each of the four applications within the Payment Terms Governance group performs a set of functions, thus ensuring smooth payment terms management.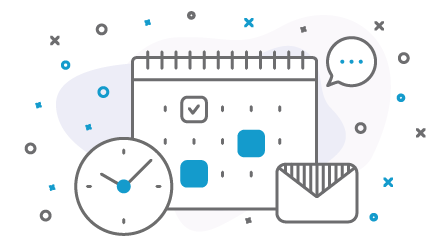 Request Payment Terms
The first step is creating central payment terms in the app
A responsible person well aware of all organizational procedures makes a request for payment terms
Payment terms are related to the procurement strategy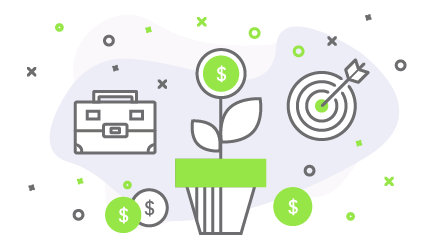 Payment Terms Rules
Set up payment terms regulations
Specify criteria using purchasing attributes (purchasing organization, purchasing group, country, etc.)
Restrict payment terms usage if necessary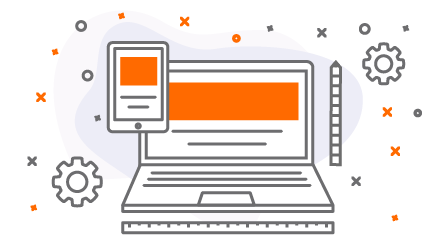 Monitor Payment Terms
Check purchasing document details against payment terms rules
Choose a correct payment term for each document
Consider 'proposed' payment terms as alternatives in case a payment term gains an 'at risk' status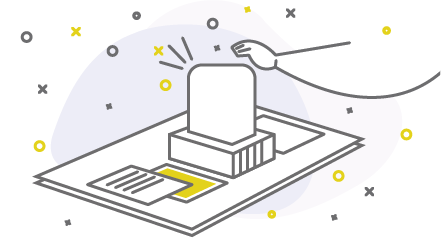 Manage Payment Terms Mapping
Map payment terms across the SAP systems
Link all SAP systems together
Payment Terms Governance is about clear distribution of roles
To enable better transparency of the process, Payment Terms Governance introduces three roles with certain areas of responsibility — Strategic Purchaser, Administrator, and Operational Purchaser.
Strategic Purchasers
Request new payment terms
Create rules of payment terms usage
Inform operational purchasers about the irrelevant usage of payment terms in purchasing documents
Update purchasing documents if there is a need
Administrators
Create payment terms
Map payment terms across all SAP systems within a company
Operational Purchasers
Make different types of purchasing documents
Use proper payment terms in the purchasing documents they produce
Follow the rules already set in the application
Verify the accuracy of purchasing documents
Pricing
Trial Edition
€0/mo
1 Connected System
Unlimited Rules
3 Active Users
1 Month Only
Basic Edition
€949/mo
1 Connected System
100 Rules
100 Active Users
Standard Edition
€1949/mo
Unlimited Systems
Unlimited Rules
100 Active Users
Unlimited Edition
€4849/mo
Unlimited Systems
Unlimited Rules
Unlimited Active Users
Special offer:
Free Setup Fee and 6 Months Trial Edition
Get Started
Setup Demonstration
Contact us to set up an initial discussion and demonstration.