Consider SAP C/4HANA Suite for gaining an impeccable reputation among customers
Build meaningful and long-lasting relationships with clients using SAP Customer Experience products
Contact Us

>>
Improve customer interaction efficiency across every channel
SAP Customer Experience is a multichannel e-commerce solution designed to assist B2B and B2C companies with search and merchandising, master data management, web content management, and order management.
Regardless of a business area, SAP Customer Experience makes a positive contribution, specifically:
Banking and Finance

gains an opportunity to convert data into customized products

Media and Entertainment

finds new ways to monetize content

High-tech

companies evolve their business models

Healthcare achieves improved efficiency and markedly higher patient satisfaction

from healthcare interactions, to name just a few
Benefit from our team's expertise and SAP Customer Experience products
SAP Customer Experience provides large businesses with a ready-made solution easily integrated with their already running SAP systems. Multiple modules provided out-of-the-box can be implemented on the fly — no complex code or tiresome integration is required.

Thanks to the rich plugin infrastructure and the smooth integration of modules with the existing SAP systems, enterprises can quickly set up multifunctional online stores with a multitude of attractive options — such as loyalty points — for their customers. The companies' annual revenue increases every year after the set-up, since their demanding consumers are more than satisfied with the new shopping experience.
The LeverX implementation team is skilled in customizing SAP Customer Experience according to each of our clients' needs, as dictated by their business. Among the most important implementation targets regularly assigned and successfully achieved by our team is customizing business processes that support buying and selling activities as efficiently as possible, to maximize profit for the company.

To get maximum benefit from the SAP C/4HANA Suite, we created custom filters, improving the ones available by default in the program; enhanced the standard ordering process to make it more intuitive for end-users; refined the SAP Customer Experience content management system, and fine-tuned UI widgets.

In terms of tackling complicated security issues, our SAP Customer Experience experts performed the library migration to its latest version.
Improve customer experience management with SAP C/4HANA
Create a successful customer buying journey based on the empathy and trust, while using the SAP C/4HANA platform (with its five cloud solutions) and SAP C/4HANA Foundation to support innovations, smooth integration, and flexibility.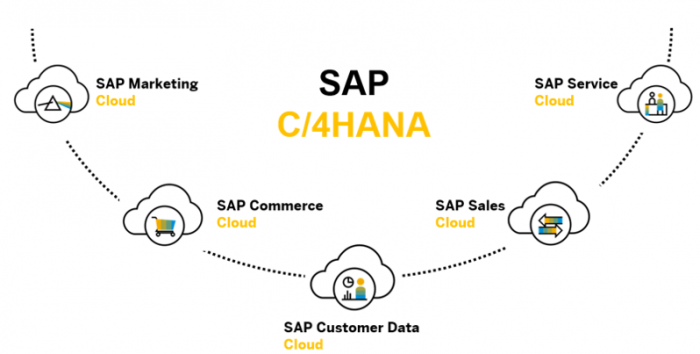 SAP Marketing Cloud — creating effective marketing communications
External lists management and segmentation
Marketing campaign and loyalty program management
Potential customer relationship management
SAP Commerce Cloud — omnichannel commerce management
Unified commerce solution
Support of all go-to-market strategies
Adopting the solution's features in any industry
Quick ROI thanks to the embedded integration
Anticipating clients' expectations
SAP Customer Data Cloud — customer data management
Protecting customer data privacy
Unified customer profiles
Transparency of communication with clients
Easy customer engagement throughout all stages of the purchasing lifecycle
SAP Sales Cloud — sales management
Sales planning and forecasting
Sales effectiveness management
Supply and order management, including price setting and contract management
Sales costs management
SAP Service Cloud — customer support and service management
Quality client service
Building a perfect team of experts
Innovative self-service technologies
Gathering and analyzing customer feedback
Make sure SAP Customer Experience fits your business needs
SAP Customer Experience contributes to long-term relationships with customers by applying:
Personalized experience. SAP Customer Experience allows you to get comprehensive customer data in real time to make relevant offers based on individual needs.
Technological innovations, i.e. data-driven tools capable of high-speed processing of vast amounts of information.
Flawless integration with SAP or third-party solutions, which favors focusing on innovations rather than on tech issues.
Modular architecture. Companies can implement any SAP Customer Experience component when needed and without affecting other modules of the solution.
To help to eliminate all business process inefficiencies, we carefully examine the business specifics of our clients in order to understand their development strategies, all their possible business challenges, their mission, and their vision.
Our team is responsible for the development, integration, upgrade, and support of the SAP Customer Experience solutions and ready to help customers streamline their processes.