Create New Environments with Augmented Reality Technologies
Ready to know how AR could change the world? LeverX will introduce the AR's power
Request offer

>>
One of the ways to revolutionize business opportunities is augmented reality
Working with the AR tech and developing apps with the augmented reality features, LeverX can't stop being amazed by the AR's opportunity to bring much new to every field. Augmented reality is capable of solving real business issues, transforming the approach to attracting customers, and becoming a vital step in a digital evolution.
How to take advantage of AR and make the industry upgrade? LeverX experts answer the question after they carefully examine our customers' areas and specific issues. It is evident that augmented reality makes a difference in a number of fields, and the only thing left is to define which benefits AR will bring to your business.
Take a closer look at LeverX AR development services
Our team tries not to overlook any single AR-related tool in order to check its applicability for certain business cases. If you need a solution that will perfectly unite digital and physical worlds, LeverX is glad to help and bring your desires to life in a number of ways.
How can we be helpful?
Augmented reality application development
As long as you need a training app to make learning a pleasure, advertising solution for attracting clients and providing them with a new service level, or entertaining product to amaze kids, we are ready to deliver and cover all stages of the AR app development, from creating its design to support and maintenance. It's possible to mix training and gaming in one solution and put all the ideas into practice.
GPS data processing tools, video/audio streaming services, and various AR software development kits contribute greatly to adding all requested features to the application.
Augmented reality UX design
User experience is worth mentioning separately — we pay particular attention to UX while creating AR applications. Aiming to ensure the highest possible user engagement, our AR team is committed to the principles of context-sensitive design.
The LeverX team never stops mastering their AR tech knowledge and enriching their experience trying out the latest tools.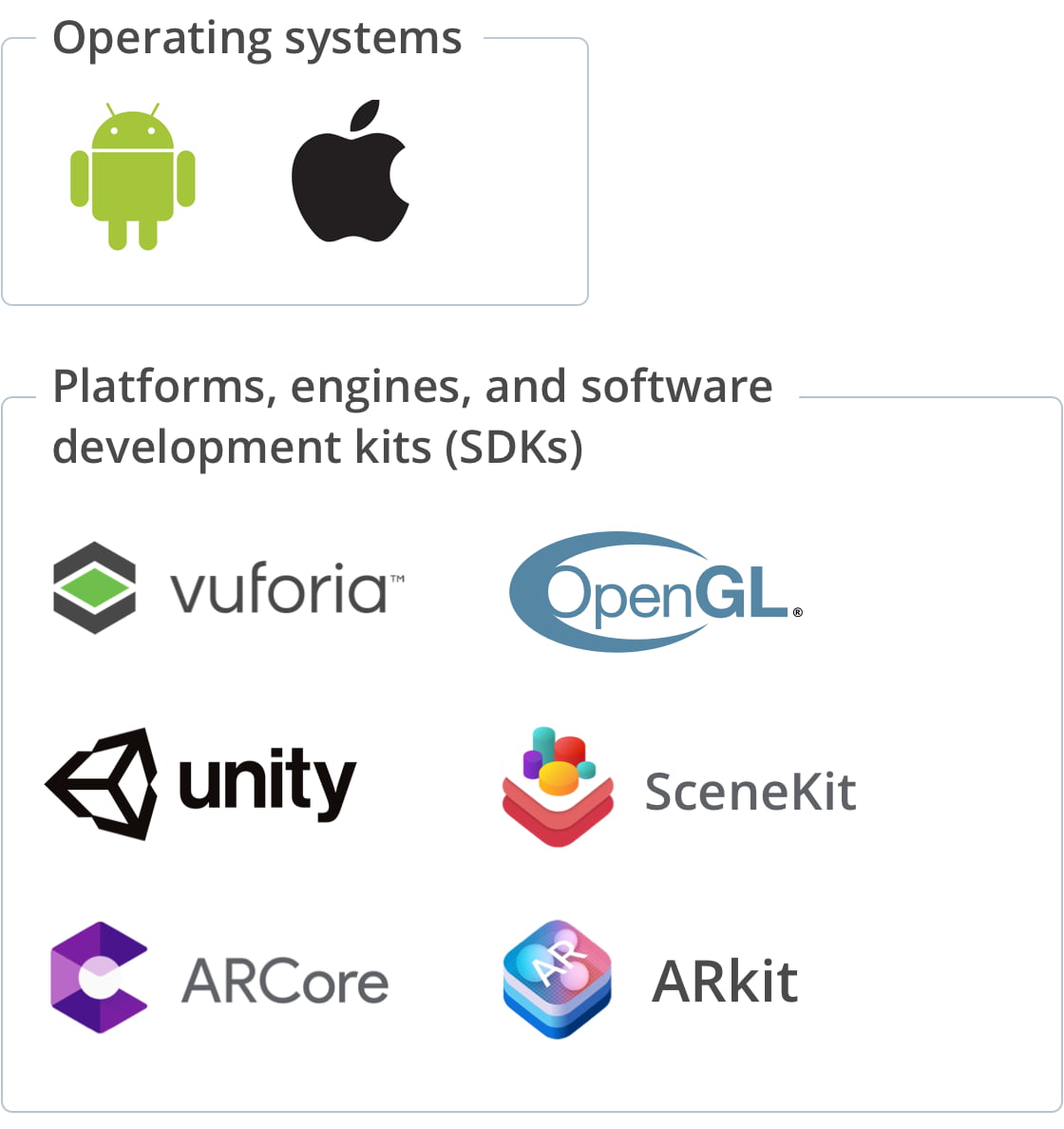 Make sure that augmented reality is valuable for any sphere
If you still hesitate whether your industry could gain advantage from AR, LeverX is here to dispel these doubts. AR visualization with its 3D effects makes advertising more convincing. Colorful animation, interactive trainings, virtual classes, 3D courses or conferences, and gamification form an efficient learning strategy.
The gaming industry can't do without AR killer features if it intends to thrive in the future. Virtual product catalogs accessible both on mobile and web are becoming a reliable tool in retail as they assist in making weighed decisions.
Interested in more application fields? LeverX will consult you and answer all of your questions.