LeverX spent an eventful Friday last week. AppHaus welcomed new guests who wanted to know how the Design Thinking methodology is leveraged as an effective tool for conducting workshops.
LeverX AppHaus Workshops and Design Thinking: How Are They Combined?
It was not the first time SAP AppHaus became the place for conducting a Design Thinking workshop. Since the grand opening of the creative space in the LeverX Office, our Design Thinking experts have regularly conducted online workshops to assist the clients in tackling their business problems.
Depending on the business objectives and demands, our team selects the right Design Thinking tools to get the most of the methodology, while addressing specific business challenges.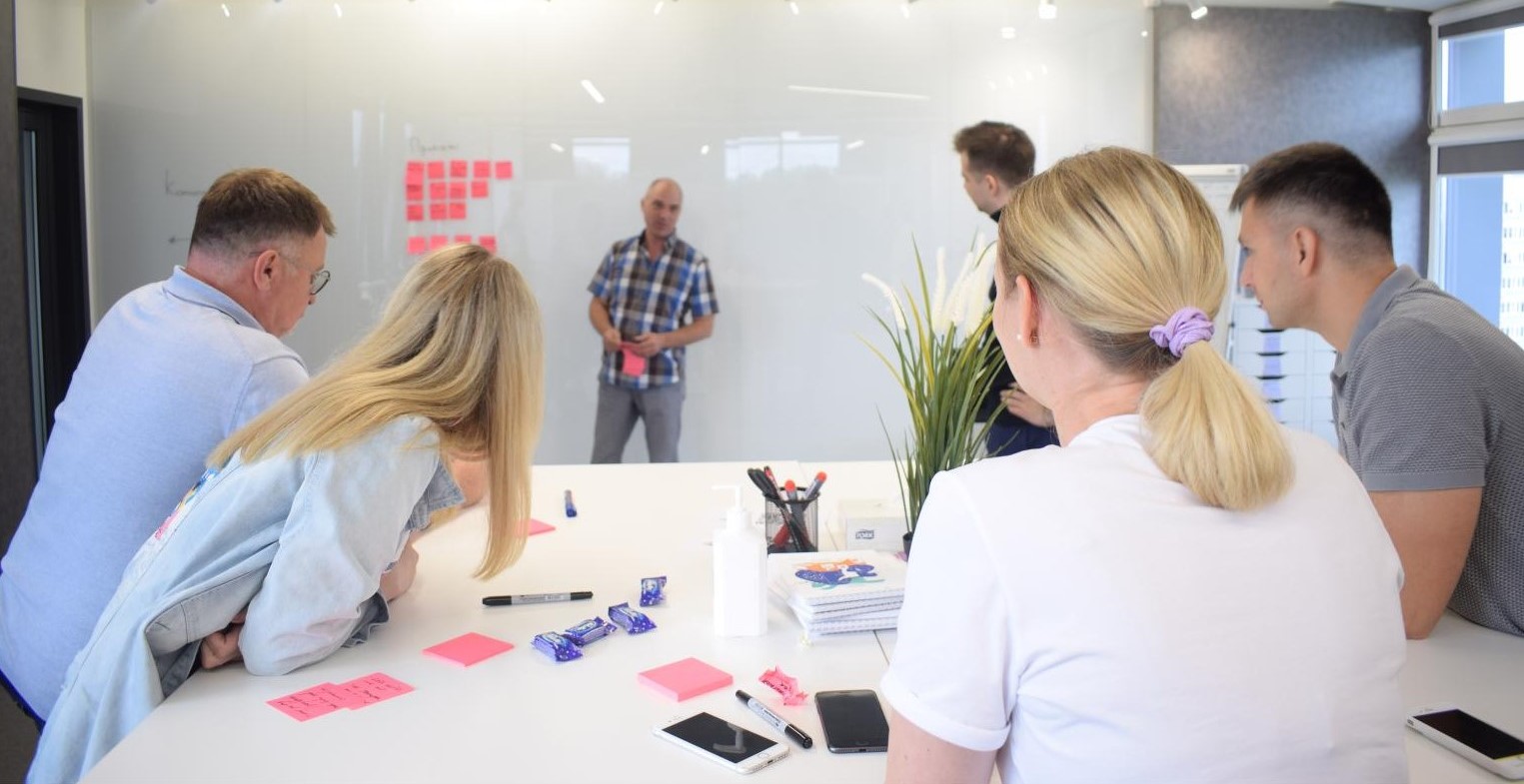 As a rule, customer representatives reach out to us with a clearly defined issue related to the UI or UX design. Among the most common queries are: "How to improve the application to make it more intuitive for end users and valuable for business?" or "We have an idea of a product without a clear vision of what features should be top priority."

This time, the workshop was targeted at service design, which implies the activities of planning and organizing fruitful communication between businesses and their clients. During the workshop, all the participants were sharing their thoughts on how to effectively sell services and products to customers and formulating a key business challenge with the help of the Design Thinking tools.
AppHaus Workshop Agenda
Among the workshop activities were:
Introduction
Icebreaker

(activities designed to 'warm up' members of a group and create a friendly atmosphere)

Affinity clustering.

Workshop participants generate all business problems, barriers, and pain points, while providing their vision of impeccable business processes. Then, all of the issues are combined in separate use cases.

Cluster prioritization

Issue prioritization

(within each cluster)

Solution Brief

. Workshop participants generate possible solutions to already defined challenges.

Heat Map of the generated solutions

What Are the Results of the Workshop?
Guided by the LeverX experts, the workshop participants prioritized all their business challenges related to the collaboration with clients, defined the major business issue, and suggested a number of options to overcome it.
Now they know how Design Thinking works in practice, as the methodology has favored an accurate definition of their hot-button business issue.