While the benefits of managing business processes within the established SAP environment are undeniable, companies deciding on taking advantage of certain SAP solutions often get frustrated. Because of the wide variety of options on offer, SAP implementation and development are often associated with lots of required time and effort.
To make the process easier and more predictable, SAP partners like your fellow LeverX create and offer solution packages that combine advanced software, services, and customizations with industry expertise and also ensure faster development at the predefined price point.
What Companies Get Under LeverX Solution Packages?
Being one of SAP partners with 17+ years of hands-on experience, LeverX has created various solution packages — each addressing particular business or industry requirements and including everything needed: from applications, add-ons, and extensions to business consulting and live demo systems. Complemented with our deep understanding of how to meet the needs of different projects in the most effective manner, solution packages we offer include every ingredient for addressing urgent business needs.
To shed more light on what a solution package is, let's see how it differs from the traditional implementation service.
LeverX Solution Packages: How Do They Differ from Traditional Implementation Service?
To answer the question of what makes packaged solutions stand out from traditional services, let's compare them by the following criteria: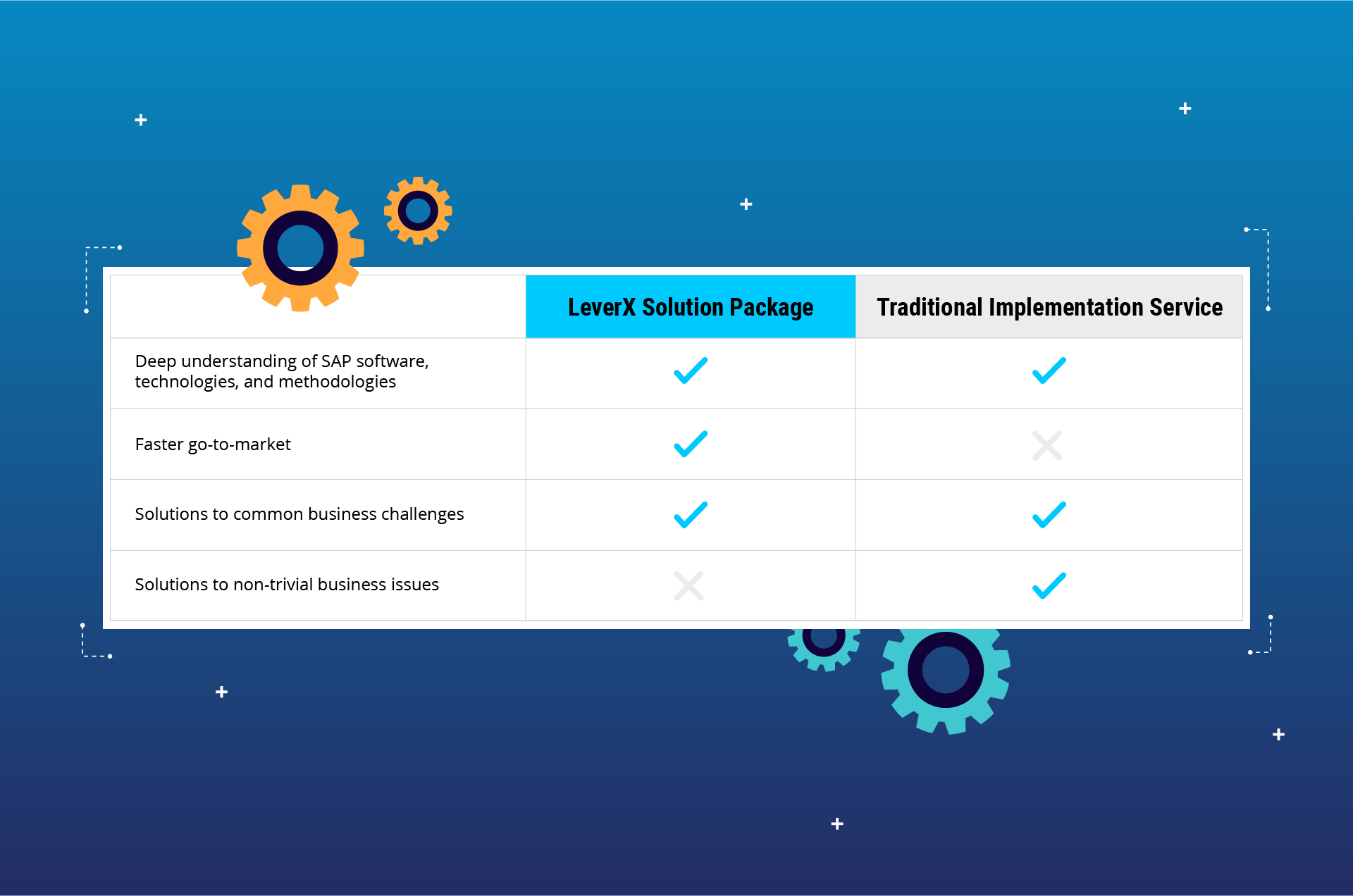 As it is shown in the table above, the key distinction between these two options is the following:
Because the set of needed applications, add-ons, extensions, etc. in a solution package is predefined, clients choosing upon this option can enjoy faster time-to-market. Furthermore, the time needed for the implementation of a certain solution package comes in its description, so clients can always know what to expect.
Nevertheless, there are also cases when additional features, add-ons, applications, extensions, services are required to the initial package. And it is worthy of saying that even though each package can be customized and extended to cover non-trivial business challenges, the more changes need to be made, the more similar it becomes to a traditional implementation service.
In other words, the key benefit offered by solution packages becomes available to those who decide on a plain solution.
Key Benefits of Solution Packages
So what advantages become available with LeverX solution packages?
Fast implementation
Because each of the available packages is well-planned and made up of all the required for the rapid implementation ingredients, starting from the best suitable methodology to pre-configuration and implementation accelerators, the key benefit to clients is that solution package implementation is faster in comparison to traditional services.
Stability and predictability
Choosing one of the LeverX solution packages means excluding risks associated with
the implementation timeframe and cost, as both are clearly pre-defined.
Fast time to value
In addition to offering faster time-to-market opportunities, solution packages also contribute to lower implementation costs, allowing businesses to enjoy doubled benefits.
Clarity
LeverX solution packages are built in a way to be easily understandable and do not require long-term training. Furthermore, we always make sure that each solution delivered covers comprehensive documentation. Upon a request, we can also provide a training webinar.
LeverX Solution Packages: Available Options
Packaged solutions offered by LeverX are based on our deep expertise in the following areas: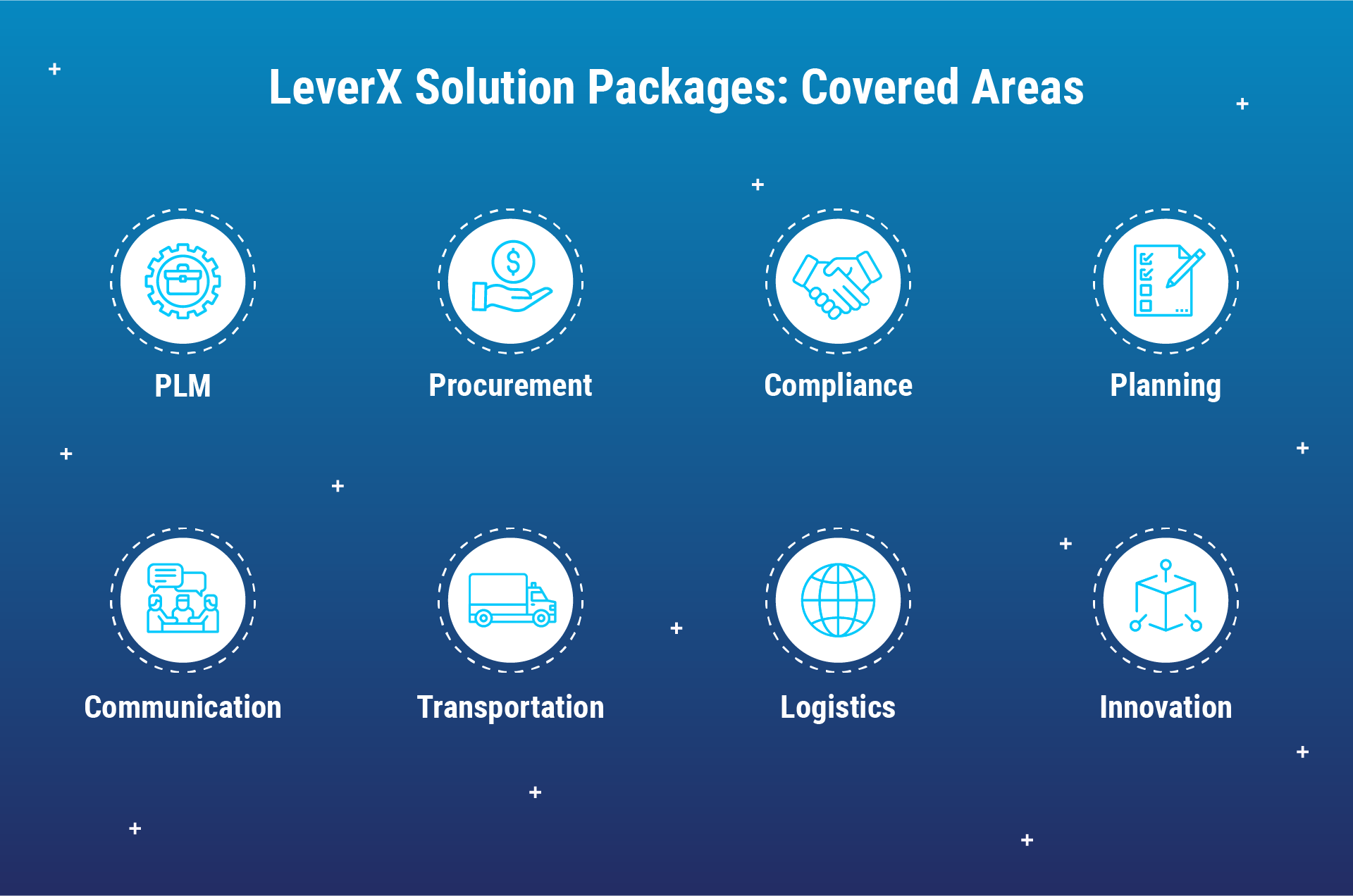 When it comes to the SAP environment, LeverX solution packages cover such modules and solutions as:
Includes a range of packaged solutions that cover the whole product lifecycle, speeding up time-to-market, cutting costs, contributing to the improved quality of products, and allowing to increase the level of customer satisfaction.
A range of available options is targeted at providing a proactive approach to asset management with intelligent, innovative technologies like Machine Learning and IoT.
Created to fit the needs of companies operating within a chemical sector, LeverX SAP Environment, Health, and Safety solution packages address such important issues as safety compliance, labeling, transportation, etc.
Addressing the collaboration needs of suppliers and buyers, SAP Ariba solution packages are all aimed at providing LeverX clients with a single platform that covers everything needed for successful project delivery.
LeverX SAP YL Solution Packages are based on our rich experience of working with this type of the solution, ensuring that in addition to covering the most command yard logistics demands, custom tools that enrich its functionality are also included in the pack.
So Why Choose LeverX Solution Packages?
Solution packages offered by LeverX become an ideal option for businesses willing to hit the target with the software completely tailored to certain industry requirements, coming at a predictable, reasonable price, and within a predefined time frame. Furthermore, trouble-free implementation eliminates numerous unwanted issues and allows saving important resources.
Solution packages can be customized to provide all the required for certain tasks functionality. It's true that the enclosure of additional features and services will affect the time needed for development and its price. Nevertheless, if customization means small touch-ups, solution packages still win over the traditional implementation in terms of the offered benefits.