Would you like to improve efficiency and ensure transparency of production processes in the yard? This can only be achieved through constant monitoring.
SAP Yard Logistics (YL) simplifies all processes related to transportation in the yard, so whether you want to know where this or that cargo is located, what is happening in the yard, or what deliveries are planned — the solution has got you covered. Moreover, it is possible to base it on SAP S/4HANA. In this article, we will disclose the additional benefits that the new version of the solution offers.
SAP YL. Version 2009
Previously, SAP YL could be used as a stand-alone solution or integrated with other SAP systems like SAP Transportation Management, SAP Extended Warehouse Management, or SAP Enterprise Resource Planning. The 2009 version provides the ability to embed SAP YL in SAP S/4HANA — a new generation ERP system. Thanks to such an approach, businesses can simplify and streamline the management of processes related to car depots, yards, and container warehouses in different industries.
The 2009 edition will continue to optimize your business in proven ways, meanwhile providing it with some new benefits.
Regulation and measurement system
Version 2009 allows setting a system of rules that will be applied at task creation and auditing processes. In this way, the system of business rules will fully automate each of these processes.
You can also create a custom metering system and there set, for example, the optimal temperature for any process in the warehouse. The solution also allows defining thresholds for all metrics and, based on this info, generate alerts.
Integration with SAP Logistics Business Network
After integrating SAP Yard Logistics for SAP S/4HANA with the SAP Logistics Business Network (LBN), you:
start the advanced process of gate load planning via SAP LBN;

let carriers plan their loading times on their own;

get a timely report on all planned loads.
Business Rules Framework plus
SAP has integrated the Business Rules Framework plus (BRFplus) into the ordering and processing tasks of the transport site. BRFplus provides a comprehensive API (Application Programming Interface) and UI for the definition and further processing of business rules.
Here are some scenarios of how BRFplus can be used:
data validation, detection of errors and incorrect statuses;

checking the conformity of goods with respect to where they are located;

calculation of costs, overheads, and risks.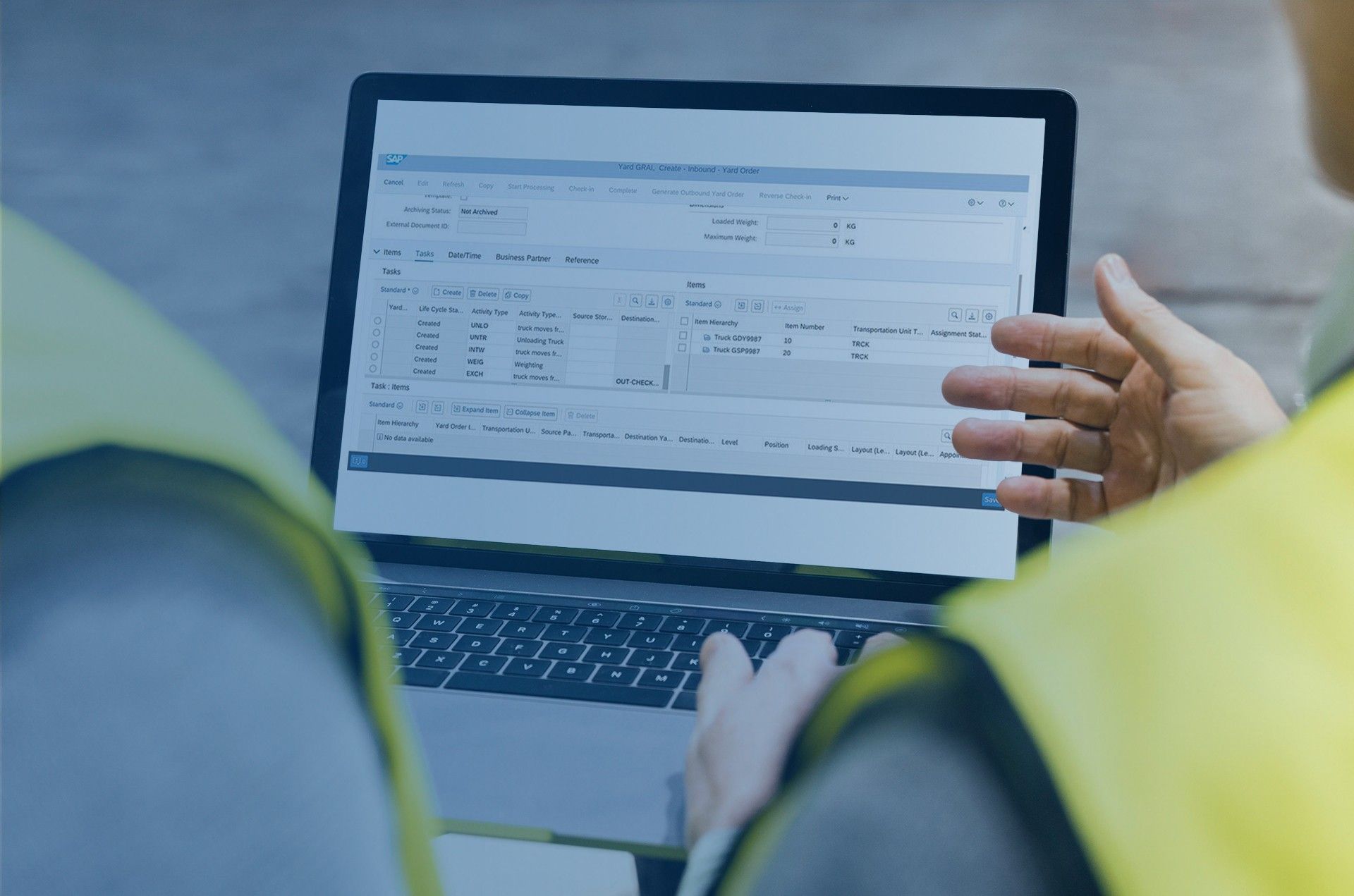 Intermodal processes
Plan and execute intermodal tasks by combining import and export processes. For example, you can link an arriving truck with containers to a departing train that waits for these containers.
Intermodal processes support the reload of arriving and departing transport units, eliminating their delays in the yard.
Questionnaire
The solution allows you to configure questionnaires for check-in and check-out, as well as any other yard process. At the same time, it is you who, taking into account documents requisites and transport units, determines questions for each activity. Based on the responses received, the system can allow or prohibit a particular action.
Manage your yard with the advanced solution
To remain competitive on the market, companies with shipping yards need to establish accurate functioning of their logistics processes and support their efficient operation with an easy-to-use system offering wide integration possibilities.
SAP Yard Logistics for SAP S/4HANA provides support for all types of workflows — from the registration of transportation units at the site entrance and to their departure. LeverX experts will help you get the maximum value from the implementation of the solution into your business, which, according to SAP, will be:
+ 30% to staff optimization;

+ 15% increase in the volume of shipments with the same number of personnel;

- 60% of the dispatch time.
The LeverX team has enough experience in the implementation of this beneficial solution into both large enterprises operating in the automotive industry and businesses operating in the rail transportation sector.
If you have any questions, please feel free to contact the LeverX experts! We will be happy to share our knowledge and experience of implementing this SAP solution into businesses.