Supplier networks bring buyers and suppliers together and create productive collaborations. However, given that manual intervention regarding data such as invoices, shipping notices, or payment information is still required, the potential for errors or delays exists.
The solution is to integrate the ERP system with the supplier network to fully automate the business process, not only reducing delays or potential errors but saving both time and money.
What Is SAP Digital Supplier Network?
This new offering provides digital connection for SAP ERP customers to the Ariba Network, the world's largest e-commerce community. Millions of companies are registered on the network, making more than 180 million transactions and more than $3 trillion in commerce on an annual basis and the network continues to grow rapidly.
Advantages of the Solution
Fully Automated Workflow
By integrating your ERP system to the SAP Ariba Network via the Cloud Integration Gateway (CIG), you can fully automate all processes ensuring immediate visibility of all documents, from purchase orders to invoices. It helps enhance procurement processes, increase supply chain transparency, improve risk management and payment compliance.
Improved Buyer-Supplier Collaboration
The DSN allows real-time, dynamic collaboration between buyers and suppliers on the global cloud platform. Using built-in solutions, buyers can easily onboard, find, evaluate, select, and award suppliers, all in one place. Suppliers can transact with buyers via their preferred channel, such as email, portal, or ERP integration, and work with basic documents at no charge using a standard account.
Rule-Based Automation
Automated validation and exemption-handling rules set up by buyers allow submission errors and exemptions to be easily detected. It contributes to faster invoice processing, improved data accuracy, better accounting, and enhanced contract compliance. You can customize it to your business needs using more than 160 business rules across multiple processes and document types.
Document Compliance
The solution enables the review of documents for compliance with determined business rules. E-invoices address country-specific requirements that facilitates tax and regulation compliance, helping you cooperate more effectively with your foreign trading partners.
Support for Different Document Formats
Integration via CIG allows you to work with different formats of documents such as cXML, EDI, PIDX, and more, and to convert PDF invoices submitted by suppliers into legal digital invoices.
One Platform
You can view and manage your financial and business information, workflows, and analytics in one centralized place and, thus, run all business processes with greater visibility and agility.
How Does SAP Digital Supplier Network Work?
Integration of SAP ERP to the Ariba Network and SAP Ariba solutions is done through the CIG on the SAP Cloud Platform ensuring secure communication and data transfer between your back-end system and SAP Ariba.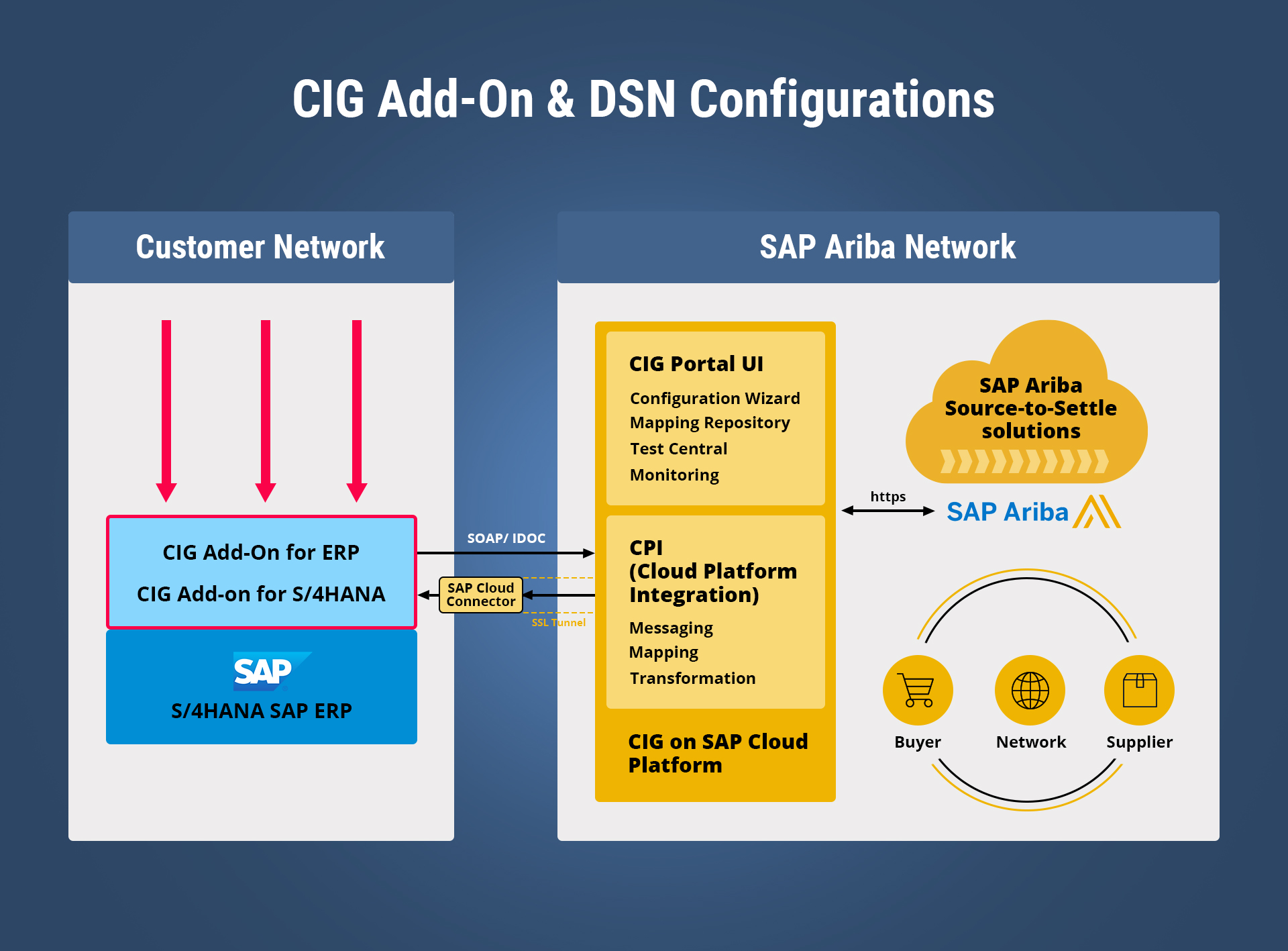 Deployment of SAP Digital Supplier Network
During the DSN deployment, you can set custom configurations in accordance with your business goals and industry-specific requirements. By accessing the free demo environment, you can test the most relevant scenarios before implementing the solution.
The LeverX team provides implementation and customization services of the DSN solution for existing SAP customers and new members. With the assistance of the DSN solution, we will help your business operate as an intelligent enterprise with higher profits, faster operations, lower risks, and minimized costs.
Contact us to learn more about the DSN solution or check out our SAP DSN packages.