At the annual SAPPHIRE NOW conference, SAP announced the launch of the SAP Business Network, a new platform that will help to unite trading partners into a single business network and strengthen cooperation between them.
Here we will look at how businesses can benefit from it.
What Is SAP Business Network?
SAP Business Network is a cloud-based solution that can help to transform fragmented supply chains into a unified intelligent network. It allows you to get in touch with your business partners through a single directory, giving you access to general data, workflows, and analytics.
It will help you make immediate and thoughtful decisions on workflow improvement, increase the effectiveness of the work of your business, and ensure greater adaptation to ever-changing economic and geopolitical conditions, as well as contribute to your business stability.
Key Features of the Solution
This business model is expected to attract more than 5.5 million companies throughout the world. SAP Business Network provides the following advantages:
central access to data, necessary for studying market tendencies, revealing potential risks, and searching for new opportunities;

close collaboration with partners at any stage, from the product introduction to technical support;

new scenarios of collaboration;

increase of the level of supply chain transparency;

opportunity to compare your company's performance with the performance of other representatives of a particular business industry;

user-friendly interface with a wide range of customization possibilities.
How Does SAP Business Network Work?
SAP Business Network solution includes the following:
SAP Ariba Network.

The solution allows to control all procurement processes and build a sustainable supply chain;

SAP Logistics Business Network.

It ensures access to logistics transaction management, exchange of documents, and an increase of transparency of all business processes;

SAP Asset Intelligence Network

that assists in collecting information about equipment in a central repository and monitoring it. It simplifies joint asset management.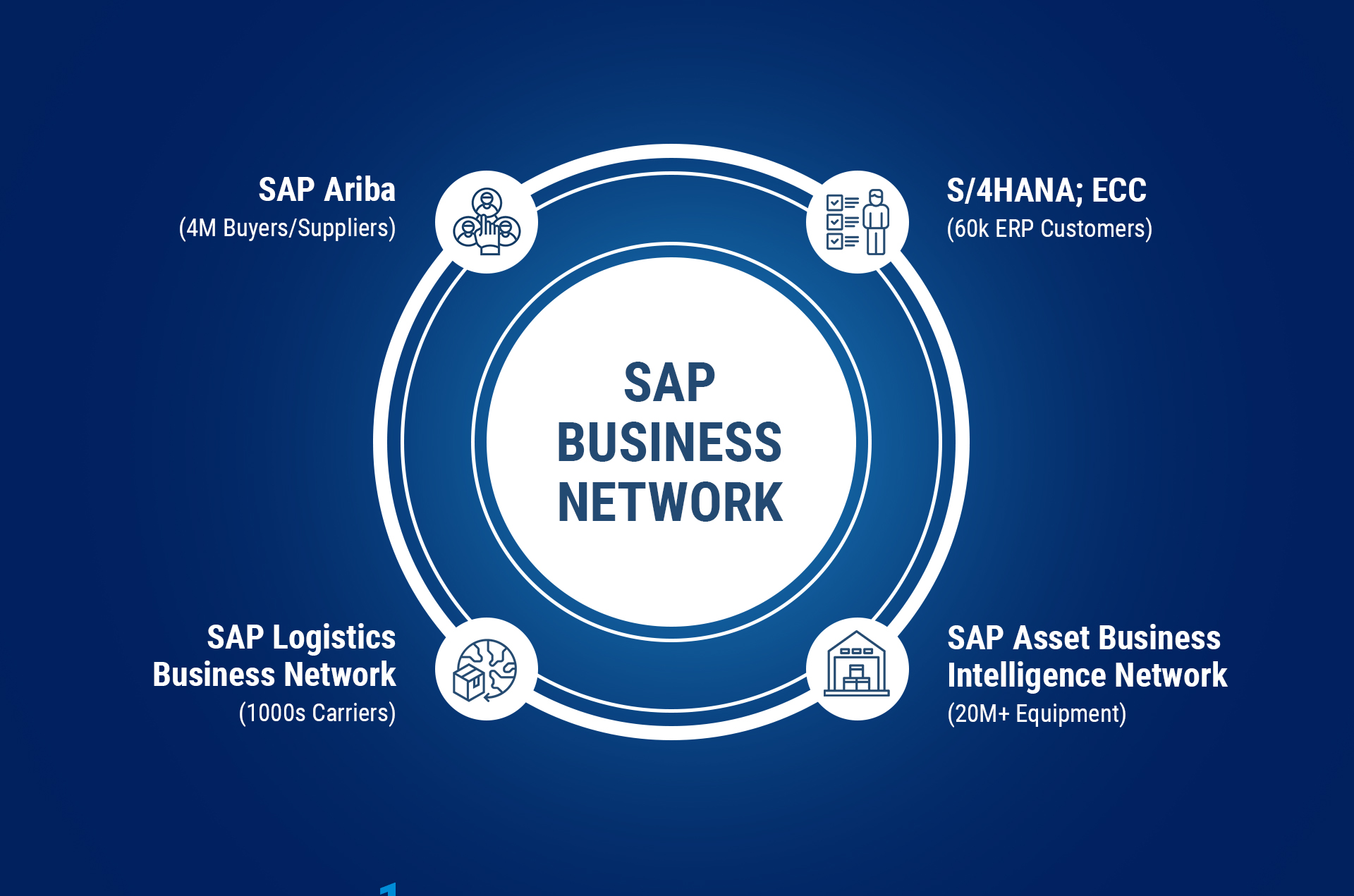 SAP Business Network Potential
Work with special products
Optimize the production and product distribution with special transport and storage requirements (for example, perishable or easily damaged products) by integrating with delivery and warehousing systems. SAP Business Network will help to improve situational awareness and supply chain management.
Supply chain stability
Manage any change in your supply chain with the help of situational awareness. SAP Business Network allows you to swiftly recognize complex issues within chains (late delivery, inaccurate data, lack of resources, and others) and make them sustainable.
Training partners management
Reduce complexity, optimize and enhance the business process automation with the help of a centralized, networked approach to partner management throughout the entire lifecycle.
Increase of business flexibility
Achieve the flexibility and transparency of business processes necessary for more immediate response to market changes with the help of digital trading platforms to quickly find new trading partners and get in touch with them.
If you still have questions about the SAP Business Network cloud solution, LeverX specialists will be glad to answer them!