What is procurement exactly?
In day-to-day business, procurement is sometimes confused with the process of purchasing. The aim of the procurement process is not only about the purchasing of goods, but it is also about sourcing goods and services, shortlisting from various suppliers, and selecting and acquiring goods or services from external sources that meet your specific requirements.
When it comes to the procurement process, innovative enhancements are key constituents. As trading business moves faster, new dynamics regarding trading demand more speed, better solutions, and the finest expertise.
Put simply, to succeed, you need specific tools to make more transparent purchasing processes. SAP Ariba Network platform helps you to streamline your procurement process and achieve desired goals while using structured methods. Using SAP Ariba market-leading guidance, you can supply your organization with innovations to reduce cost and time, and build win-win supplier-buyer relationships, both today and in the future.

SAP Ariba Enhancements to Transform the Procurement Experience
Secure and Transparent Global Network
SAP Ariba's global network of high-volume buying organizations offers secure and reliable features, driving a culture of compliance, which helps to reduce time, costs, and risks. One of the most convincing differentiators of the transparent global network is its ability to automate specific aspects of the procurement process, providing innovative business practices.
Flexible Supplier-Buyer Collaboration
With a unified SAP Ariba Network, buyers and suppliers can do business together on an international scale:
Suppliers can connect with specific buying organizations that are interested in the supplier's products or services and all partners through a single directory.

Buyers can search for new, suitable suppliers with products and services they need by offering complete transparency.

Suppliers and buyers can collaborate using shared data and workflows, and apply network-wide intelligence to guide decisions and improve their business.
Access to Electronic Catalogs
The simplified and centralized SAP Ariba Catalog combines consumer-like shopping with an involved procurement process. It gives buyers an intuitive user-experience catalog and shopping cart functionality so they can easily buy what they need. Buyers get advanced content management tools to confirm and sort the best of what the suppliers offer, and suppliers can add catalog items automatically, update catalog data, and support data accuracy. This means that catalog content is always up-to-date with real-time pricing and inventory availability.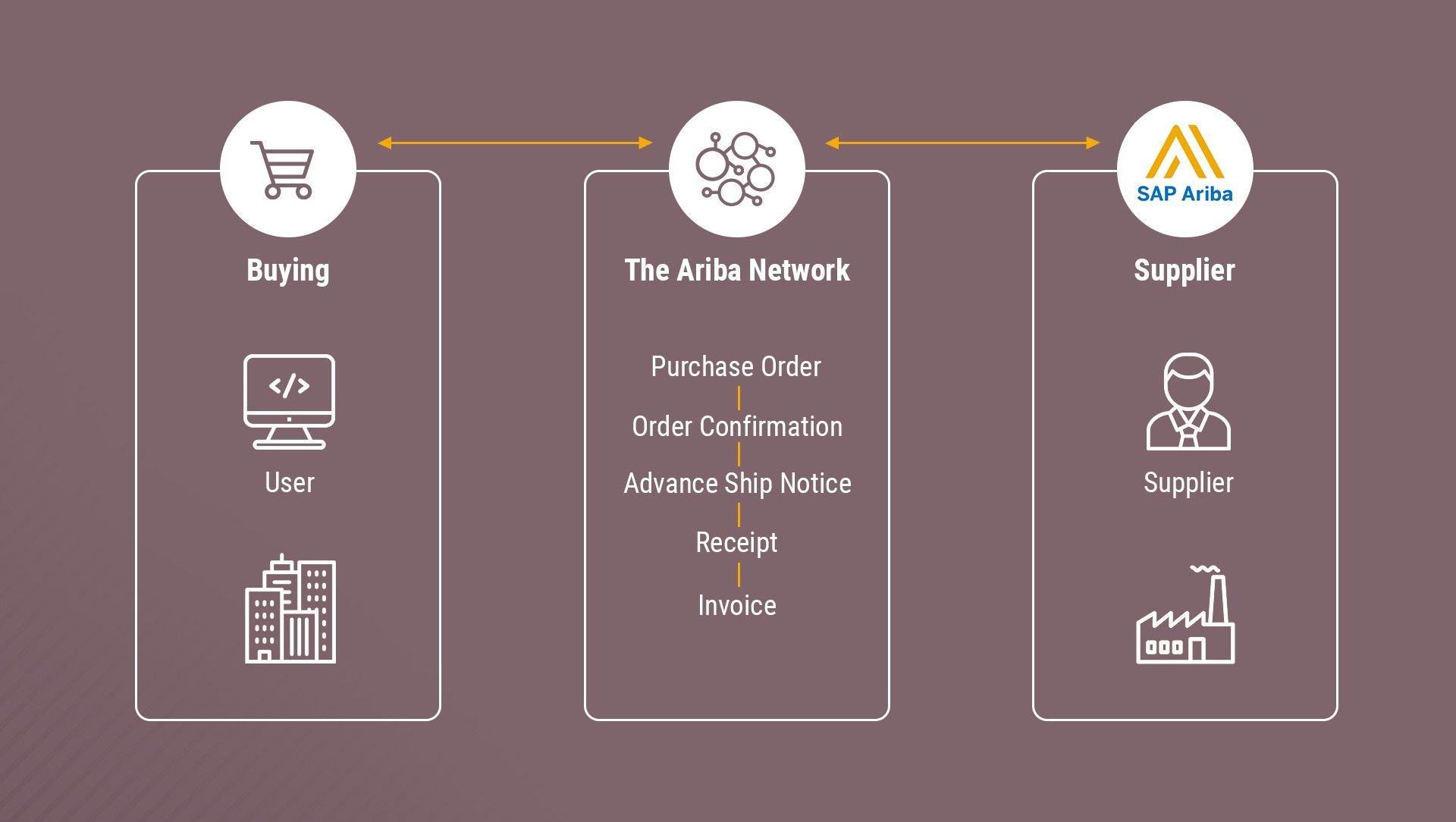 Routine Workflow Automation
The SAP Ariba Network eliminates manual processing and provides:
Fast transmission of data.

Status tracking for purchase orders in real-time mode.

Automatic processing of routine transactions, like sending purchase orders and payment documents to suppliers through cXML, email, fax, or EDI. Ariba Network can send them directly to the automated order receiving system, or it can store them for online viewing. The network lets a supplier decide how to receive the necessary documents, and takes care of format, protocol, and delivery details.
Documentation Process Digitalization
With a unified SAP Ariba Network, the entire documentation process is digitized both for suppliers and buyers, enabling you to:
Send purchase orders.

Receive order confirmations and shipping notices.

Send goods receipts.

Receive compliant invoices.

Obtain payment status.
Do you feel a lack of transparency in your procurement process? Need to minimize manual purchase transactions? Aim to achieve the flexibility in collaboration with suppliers?
Certified Ariba specialists from LeverX will analyze your operations and advise you on the right SAP Ariba solution for your business. Just drop us a line, and we'll offer you a free consultation on how to build win-win supplier-buyer relationships.