How to boost supply chains through buyer-supplier digital interaction? How to spend less time on solving supply chain issues and use minimum resources on order processing? The answer to these and other questions is SAP Digital Supplier Network.
We talked with a LeverX SAP Ariba team expert Volha Chekun and discussed the benefits of SAP Digital Supplier Network and the challenges it addresses. We also learned a lot about the Ariba Network implementation and integration peculiarities.
— What business processes does SAP Digital Supplier Network optimize? In what areas does the solution show the most efficient results?
— Buyers interact with suppliers and work with various documents such as purchase orders, ship notices, or invoices every day. SAP Digital Supplier Network is a product designed to automate workflow in procurement. The solution is multi-purpose and will be beneficial for any company of any industry related to procurement.
Let me give you an example of an SAP DSN common operating scenario:
The buyer submits the purchase order, and the supplier sends confirmation that the goods will be delivered on time.

The supplier sends a ship notice to inform the buyer about the picking and shipment of the order.

When the goods are delivered, the buyer updates the status, and a supplier gets a goods receipt notice.

Then the supplier creates an invoice and sends it to the buyer.

Finally, the buyer pays for the goods, and the supplier gets remittance advice

.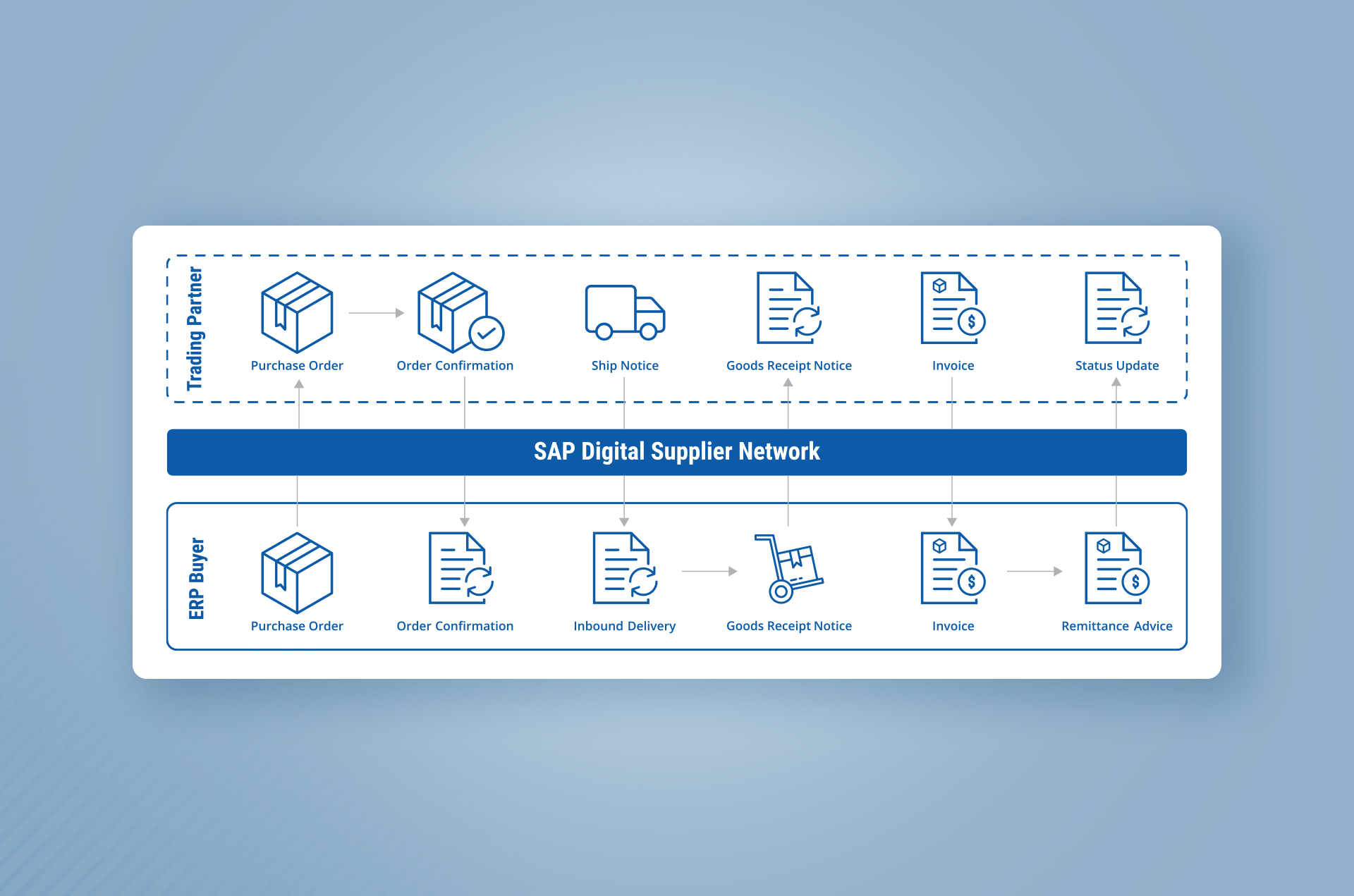 — What supplier related issues does SAP DSN address?
— Buyers who still manually process the documents face a number of challenges. SAP DSN as a tool for workflow automation will be beneficial for companies which:
Don't have a single system to integrate with suppliers.


Companies that don't have a systematic base for convenient process control and that maintain information in different sources need a single system for the automation of all procurement processes. The system should be accessible for both buyers and suppliers to enhance real-time integration between them.

Have an ERP system that doesn't provide for buyer-supplier direct interaction.


Hence, companies have to communicate with suppliers via e-mail and calls and manually transfer purchasing documents to their ERP system.

Don't have the opportunity to track payment status information in real time.


Due to the lack of an automatic payment notification system, companies often have to call and ask directly about the payment status. This delays the delivery process.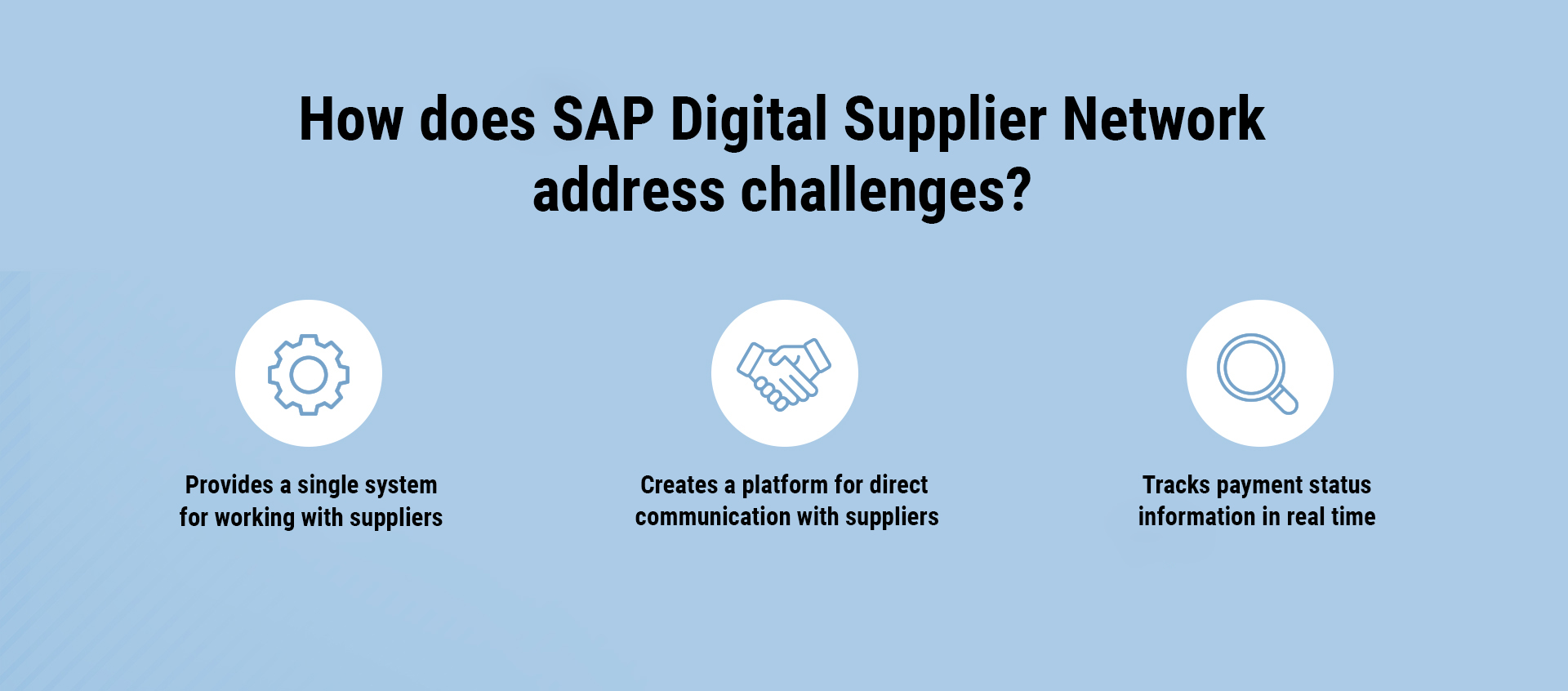 — Is SAP DSN cloud-based or on-premise? Under what conditions can it be realized?
— SAP DSN is part of the SAP Ariba cloud solutions package that provides each customer and supplier with their own Ariba Network account. Customers who have implemented one or more SAP Ariba solutions for digital interaction with suppliers usually have trading relationships with many organizations that supply them with goods.
Within all SAP Ariba solutions, the Ariba Network serves as a hub for communication with suppliers. Thus, each supplier should have an account to interact with one or more customers.
— SAP DSN is more beneficial for buyers, isn't it?
— Not exactly. Considering solely the SAP DSN, buyers with a large number of suppliers are likely to benefit from a solution more than suppliers are. However, SAP Ariba modules include many other processes such as supplier management, tendering and contracting, supply chain management, product quality selection, supply planning, etc.
The implementation of SAP DSN and other SAP Ariba modules allows both suppliers and customers to automate other processes. SAP DSN can be a good start for automating procurement processes.
— Is SAP Digital Supplier Network implemented as a stand-alone solution?
一 No, SAP Digital Supplier Network isn't a stand-alone solution. The buyer sends transaction documents with the help of the ERP system: SAP ECC or SAP S/4HANA (On-Premise and Cloud). That's why integration with the ERP system is a must within this solution.
SAP DSN was designed to integrate the SAP S/4HANA system with the Ariba Network to automate the dispatch of orders from the ERP system and receive the following documents from the supplier. SAP S / 4HANA doesn't imply direct interaction with the supplier. That is the buyer who manages purchases, adds orders and the following documents. At the same time, you cannot send an order to a supplier automatically from the ERP system if it is not updated and integrated with each supplier separately. However, there is a solution to the problem 一 integration with Ariba Network.
By integrating SAP ERP / SAP S/4HANA with Ariba Network, besides the automated workflow in the buyer's ERP system, companies also get the opportunity to integrate with suppliers.
Suppliers create the Ariba Network account to receive orders created by buyers in SAP S/4HANA and have an opportunity to send the following documents to the buyers.
SAP DSN implementation doesn't exclude the implementation and integration costs, and the involvement of suppliers in Ariba Network. For example, when a customer starts interacting with a new supplier, the supplier must be connected to the Ariba Network. However, this process is much less expensive than individual integration with the ERP system of each supplier.
— It follows that, by integrating SAP Ariba and SAP S/4HANA, the buyer not only establishes digital interactions with suppliers but also automates the order submission process from his ERP system?
— Absolutely right. What's more, large suppliers are likely to already have accounts at the Ariba Network and work there with other customers.
In general, large suppliers often integrate their ERP system with the Ariba Network. As a result, both supplier and buyer automate their processes and benefit from their interaction.
Buyers who plan to implement SAP Ariba can also ask SAP or their partners to analyze whether their suppliers are registered in Ariba Network. Often, buyers can do it on their own using Ariba Discovery.
— Companies of what size should implement SAP DSN?
— The implementation of the SAP DSN solution will be more cost-effective for large companies, corporations, as well as medium-sized companies that work with a large number of suppliers.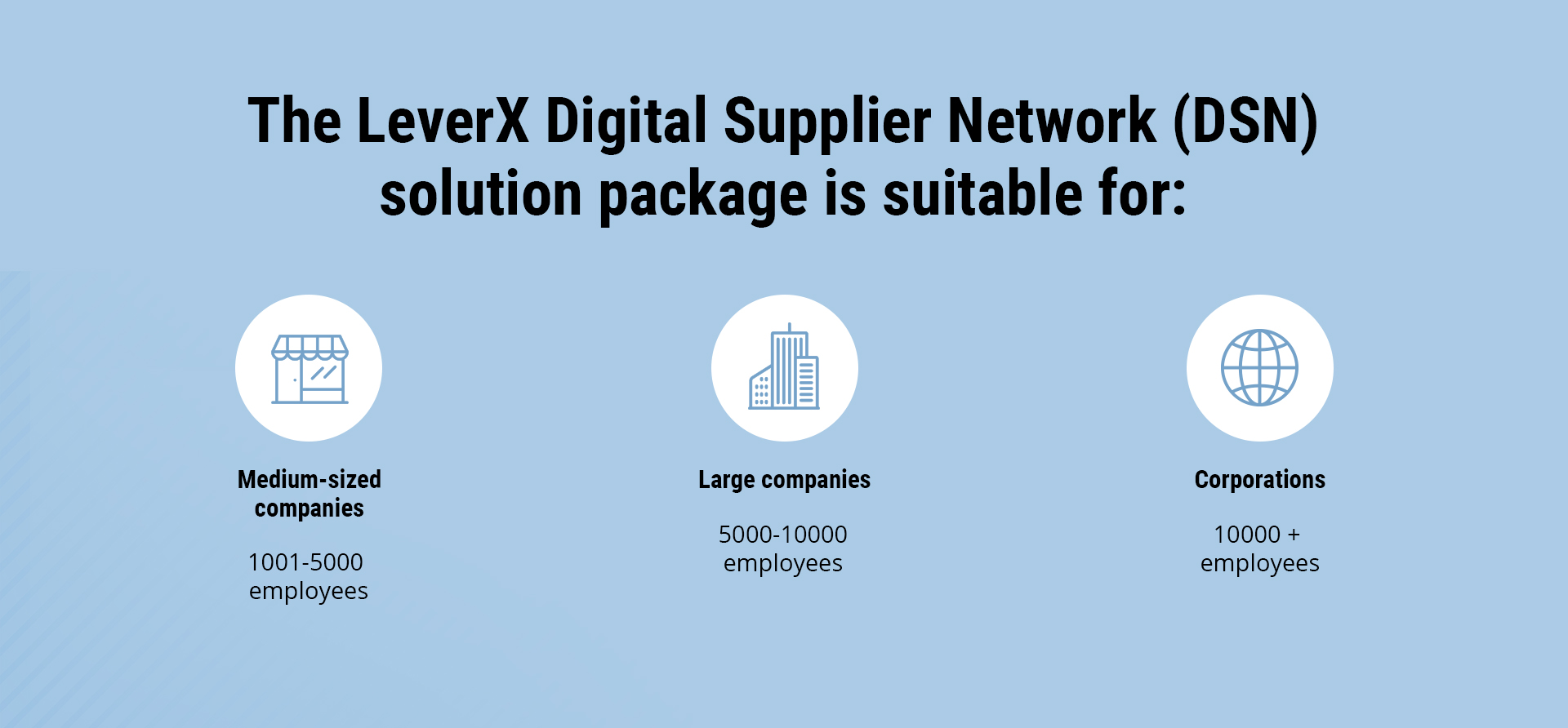 — How can a buyer start using the SAP Digital Supplier Network solution and effectively build a supplier engagement process in Ariba Network?
— The first stage of digital transformation for interaction with suppliers is a consultation on the SAP Digital Supplier Network solution with SAP or their partners. After purchasing a license to use SAP DSN, the buyer receives an account at Ariba Network. SAP DSN is also included in the licenses when purchasing the RISE with the SAP package offer.
The buyer should then analyze the suppliers in order to rank them. For example, when a buyer works with 2 thousand suppliers, it is not cost-effective for a buyer to involve all suppliers if the interaction with some of them is short-term or irregular.
The buyer should identify the suppliers with whom he will have to process a large amount of documentation. The next step is to involve suppliers in the Ariba Network environment.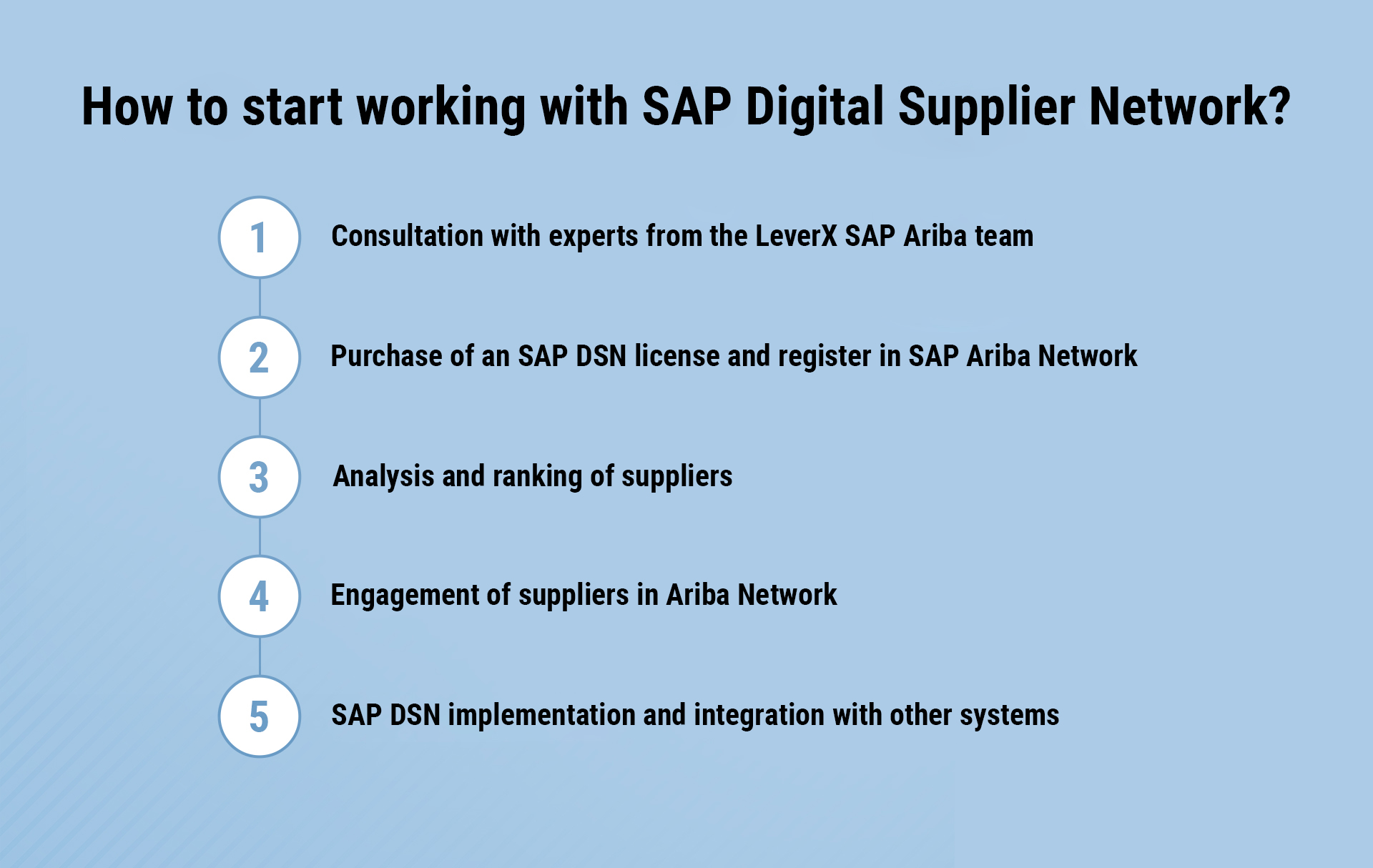 As an SAP partner, LeverX offers a variety of SAP Digital Supplier Network packaged solutions, including basic, standard, and advanced ones.
We also offer an additional Supplier Enablement package. Within the package, our certified SAP Ariba specialists with 17 years of experience in procurement and more than 6 years of expertise in Ariba will help you technically and assist you in ranking suppliers and their involvement in the Ariba Network.
Want to effectively automate supplier workflow while minimizing costs? Contact us and get a free consultation with the LeverX Ariba experts.