Industry 4.0 refers to the smart networking of processes and machines applied across different industries with the help of software solutions and intelligent technologies. By integrating smart digital technologies, Industry 4.0 creates a more effective ecosystem that connects manufacturing and supply chain management.
Though all enterprises are different, they face a common challenge, which is the lack of digital connectivity and real-time insights into operations, people, products, services, etc. The COVID-19 outbreak that disrupted world supply chains emphasized the necessity for their digital transformation.
In our article, we'll dive deeper into the Industry 4.0 and Supply Chain 4.0 concepts and find out how COVID-19 impacted them. We'll also identify the role of SAP solutions in the Fourth Industrial Revolution.
How Industry 4.0 Contributes to Business Operation
The best way to understand how Industry 4.0 works is to know about the value it will bring to your business. Below are three use cases that will help you form the vision of Industry 4.0 in your enterprise operation.
Supply chain management and optimization
IIoT (Industrial Internet of Things) technologies provide valuable insights into supply chains by ensuring data control and transparency in real-time. By improving supply chain management tools, companies can optimize their supply-side activities to deliver products and services to end-users faster than by employing a traditional model.
Technology solutions powered by Industry 4.0 concepts help companies predict potential issues before they happen. For instance, if IoT sensors don't track equipment's activity, maintenance and repairs are performed when they are scheduled or in case of technical issues. With IoT solutions, maintenance is automated and is aimed at preventing issues. Sensors can detect problems and notify workers when they need fixing to prevent bigger problems. Predictive analytics help businesses answer such questions as "What happened?" and "What will happen?'' So, these analytics help enterprises move from preventive maintenance to predictive maintenance.
Asset tracking and optimization
IIoT software solutions help organizations manage their assets more efficiently at all supply chain stages. Industry 4.0 contributes to the optimization of inventory management and logistics. With IIoT, workers have better visibility into asset quantity, which makes it easier to control stocks.
The importance of Industry 4.0 solutions was intensified by the COVID-19 outbreak. To withstand the supply chain disruption, companies across all industries had to optimize their operations by employing Industry 4.0 solutions. According to a survey conducted by Mckinsey, overall, 94 percent of respondents said that Industry 4.0 had helped them to keep their operations running during the crisis.
Understanding Supply Chain 4.0 and Its Impact on Businesses
As mentioned above, Industry 4.0 significantly streamlines supply chain management and brings new opportunities to businesses. Here are the main principles of supply chain 4.0 that were described a few years ago, but they're still up-to-date in the new normal reality:
Faster delivery.

Thanks to new management models, the delivery time is reduced. It's based on advanced forecasting of factors that may influence the delivery, including demand, weather, market trends, etc.

Flexibility.

Real-time planning allows companies to respond flexibly to changing demand or market trends. Frozen periods are minimized due to continuous analysis and planning, which becomes a non-stop process.

Personalized experience.

New supply chain management enables businesses to deliver an individualized experience to customers. Analytics tools help move towards micro-segmentation to manage customers in more customized clusters and offer them more products and services that suit them.

Accuracy.

The new supply chain management solutions ensure transparency throughout the supply chain. The information ranges not only from top-level KPIs to the exact position of a truck. The integrated data within a cloud network allows all the stakeholders to make decisions on the same information.

The COVID-19 Pandemic Has Driven Supply Chain 4.0 Integration
The COVID-19 pandemic impacted the supply chain in an unprecedented way, which led to its disruption and world crisis across all industries. Industry 4.0 became the solution for many companies to ensure their business continuity. According to the survey, supply chain was one of the major focus areas of implementation for Industry 4.0 technologies during the pandemic. However, supply chain management was influenced by other factors, like climate change, the fourth industrial revolution, and the reconfiguration of globalization even before the pandemic. It forced companies to rethink the main supply chain strategies and played an important role as an accelerator.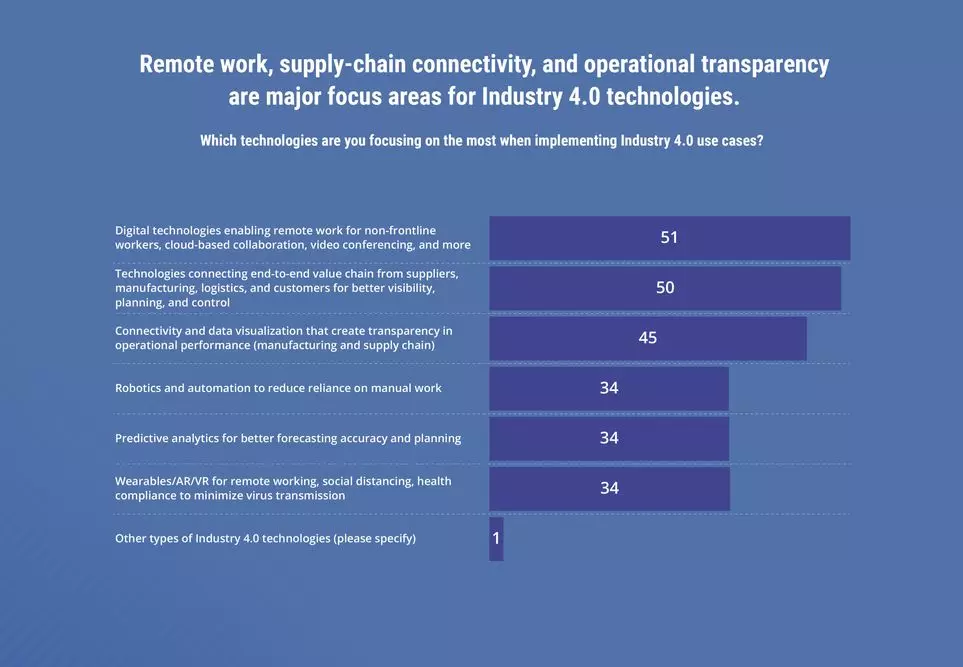 The pandemic exposed weaknesses in production and supply chain strategies. It turned out that the supply chain architectures in the pre-pandemic time were complicated and much dependent on Asian suppliers and manual labor. They failed to show the flexibility needed to address the lockdown challenge. The supply chains were also stressed by the increased demand connected with the lockdown.
2020's COVID-19 pandemic outbreak became a case study that shows the situation when businesses fail to respond with agility and speed to the crisis for ensuring business continuity.
This strengthened the need for building resilience and accelerating automation implementation strategies that include IIoT and Industry 4.0 technologies. Companies need to ensure automation and greater integration with the key operational areas such as execution systems, maintenance systems, field services management, logistics, warehousing, etc. They also need to provide better transparency of the key parts of their enterprise to optimize production and distribution, save costs, and improve the quality of their products.
How SAP Solutions Help Supply Chains Stay Resilient and Sustainable
Well ahead of the COVID-19, SAP made a commitment to the development of Industry 4.0 technologies. Manufacturers that made the first move to Industry 4.0 before the COVID-19 crisis, were less vulnerable to the disruption. Other companies started to consider Industry 4.0 to transform their supply chains, which starts with smart manufacturing and moves towards supply chain optimization. Below are some of SAP clients' success stories that have already employed Industry 4.0:
How Will LeverX Help You?
As a trusted SAP partner, LeverX assists our customers in consulting, customizing, and integrating SAP software solutions. For over 18 years in SAP development, we've gained solid technical and consulting expertise in industrial smart manufacturing and supply chain management. If you've started your journey towards Supply Chain 4.0, contact us, and we'll tell you how your business can benefit from SAP solutions.
Additional resources on the topic: