The oil and gas industry has faced challenges before. Where once the issues used to be addressed by cutting costs, suspending investments, and waiting for oil prices to go up, now is the time for deeper changes in the industry as a whole, as old approaches no longer work.
Let's consider the situation in the automotive market. It is expected that by 2030, due to decarbonization and the increasing efficiency of the electric vehicle batteries, their numbers will significantly exceed the number of cars with internal combustion engines.
There is also a growing demand for alternative energy sources that can replace coal and gas. However, these are far from all the issues that the oil and gas industry will have to address in the near future. It is no longer possible to maintain the status quo within the present-day realities, so it's time to change approaches and strategies to industry transformation.
Top 5 Industry Trends to Keep the Leading Position
Today, many oil and gas companies are realizing the importance of internal change and are beginning to transform their business models with a focus on climate change mitigation and enterprise financial health.
The following are 5 industry trends that will impact the oil and gas industry the most in 2022.
The Rise in Oil Price Will Encourage Renewable Energy Transition
April 20/2020 will go down in oil-market history as the day the price for crude oil dropped below zero for the first time. The following day, the situation changed, and the price reached $9.06 and continued to rise.
Today's price for crude oil is about $71 per barrel. A commonly held view is that companies tend to focus on core businesses and forget about seeking new opportunities for sustainable development due to such a high oil price. However, according to the Deloitte report, 76% of the surveyed leaders of the oil industry believe that the oil price above $60 per barrel, on the contrary, will accelerate the clean energy transition.
The high oil price will encourage investments in riskier and more costly clean energy solutions such as carbon capture, use, and storage (CCUS).
Fluctuating Market
This is the result of the previous trend associated with companies to go green and their complete rejection of oil and gas. BP, for example, is going to reduce the production of these resources by 40% by 2030 with plans for a complete rejection of it in the future.
These changes are not groundless or related to the COVID-19 outbreak. The company has been moving in a "green" direction for some time. Now, the gas price on the New York Mercantile Exchange (NYMEX) is $4.29. Having achieved a three-year peak of $6.34 in early October 2021, it has continued to decrease for the second consecutive month.
These fluctuations are preparing the ground for a new market landscape in which oil and gas companies will have to build new strategies and look for new approaches to doing business.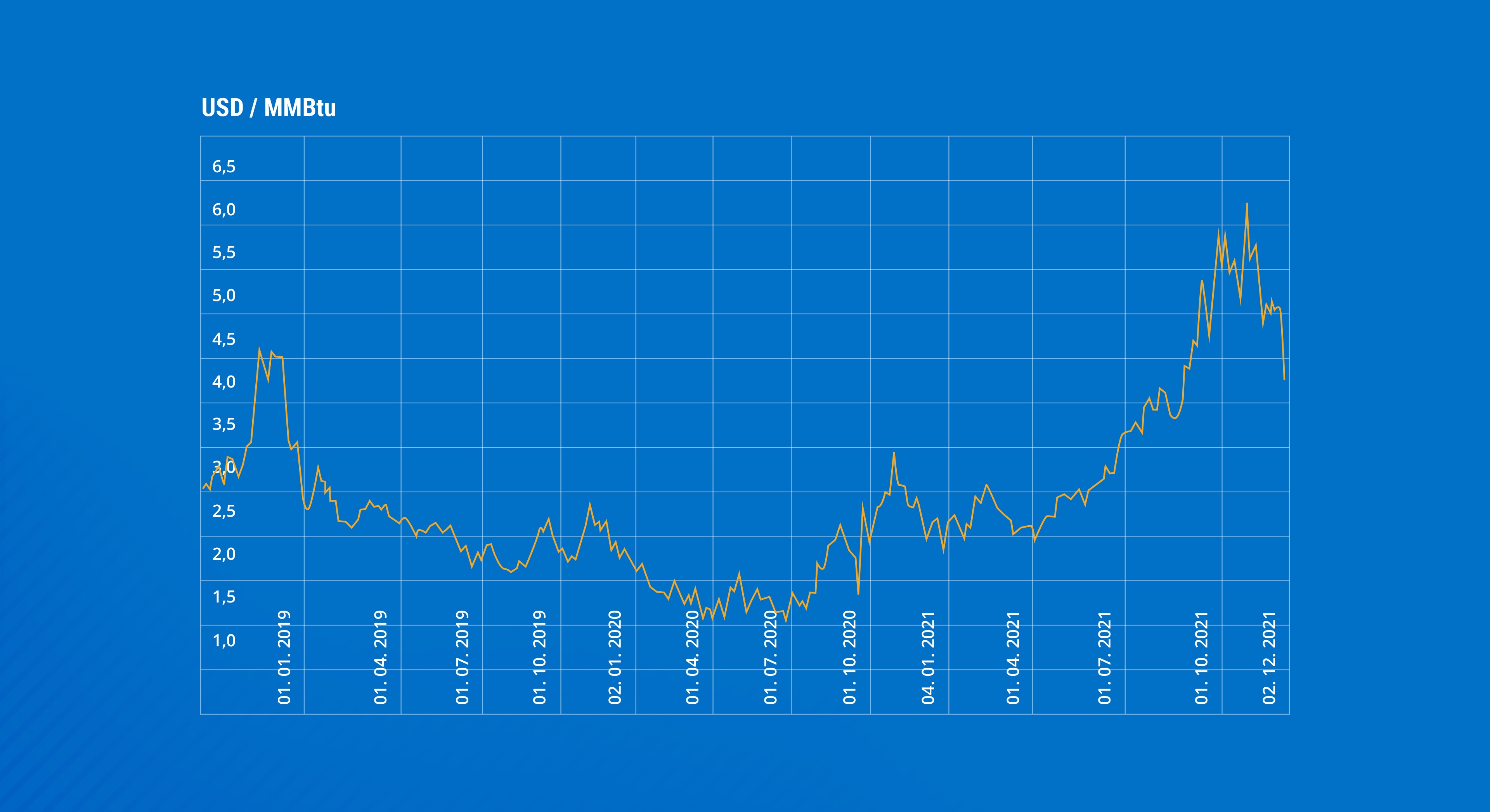 Source: Minfin.com.ua
Infrastructure Investment Will Be Reduced
The oil and gas industry is one of the most capital intensive. The reason lies both in its manufacturability and in the huge investments in its infrastructure. On average, it takes five years for them to pay off. However, when it comes to the payback of natural gas pipeline systems, it can take up to 10 years before they pay for themselves.
The new ESG (Environmental Social Governance) wave has given companies around the world another reason to suspend major investments in oil and gas infrastructure this year. They are now aimed at switching to renewable energy.
Millennials Prefer Convenience
Today, low emission fuels are becoming a strong competitor to traditional fuels such as diesel and gasoline. In addition, the transition from the baby boomer generation to the millennial generation has also changed consumer preferences, putting usability first and leaving brand and price behind.
Changing demographics pose a significant challenge for many fuel retailers. Today they need to completely transform their operations to attract and retain a new generation of customers, as well as adapting to changing fuel balances.
The Industry Requires Implementing New Technologies
The oil and gas industry is one that has always prioritized technology since it is difficult to produce energy without it. For example, horizontal drilling, which was introduced just a few years ago, has helped to significantly increase the production of natural gas and oil.
Even in times of crisis, innovative technology can help you boost productivity, decrease costs, optimize production, and stay one step ahead of the competitors.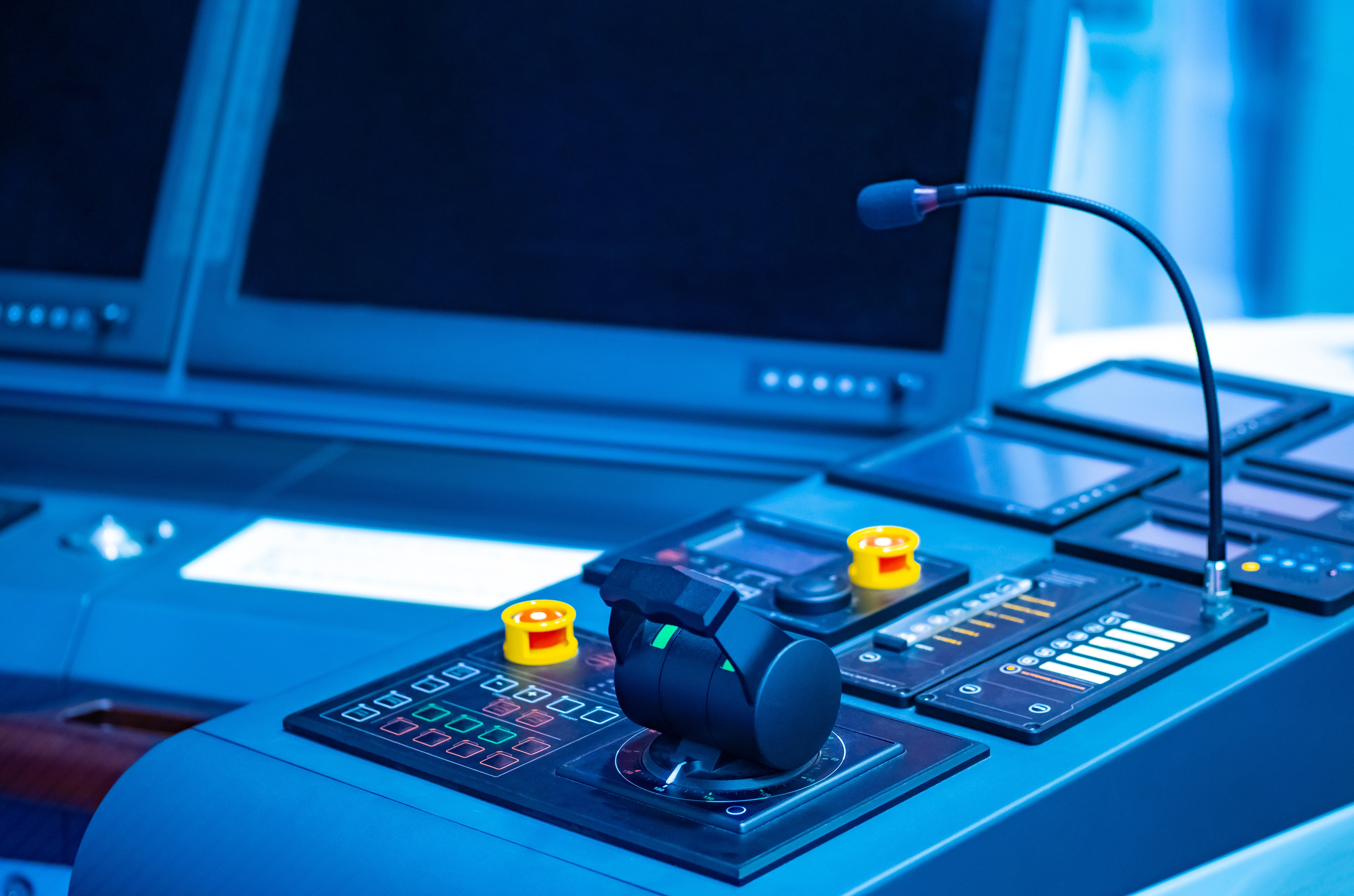 4 Ways to Succeed with SAP Solutions
Thinking Outside the Barrel
Galp Energia SGPS SA is a Portuguese energy company that produces and refines oil and gas and provides a wide range of petrochemical services in the B2B and B2C markets.
Thanks to the integration of SAP S/4HANA into the Galp business processes, the company now offers its corporate clients a streamlined procurement process led by one account manager. This helps to improve the quality of service and accelerate the customer life cycle.
When working with B2C clients, SAP S/4HANA provides detailed analytics for all retail outlets in real time. This allows creating the winning assortment and increasing the profit. The ERP system is about to be supplemented with new functions, including online order support through third-party suppliers.
To have a better understanding of how this works in practice, let's compare the performance of petrochemical retail outlets before and after the SAP S/4HANA implementation.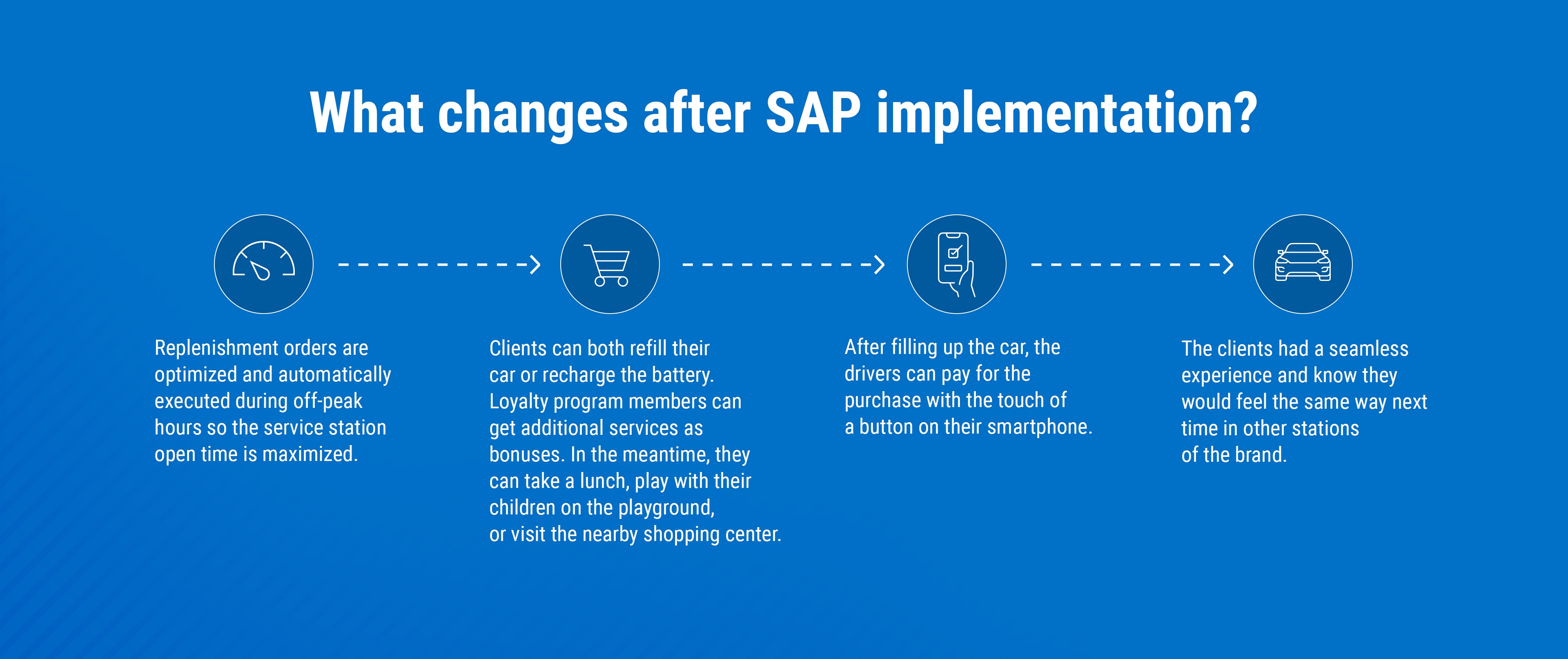 A personalized customer experience is expected to help oil and gas companies earn approximately $95 billion by 2025.
Furthermore, the SAP S/4HANA implementation helped a LeverX customer facilitate the field staff management and the process of input data validation, reducing the load on the central ERP system.
The subsystem collects, accumulates, and stores information about the current condition of devices and special equipment in a single database. It also stores and processes an extensive database of electronic documents and equipment certificates.
Digitizing Production and Delivery
SAP S/4HANA, along with SAP SuccessFactors and SAP Integrated Business Planning for supply chains, allows Vivo Energy, a British downstream petroleum company, to forecast the demand for certain products and automate the restocking of gas stations, thereby reducing the fuel supply costs.
Implementation of these solutions helped the company:
Speed up business processes.

Improve employee productivity.

Increase data availability.
The traditional scenario of work in the industry is characterized by the lack of coordination in business processes and time-consuming tasks that require manual labor. With SAP solutions, you optimize costs and productivity and mitigate any risk.


How can your business benefit from the solution?
5% increase in the return on assets.

25% increase in a fixed rate.

15% reduction in the risk of downtime.
Thanks to their deep expertise in procurement, LeverX specialists managed to develop a solution for analyzing key performance indicators of various ERP/SRM procurement channels in real time. The project resulted in a fast and user-friendly application that allows processing data accumulated over 7 years in the SAP ERP/SRM systems in a few seconds.
Creating Ecosystems
Colombian oil and gas company Terpel has over 50 work centers employing over 1400 people. The company faced the need to create a single employee database to improve HR efficiency and increase customer satisfaction through the work of qualified specialists in the field.
The SAP SuccessFactors implementation helped:
Ensure rapid access to the employee database.

Simplify the comprehensive assessment of employee performance.

Reduce manual work. Employee appraisals, vacation requests, and overtime requests can be approved instantly online.
Moreover, Terpel can now easily and quickly fulfill any government audit requests.


As a Result, You Boost the Profitability of New Products and Services by 10-20% While Reducing the Cost of Supply Chain Planning by 5-30%.
The project successfully implemented by LeverX SAP consultants allowed another oil and gas company to increase the efficiency of all its branches by unifying and automating the business processes of its ecosystem. This is due to the creation of an information environment: the data created by one branch is now available to all employees from other branches of the company.
Increasing Value through Technology
NexTier OilField Solutions Inc., a leading provider of well equipment services, helps oil exploration and production companies accelerate their processes and increase their profitability.
During the merger of the two oilfield services companies, NexTier faced the need to integrate multiple ERP and related systems into one platform.
The SAP S/4HANA system helped to address the issue. Thanks to its implementation, the company has managed to:
Accelerate month-end close by 12%.

Reduce further ERP system maintenance costs by 50%.

Save $120 million in system integration by reducing IT and ERP system costs.
Moreover, NexTier has managed to:
Integrate third-party billing solutions into the system.

Ensure effective data exchange with supply chain partners.

Reduce the amount of manual labor and simplify work processes.

Improve operational and financial transparency.


Through this approach, you can reduce equipment downtime by 15% and lower maintenance costs by 10%.
LeverX specialists developed applications based on the SAP Cloud Platform, which automated updating work orders, sending support orders for printing, and generating notifications with various functions for different system roles.
If you want to increase your company's performance, contact the LeverX experts. We will be glad to bring innovative SAP solutions to your business and help you maximize your return on investment.