In this article, we talk about our talented colleagues. Who are they — our #leverxpeople?


LX Group's Got Talents: Charulatha Bharathi
LeverX Group's got talents, and that's a fact! Painting, making miniatures, building houses, speedcubing 一 we are always surprised by how #leverxpeople are gifted. Sometimes our talents can be hidden in something not associated with making things with our hands. And this is another story to a treasury of our talents. Meet Charulatha Bharathi, who is keen on marathons and triathlons.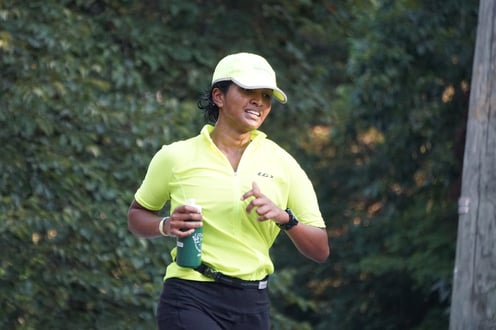 When did you become interested in marathons? Was there someone who inspired you?
There are a few people who inspired me; one of them is David Goggins (Navy Seal). Reading his book "Can't Hurt Me" completely changed my mindset on things I can do. Another person who inspired me is my dad. He has been running every day for the past 20 years. He has always encouraged me to do the same, but I didn't start until 2020, when COVID-19 hit.
Being home all the time, a slow-moving way of life 一 all resulted in me gaining weight. Thus, losing weight was the initial reason I started running. My running journey began in November 2020, and after a year of training, I participated in my first marathon in November 2021.
Cool! How have you switched from simply jogging to long-distance races?
Running to lose weight wasn't motivating enough to keep me going, so I had to set a bigger goal, which was the marathon. So I asked one of my friends for advice about marathons. She said, "Start small and build up," so that's what I did. I started with 5k, then 10k, and eventually did my first half-marathon (13.2 miles).
When did you decide to run a marathon? How much time did it take you to prepare for it?
In the beginning of 2021, when I signed up for all the races, I knew I eventually wanted to run a full marathon so I kept training by myself using online training plans. I was still an amateur runner for my first marathon and learned a lot through trial and error.
For my second marathon, I decided to join a running group. It was the best decision because I received a lot of insights and tips from my couch and other fellow runners. We consistently met every Saturday morning for four months, which helped me to train throughout the winter and successfully run my marathon in spring 2022.
Long-distance races are really demanding and require many hours of constant training. What drives you to run marathons? Is this the reason to stay fit, or is there something that is not on the surface?
My virtual mentor David Goggins always talks about "doing something challenging every day" This is the mindset that drives me every day. Marathon training is not easy but waking up every day and doing something tough physically makes me feel good mentally.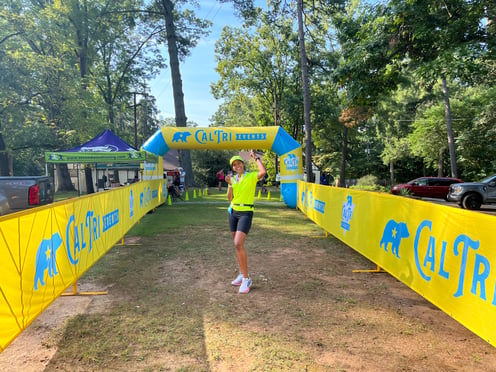 You're also doing a triathlon, aren't you?
Yes, I have my first sprint triathlon this weekend.
When and how did the triathlon appear in your life?
In my marathon training group, I met someone who did triathlons, and it made me so curious. I thought, "hmm, maybe I should do a triathlon next," as a joke, but then the joke turned into a reality, and I started training for a triathlon seriously. It was another goal for me that seemed impossible at first because I didn't even know how to swim properly or own a bike at that time.
"I want to see if I can. I don't know if I can. I want to find out. I want to see. I'm going to do what I always do: I'm going to break it down to its smallest form, smallest detail, and go after it. Day by day, one day at a time." -Kobe Bryant.
Since triathlon includes swimming, cycling, and running, the only thing I knew how to do from this list was run. My first small step was learning how to swim, so I took a swim class at my local gym. I also took a spin (biking) class at YMCA before buying a used bike from my friend. Then, I just practiced every day for three months, and here we are today :)
Swimming, cycling, and running are triple efforts! Is it challenging to combine work, personal life, and such a huge passion for sports?
It is definitely challenging trying to balance my time between my two kids, work, training and church activities. I read this book called "Atomic Habit" and it talks about creating small habits for things you want to accomplish. He talks about our habits becoming a naturally part of your day like brushing your teeth every day and it also becomes less effort. I have created many small healthy habits in my life, such as waking up and going to bed at the same time every day. I do my meal preps and laundry on Sunday I do most of my training in the morning, so I can spend my evening with the kids. All of these are still work I need to do, but they have also become a natural part of my daily/weekly routine.
You've already done two marathons and are now preparing for your first triathlon. These are already great achievements. Is there any goal you want to reach? Do you want to enter professional sports?
Thank you. My next big "impossible" goal is Ironman Triathlon, which I hope to do in a few years. Similar to my running journey, I want to start small with triathlons and build up. I trained for Sprint Triathlon then next I will be training for Olympic Triathlon for next year (May 2023). Then, I will train for Half-Ironman and eventually a full Ironman.
I have an amazing Ironman Certified trainer (Jeff), he provides me with the best training plans, nutrition, and strength training and I feel more confident that I can reach my goal with my trainer.
What tips can you give to those who want to run the marathon?
"How do you eat an elephant? one bite at a time." As the popular saying goes, you just need to do one small step at a time.
If your goal is a marathon or Ironman, then start small. Run every day, even if it's 5-10 mins, it will help your mind and body get used to it, and it teaches you discipline. Also, eating well is essential for any training. My trainer always tells me that food is like gas, so you need the right food to fuel your body.
My tip is always to set a goal (any goal), then break it down into smaller steps, then just have the discipline to put it into action. You can literally do anything you set your mind to, and I hope I am an example of that.